How to Make Your Home Safer as You Age
Keeping your home safer as you age in place takes planning and renovations.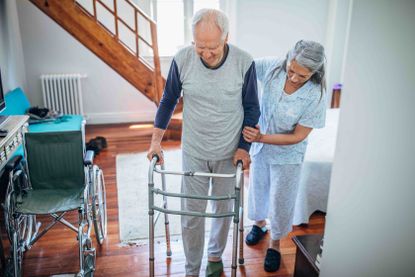 (Image credit: Getty Images)
That pain in your knees is likely not from bending down in the garden. It may be arthritis, and if so, it is not going away.
Climbing those stairs to get to your bedroom has become a major chore. And it can be painful.
Reaching up to get the paper towels from the top shelf now requires a step stool and sometimes, a prayer.
Subscribe to Kiplinger's Personal Finance
Be a smarter, better informed investor.
Save up to 74%
Sign up for Kiplinger's Free E-Newsletters
Profit and prosper with the best of expert advice on investing, taxes, retirement, personal finance and more - straight to your e-mail.
Profit and prosper with the best of expert advice - straight to your e-mail.
More than 70% of those 55 and older of all races and ethnicities say they want to stay in their homes as they grow old, also known as aging in place, according to Capital Caring Health, which helps people find resources to do just that.
But aging in place requires a lot more than desire. The home needs to be safe and accessible to avoid accidents and easy to move around in and to enter and exit.
Older adults may know renovations are necessary in bathrooms, bedrooms and kitchens. But they chronically put off projects until crunch time.
"It is a lot easier to think about a time when you need things to be different. There may be a day when I don't drive, the stairs are going to be hard for me. It is really a good idea for people when they are well, active and healthy to make the changes ahead of time," says Amy Goyer, a family caregiving expert for AARP.
She is personally going down this road right now as she and her boyfriend renovate a home they hope to reside in as they age. So, in addition to passing along information to her clients, she is making decisions for her own life.
"There are several reasons to prepare in advance, but people tend to drag their feet," Goyer says. "It is so much better to do it in a preventive way. Sometimes there is a sudden reason, like a fall or stroke or other health conditions. Then all of a sudden you are in a crisis and trying to modify the home."
Wide range of jobs and costs
There are specialists across the country trained in renovating homes for aging in place. They can do simple jobs, such as adding grab bars and removing thresholds, for $1,500-$5,000, or completely renovate homes or construct additions for a cost of up to $300,000, says Alan Archuleta, CEO of Archuleta Builders in New Jersey. He is the current chair of the remodelers committee for the National Association of Home Builders.
"Typically, in New Jersey, what happens is we get phone calls from children that have aging parents who want a quick renovation because their parents are coming out of the hospital or at a point where their home is not safe. Most times the reason they can afford to do it is because their house is paid for, and the option of long-term care is so much more expensive," Archuleta says.
"For them, it's a lot easier to scrape up what they need to do this because it is a lot more realistic than paying for long-term care somewhere else," he says.
Goyer is in such a position. "I just had a knee replacement, and we are looking ahead," she says. "We'll have a lift to avoid the stairs. It really solidified for me to design a home for renovations with aging in place in mind. One term is universal design. It's smart design, whether it's for pushing a baby carriage through the house or having a wheelchair or walker."
Bathrooms take the lead
The most common renovations people should make for aging in place include adding grab bars in bathrooms to avoid falls and having a zero-threshold shower entry. "A lot of falls happen in the bathroom. It is one thing stepping over a bathtub, but even having a low curb makes it harder," Goyer says. "My dad had Alzheimer's, and it was hard for him to walk over that threshold."
Being able to safely enter and exit the home is another need. "Even one step can make it difficult to get into the house," she says. "You can build a ramp that doesn't look like a ramp."
Archuleta recently built such a ramp in New Jersey. "We ended up doing an addition for a family with a first-floor master suite, and then we were able to build a ramp with the addition so the man could get in and out of the house." The client has recently been diagnosed with Parkinson's disease and was going downhill fast, Archuleta says. He built the ramp inside as part of the addition.
"That was probably a $300,000 renovation because we added square footage," Archuleta says, "probably 30x30 with a very large master bedroom and bathroom and doors 36 to 42 inches wide."
His area of New Jersey has one of the highest per capita incomes in the nation, and the money spent on renovations will be key to a great resale, he says. But modest budgets can also be accommodated.
Get a checklist
AARP has designed a "Checklist for Aging in Place," which Goyer says is very popular with people considering remodeling.
The guide recommends starting small by raising toilet heights, so you don't have to bend down so far, and moving things to lower shelves, so you don't need a stepladder.
Make sure lighting is good in areas such as the kitchen to avoid slipping on spilled liquid. Add lights in the hallways and stairwells.
Make sure the bed is easy to get in and out of. Use risers, if needed. Add drawers or slide-out trays to existing cabinets for easy access. Use chairs with armrests, which make it easier to stand or sit.
Remove electric cords from walking paths. Get rid of slippery throw rugs.
For a room-by-room guide, you can go here. Goyer used some advice from the guide in renovating for her father, she says. "The bathroom I did for my parents is a really good example. One of the sinks was lowered, and the cabinet opens underneath for a wheelchair."
Add some technology
According to The Journal Healthcare, technology is "a potential resource to facilitate or improve aging in place." For example, a technology like telehealth can improve health-related quality of life. Other relevant technology includes sensors for lighting, medication reminders, wearable devices such as pedometers to ensure someone is moving enough, and social media to stay connected to the outside world and boost self-confidence.
There are automatic shutoffs for stoves, sensored flooring to detect a fall and voice commands so someone can call a neighbor or the police for help. Order groceries online, or set up technology to automatically call a neighbor or family member in the event of an emergency.
"Although the adoption of technology by healthy older adults who are aging in place is a promising and theoretically well-founded idea, there is a lack of high-quality studies in the subject," the National Library of Medicine says.
Finding someone to do the work
Find aging in place renovation experts through the National Association of Homebuilders, which has a directory of Certified Aging in Place experts, or CAPS. This includes contractors, interior designers, occupational therapists and others. On the filter on the left side of the page, check CAPS, the first option.
Check reviews before choosing a contractor. You can do this at Angi.com. If the worker is licensed, you should also check with your state licensing authority.
The choices and renovations required may become overwhelming at times, but preparing to age in place does not need to be overly complicated if you seek help from family and professionals.
If you are one of the people over 50 who want to stay in their home, make changes for mobility, safety and health before you are in a health emergency. Make a priority list, follow best practices, and make safety your number-one concern.
Renovations, plus the use of technology, may cost thousands of dollars. But it still costs much less than moving into assisted living, something most older adults do not consider their first choice.
Special assistance for veterans
In some instances, there is assistance for people seeking to renovate for aging in place. Veterans who sustained injuries during their military service, for example, can apply for Special Adaptive Housing Grants through the U.S. Department of Veterans Affairs. The criteria to receive a grant includes:
Loss or loss of use of more than one limb
Loss or loss of use of a lower leg and lasting effects of a disease or injury
Blindness in both eyes
Certain severe burns
Certain respiratory or breathing issues
Veterans who meet the criteria can receive up to $22,036 this year. You can apply for this using your DS log-on on the VA website.
You can also mail in an application, which you can get by calling 800-827-1000 and asking them to send you Form 26-4555. Mail the completed application to your nearest regional loan center.
Related Content
Yvette C. Hammett is a lifelong journalist whose career has focused on environmental issues, growth and development, economic development and the everyday lives of people. Hammett worked as a staff reporter for the Tampa Tribune from 2001 through 2016 and has written for numerous publications covering B2B marketing, growth in Central Florida, culture and business in the Tampa Bay area, national environmental issues for Natural Awakenings magazine and
legal news making headlines across the country, writing for The Legal Examiner.