10 Things You Should Know About Nursing Homes
Chronically understaffed and expensive, nursing homes have changed over the years, much of it for the worse. But they fill a need for many. How do you find a good one?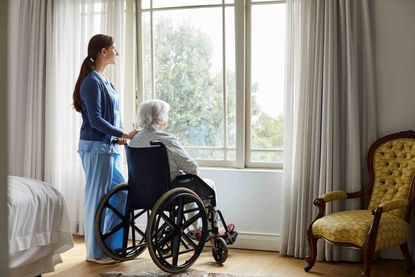 (Image credit: Getty Images)
About 1.1 million Americans reside in nursing homes. And while the search may be challenging, it is possible to find a high quality facility.
Researchers and advocates agree that most nursing homes are understaffed to the point of endangering patient care. The situation has been described as a crisis, exacerbated by a patchwork system for paying for long-term residential care that forces many older Americans to become impoverished to be eligible for Medicaid.
But sometimes a nursing home is the only option. Whether you're looking for a nursing home for yourself or a loved one, here's what you should know:
Subscribe to Kiplinger's Personal Finance
Be a smarter, better informed investor.
Save up to 74%
Sign up for Kiplinger's Free E-Newsletters
Profit and prosper with the best of expert advice on investing, taxes, retirement, personal finance and more - straight to your e-mail.
Profit and prosper with the best of expert advice - straight to your e-mail.
1. Nursing homes have changed
Nursing homes, also known as skilled nursing facilities, provide round-the-clock nursing and medical care required by older chronically ill or disabled people who are the sickest or most in need of assistance. There are about 15,000 nursing facilities today, down from 19,000 in the 1980s, after which states began funding more home- and community-based services.
Consequently, healthier and more active older people have been able to avoid nursing homes. This means those who live in nursing homes are sicker and need more assistance. According to one study, for example, nursing home residents who required help bathing increased from a facility average of 89% in 1985 to an average of 96% in 2015; those requiring help dressing rose from 74% to 92%. The study also found that the proportion of residents with dementia increased from an average of 39% in 1995 to 45% in 2015.
Assisted-living facilities are for people who need help with daily care but not as much as provided in a nursing home. Continuing-care retirement communities offer different levels of care at different parts of their campuses — from hotel-like independent living wings to assisted living to memory care to traditional nursing home services. Nursing homes are required by law to treat residents with respect and to allow them to participate in activities. The law also bars the use of restraints and requires the safekeeping of residents' personal property.
2. They offer both long- and short-term care
The average stay is one year. While most residents live out their lives in nursing homes, people recovering, for example, from a stroke or a hip replacement often check in for short-term, rehabilitative stays.
They are generally covered by Medicare, which pays for up to 100 days of care per benefit period. Longer stays are not covered by Medicare or private health insurance, although they may be covered by long-term-care insurance or Medicaid.
3. Nursing home care is expensive
The average cost is $108,405 a year for a private room and $94,900 for a shared room, according to the American Council on Aging, but prices vary by location. A private room in parts of Louisiana costs $64,970, on average, while a shared room costs $59,495. The annual cost in parts of Alaska can reach nearly $380,000. About half of the total nursing home costs in the country are paid by Medicaid.
4. You can use data to find a good nursing home
Nursing homes are required to collect a broad range of data on resident health, including things like weight changes and bed sores. This data and nursing home star ratings (5 stars being the best) are available at the Care Compare website of the Centers for Medicare and Medicaid Services. One important data point is staffing.
"You want to be over 4.1 hours [of nursing care] per day" for each resident, says Sam Brooks, director of public policy at The National Consumer Voice for Quality Long-Term Care, a public advocacy organization. "The higher, the better." But only 26% of nursing homes in the U.S. provide that level. Lower levels of staff turnover are also important, as they indicate consistent care and work satisfaction.
Unfortunately, some data is lacking on the Care Compare site, according to a recent Inspector General report that found some inspection findings missing from the site. So in addition to checking this information, experts advise visiting facilities and asking plenty of questions. For example, is your religion accommodated? The AARP has a list of questions to ask.
5. They are short on staffing
Most nursing homes do not provide sufficient staffing to ensure basic quality. More than half of U.S. nursing homes have lower nurse staffing levels than those recommended by experts and one quarter of nursing homes have dangerously low staffing, according to researchers.
One reason is low pay. And the pandemic made the staffing situation worse. Industry representatives say nursing homes experienced the worst job loss of any health care sector during the pandemic, with 210,000 jobs lost from February 2020 to December 2022.
6. Pay attention to the form of ownership
About 70% of nursing homes in the U.S. are operated for profit, about 25% are nonprofit and the rest are owned by government entities. There are good and bad nursing homes under different ownership arrangements, but generally nonprofit nursing homes have higher staffing levels. On average, nonprofits provide 4.28 hours of staff attention per resident each day, while for-profits provide 3.56 hours.
While profit status doesn't control quality, one subcategory of for-profit ownership has raised alarms. An estimated 5% of nursing homes are owned by private equity firms, according to Weill Cornell Medicine, which says private-equity-owned nursing homes offer lower-quality long-term care. This research and two other studies found that care was compromised in private-equity-owned nursing homes, including increased short-term mortality and higher COVID-19 infection and death rates.
7. COVID-19 and other infections ravage nursing home residents
According to a government report, nearly 166,000 nursing home residents and more than 3,000 staff members died from COVID-19. And the Department of Health and Human Services estimates that up to 380,000 nursing home residents died from infections such as pneumonia each year before the pandemic.
8. Nursing home residents need outside help
"Families are essential," says Lindsay Peterson, assistant professor at the School of Aging Studies at the University of South Florida. "Nursing homes are supposed to be the resident's home, and if that means a family caregiver wants to be with them, the facility cannot prevent them from being there."
If family isn't available, Peterson suggests a geriatric care manager or life care manager. Information is available at the website of the National Institute on Aging.
9. Nursing homes may be more profitable than they appear
About half of U.S. nursing homes are not profitable, according to a recent audit by professional services firm CliftonLarsonAllen. But — and it's a big but — nursing home companies may have ways of getting over the red-ink flow.
Billions of dollars of nursing home funding wind up at third-party companies that are owned by companies that own the nursing homes — like landlords collecting rents or pharmacies supplying patients' drugs, according to a National Consumer Voice report. "Nursing home owners and operators routinely pay their related parties in excess of reported costs, in some instances by nearly 1,200%," the report says.
10. Reforms are in the works
The Biden administration last year launched an effort to improve nursing home care, aiming to increase transparency in ownership, create minimum staffing requirements and increase private rooms for residents. The issue even made it into the president's state of the union address this year when he said, "We're protecting seniors' lives and life savings by cracking down on nursing homes that commit fraud, endanger patient safety, or prescribe drugs they don't need."
The White House has already launched an effort to beef up staffing, an initiative welcomed by consumer advocates but resisted by some industry groups.
Note: This item first appeared in Kiplinger's Retirement Report, our popular monthly periodical that covers key concerns of affluent older Americans who are retired or preparing for retirement. Subscribe for retirement advice that's right on the money.
Senior Retirement Editor, Kiplinger.com
Elaine Silvestrini has had an extensive career as a newspaper and online journalist, primarily covering legal issues at the Tampa Tribune and the Asbury Park Press in New Jersey. In more recent years, she's written for several marketing, legal and financial websites, including Annuity.org and LegalExaminer.com, and the newsletters Auto Insurance Report and Property Insurance Report.