Startup Harmonic Health Aims to Remake Dementia Treatment
Harmonic Health's program combines a team of medical specialists with AI and other advanced technology to provide comprehensive care.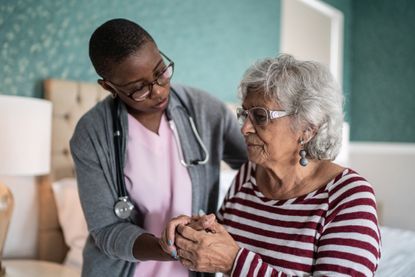 (Image credit: Getty Images)
A digital health startup is aiming to revolutionize care to meet the specific and wide-spanning needs for people living with dementia and Alzheimer's as well as their caregivers.
Harmonic Health, a St. Louis-based care management company created by tech firm Redesign Health, recently launched a pilot program of comprehensive care that combines a specialized multidisciplinary medical team with advanced technology, including artificial intelligence (AI).
The program launched last month with Stoney Batter Family Medicine, a medical practice serving more than 24,000 patients in the Delaware, Maryland and Pennsylvania region. The program includes patient education, dementia screening, caregiver support and coaching, as well as referrals for services.
Subscribe to Kiplinger's Personal Finance
Be a smarter, better informed investor.
Save up to 74%
Sign up for Kiplinger's Free E-Newsletters
Profit and prosper with the best of expert advice on investing, taxes, retirement, personal finance and more - straight to your e-mail.
Profit and prosper with the best of expert advice - straight to your e-mail.
The demand for resources is high, with Harmonic stating that its program already has an 80% patient enrollment rate. "The U.S. is grappling with an unseen challenge from patients and families impacted by Alzheimer's, dementia and Parkinson's, with the Centers for Medicare and Medicaid Services (CMS) emphasizing dementia care as a major priority," Harmonic said.
Earlier this year, CMS issued a test guide that aims to support people living with dementia and their unpaid caregivers.
Building resources for caregivers is crucial in the ongoing advancement in treatment, experts say. Studies show that the stresses of being a caregiver have a deep impact on the caregiver's mental wellbeing.
Other studies show that the growth of Alzheimer's and dementia treatment plans over the years go beyond medicine.
According to a Wall Street Journal report, the importance of AI in the field is growing. Doctors are working alongside advances in technology to assist in early detection and diagnosis based on factors like sleep, speech and typing, according to the report. In other developments, earlier this year attorneys general from 23 states called for Medicare to end restrictions on Alzheimer's disease treatments and make treatment more affordable and accessible for all.
How to enroll
According to Harmonic co-founder and CEO Jim Gera, the program launch was inspired by the lackluster options for treatment and care for the roughly 6 million people in America living with dementia.
"I know from personal experience that the current situation for treating patients with neurodegenerative diseases is ineffective, unsupportive and deeply frustrating," he said in a statement. "Patients and caregivers lack support and physicians lack the resources to provide comprehensive care."
For more information on the program, visit the Harmonic Health website.
Patients and caregivers can enroll in the hybrid plan through their primary care physicians, neurologists, healthcare systems or accountable care organization. Harmonic said that its team will work with the patient's physician to develop a treatment plan.
RELATED CONTENT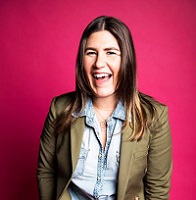 Jamie Feldman is a journalist, essayist and content creator. After building a byline as a lifestyle editor for HuffPost, her articles and editorials have since appeared in Cosmopolitan, Betches, Nylon, Bustle, Parade, and Well+Good. Her journey out of credit card debt, which she chronicles on TikTok, has amassed a loyal social media following. Her story has been featured in Fortune, Business Insider and on The Today Show, NBC Nightly News, CBS News, and NPR. She is currently producing a podcast on the same topic and living in Brooklyn, New York.