Fulfilling Ways to Spend Retirement
Community service, religious pursuits and personal interests top the list.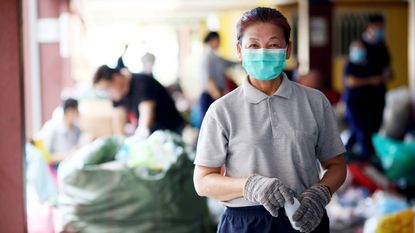 (Image credit: Getty Images )
One of the joys of writing this column is that I hear from dozens of readers who generously and eloquently share their experiences. That was certainly the case after I wrote about how to find your sense of purpose in retirement (Rethinking Retirement (opens in new tab)).
In that column, I quoted Age Wave (opens in new tab) CEO Ken Dychtwald, who observed that the solution generally falls into one of three categories: community service, a focus on religion or doing something you've always wanted to do. Overall, Kiplinger's readers do tend to fall into one (or more) of those groups, but within each one your activities are all over the map. And many readers added their own words of wisdom for retirees facing that challenge. I'll pass along as many of your responses as I can in this and future columns.
For many of you, giving back is key. "It doesn't have to be full-time, and you don't have to be installing water purification systems in sub-Saharan Africa," writes Gordon Hoover. "It can be as simple as food drives at church, coaching at the boys and girls club, or helping at the senior center."
Subscribe to Kiplinger's Personal Finance
Be a smarter, better informed investor.
Save up to 74%
Sign up for Kiplinger's Free E-Newsletters
Profit and prosper with the best of Kiplinger's expert advice on investing, taxes, retirement, personal finance and more - straight to your e-mail.
Profit and prosper with the best of Kiplinger's expert advice - straight to your e-mail.
My cousin Margaretta Bodnar is a member of WOMEN of Southwestern PA, which makes numerous grants to causes that benefit less fortunate women and children in southwestern Pennsylvania. "I was especially proud when we were able to step up and assist several other nonprofits that were struggling to provide food and shelter in the early stages of the pandemic," says Margaretta. "This group gives me purpose and provides a nice balance to my retirement life."
Diane Patterson acts as a guardian ad litem, representing the interests of abused and neglected children in the courts in Greenville County, S.C. "Normally, we would visit with the children in person once a month, but now we Zoom, FaceTime or meet outdoors," writes Patterson. "I encourage anyone who cares about children to consider this opportunity."
After a career in accounting, John Nappo volunteers in AARP's Tax-Aide program, providing free tax assistance to people in his community. Says Nappo, "It provides a nice sense of accomplishment and satisfaction so that I know I am living my best life."
Faithful Service
In the realm of religion, James Schwartz, a retired financial planner, has drawn on his Jewish heritage to write a book, Judaism on Purpose (opens in new tab), "a step-by-step guide to aligning means with meaning."
Before COVID, William Howell attended church services twice a week and participated in four Bible-study groups. Those programs have been suspended, but he still volunteers at his church one day a week, distributing sacraments to parishioners who can't attend services in person.
Some retirees have struck out in new directions, literally and figuratively. After Roblyn Hymes retired in 2018, she organized a 14-member retirement club and planned excursions to museums and other sites in the Washington, D.C., area. Undeterred by COVID, Hymes reorganized her group to meet for park walks and to sit outside and chat. "We bundle up for the cold and look forward to gathering again," she says.
When Bob Chenoweth retired about a year ago, his wife suggested that he take up woodworking. With guidance from woodworking articles and videos, he converted half of his garage into a wood shop and spends a couple of hours a day on his craft. "Hopefully, information like this will encourage other novice retirees to step out and break new ground," he writes.
After nearly 40 years in the high-tech industry, Deb Blanchard decided she wanted to spend her time in a "calmer" way and volunteered at her local animal shelter. Eventually, she discovered a hidden talent: "I was good at training dogs, especially dogs with behavioral issues." Retirement has "opened up a whole new world for me," says Blanchard. "If we open our hearts and minds to new possibilities, we can make a new life with a new purpose."
Editor-at-Large, Kiplinger's Personal Finance
Janet Bodnar is editor-at-large of Kiplinger's Personal Finance, a position she assumed after retiring as editor of the magazine after eight years at the helm. While editor, Bodnar was honored by Folio as one of its Top Women in Media. She is a nationally recognized expert on the subjects of women and money, children's and family finances, and financial literacy. She is the author of two books, Money Smart Women and Raising Money Smart Kids. As editor-at-large, she writes two popular columns for Kiplinger, "Money Smart Women" and "Living in Retirement." Bodnar is a graduate of St. Bonaventure University and is a member of its Board of Trustees. She received her master's degree from Columbia University, where she was also a Knight-Bagehot Fellow in Business and Economics Journalism.