A Snowbird's Preflight Checklist for Insurance
If you're spending part of the year in Florida, Arizona or any other state, seniors should follow this guidance about managing two homes in retirement.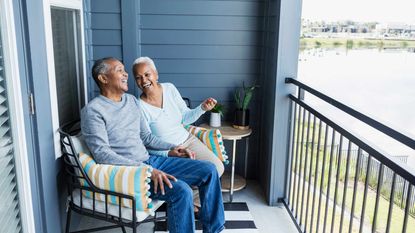 (Image credit: Getty Images)
It's that time of year when the weather gets cold and the snowbirds head south, both the geese and the humans. Using data from the Census Bureau's 2016 American Community Survey, the most recent data available, the National Association of Home Builders estimates that 7.4 million Americans own a second home, with the most popular locations in warm climates like Florida, Arizona and California.
Of course, life as a snowbird isn't all a bed of roses. Having two homes means insuring both properties and possibly two cars. Liability is another concern, especially for retirees with a lifetime of savings to protect.
"The best rule of thumb is preparedness," says Joe Meisinger, chief underwriting officer for personal insurance at Travelers. He suggests starting by understanding what the policies you already have cover.
Subscribe to Kiplinger's Personal Finance
Be a smarter, better informed investor.
Save up to 74%
Sign up for Kiplinger's Free E-Newsletters
Profit and prosper with the best of expert advice on investing, taxes, retirement, personal finance and more - straight to your e-mail.
Profit and prosper with the best of expert advice - straight to your e-mail.
In fact, you may want to make your annual review of home and auto coverage as seasonal as your escape to a warmer place. Even if your insurance needs change little from year to year, the cost of those policies surely will. To get you ready for a worry-free winter, these tips can help you evaluate your property coverage and spot ways to trim costs (see next page for "Keep a Seasonal Home Safe").
Don't Keep Secrets From Your Insurer
When you own two homes, your insurer will ask you to list which is your primary residence and which is secondary. Your primary residence is the one that you spend more time at during the year. If you spend nine months in New York and three in Florida, your New York residence is considered your primary home. If you spend an equal amount of time in both states, the insurance industry standard is that you name the state where you have your driver's license as your primary residence.
You'll end up paying higher insurance rates for your secondary residence, so you may be tempted to list the more expensive residence as your primary, even if you spend less time there. Resist that temptation, says Matthew Henaghan, an Allstate insurance agent in Hockessin, Del. "You don't want to keep secrets from your insurance company," he says. "If you list one house as your primary, but you're only there three months a year, that can create major issues."
For example, if a pipe bursts and you don't discover the damage until much later in the year, your claim could be denied.
In Henaghan's experience, the major insurance companies will only sell you a policy for a secondary home if they are also insuring your primary residence, though some smaller insurance companies, like American Modern and Foremost, will insure a secondary residence alone.
Insurers generally do not include secondary homes as part of their standard bundle discounts, which let you save money by buying multiple policies—like home, auto and life insurance—from the same company. But it's always worth asking if an insurer will give you a discount for insuring two homes.
"Review your homeowner's insurance policy and make sure it covers everything you need and speak to your insurance agent about any remaining questions," says Meisinger.
One extra benefit you may want to add to your policy is water backup coverage. "According to Travelers' data, 20% of homeowner's insurance claims result from water damage unrelated to weather events, including frozen pipes that can lead to leaks," says Meisinger. If your house catches fire while you're in another state, chances are you'll get a phone call, but you might not discover the damage from a burst pipe for weeks, even months. That's why the water backup coverage makes sense.
Your liability coverage may also need to be increased. "You aren't there so there's an opportunity for trouble, like kids setting off fireworks in your backyard," says Henaghan.
Someone with two homes may also have a higher net worth than the liability coverage limit on a standard homeowner's policy. By purchasing an umbrella liability policy, you could get an additional $1 million in coverage for a few hundred dollars a year. Henaghan recommends purchasing enough umbrella liability insurance to cover your total net worth—including both homes, your vehicles and retirement savings—against potential lawsuits.
Home Is Where the Car Is Garaged
With auto insurance, your vehicles should be registered and insured in the state where they are primarily "garaged" during the year. A car that's only kept in Florida should be insured and registered there. If you store a second car each winter in another state, that is where the vehicle should be insured and registered.
A vehicle that is driven back and forth between homes doesn't need auto insurance in both states, only the one where the vehicle spends most of the year. If the car is in New York nine months and spends only three in Florida, it should be insured and registered in New York. As with home insurance, in an even split, pick the state where you have your driver's license.
Don't be tempted to insure all vehicles in the state with the lowest insurance rates. If you do, you could be committing insurance fraud. "It might cost you a little more to handle this properly, but then you don't have to worry about a claim being denied under a technicality," says Henaghan.
There are other ways to save on auto insurance if you keep vehicles in two different states. First, see if your insurance company offers a pay-per-mile policy, such as Allstate's Milewise program. That way if your car sits in a garage for months, you're saving money when it's not on the road.
Another option is to suspend the liability portion of your insurance on a car you aren't driving. Just make sure no one else can drive the car while you're away. "If your neighbor or grandson borrows the car for a quick errand without you knowing and they have an accident, you'd still be liable," says Henaghan. You will need to remember to reinstate your liability coverage before taking that vehicle out again.
Even if a car is not being driven, you should still maintain the basic comprehensive coverage for the vehicle against theft, fire, vandalism and other physical damage. "Your homeowner's insurance won't cover a personal vehicle," says Henaghan. If the garage collapses while you're away, you'd need comprehensive auto insurance coverage to cover the damage."
Keep a Seasonal Home Safe
The simplest way to save money on insurance is by avoiding costly claims in the first place, so consider adding these precautions to your preflight checklist.
Schedule a plumber. Meisinger recommends getting an expert's advice before leaving. "A plumber can help make sure that there are no risk factors for your pipes freezing over and can advise on turning off your water supply."
Get an informal caretaker. Ask a close friend or neighbor to stop by every few weeks. That way if a pipe bursts or something else goes wrong, the problem is caught sooner and before greater damage can occur.
Set up an alarm system. Henaghan recommends an alarm that's monitored by a live person, not just a buzzer. There are also alarm systems that can monitor for fire and call the fire department for you.
Track water usage. A free mobile app such as Dropcountr keeps tabs on your water usage so you can catch an unusual spike while you're away, which may be a sign of a burst pipe. In addition, smart shut-off valves like Moen's Flo let you turn off the water from afar in an emergency.
Thwart thieves. A home that seems occupied is less likely to be a target for burglars. So forward your mail and packages, hire a snow removal service and install motion detector lights. "These small but important steps can thwart potential thieves and give you peace of mind while you're gone," Meisinger says.
Park your cars in a garage. A vehicle parked outside in the same place for weeks advertises you're away and becomes a more tempting target for a break-in.
Hold onto the car keys. If you removed your liability coverage for an unused vehicle, take the keys with you so no one else can drive the car.