11 Great Places to Live in California
These places in California have a little something for everyone and every kind of lifestyle.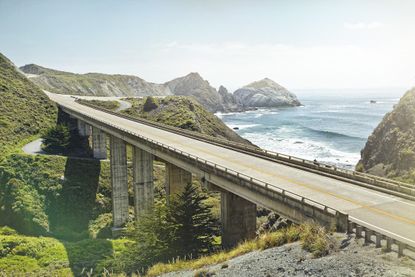 (Image credit: Getty Images)
If you're like me, being bicoastal means California and New York function as bookends balancing most life decisions. I've lived in both states, and while the West Coast is not always or necessarily better than the East Coast, when I leave my New York City apartment and land at SFO or LAX, I feel at home and energized. So much to see, do, experience and eat.
Poised on the Pacific Rim and bordering Mexico, California contains a multitude of influences, accents, culinary traditions, topography, geography and sea levels. Once you make the decision to move to the Golden State, whether to retire in California or live your best career years, you can find a place to live with kindred spirits, one that fits your budget, suits your lifestyle and indulges your interests and hobbies.
Beware, though: these are definitely not some of the cheapest places to live, and there are definitely tax considerations for living in California. That said, you may just find the vistas and culture worth the price.
Subscribe to Kiplinger's Personal Finance
Be a smarter, better informed investor.
Save up to 74%
Sign up for Kiplinger's Free E-Newsletters
Profit and prosper with the best of expert advice on investing, taxes, retirement, personal finance and more - straight to your e-mail.
Profit and prosper with the best of expert advice - straight to your e-mail.
If you want a quiet town with healthful atmosphere, hot springs and spas set in the wine country, check out Calistoga
Calistoga is great if you want a healing environment where visitors come from far and wide to take the waters, get massages and mud bathe. Geothermal springs infuse the small city with an aura of wellness.
COVID-19 changed the way a lot of the resorts operate, so residents looking for day use should try Mount View. You'll have to book a spa treatment to get into the glorious pools at Indian Springs; dinner at their restaurant, Sam's Social Club is easier to arrange. Locals prefer burgers at Hydro Grill.
Naturally, tasting rooms are Napa Valley focused.
If you want to live near a big, beautiful arboretum in a place that's bike-friendly, try Davis
Students of botany and the fine art of flaneuring enjoy the 100-acre Arboretum and Public Garden. A short train ride from Sacramento, the state capital, Davis is forward thinking, environmentally correct and exceedingly proud of its bike friendliness. Study this Davis map for 306 different cycling routes.
University of California, Davis, is known for veterinary medicine, agriculture, enology and viticulture. The campus is very prominent, but even families and environmentalists not connected to the school really like living here.
If you're attracted by the patina of old-time California and want to stretch dollars, try Grass Valley
This historic mining center is still referred to as the "Gold Capital of America." Grass Valley (and Nevada City, next door), in the foothills of the Sierra Nevada, is comparatively less expensive than other corners of California and far enough away from larger urban areas for artists to feel they can put down roots.
The Center for the Arts features musical acts, a black box theater, education and gallery exhibitions.
If you want proximity to the Pacific Ocean, fresh seafood and hiking close by, try Half Moon Bay
San Mateo County is densely populated for a reason. It has something for every interest and personality. If I had my druthers, I'd live in or near this small city where one can indulge in whale watching, buy daily catches off boats in Pillar Point Harbor and imbibe at California's only on-the-beach Taco Bell in Pacifica. And nothing beats watching dare devil surfers at Mavericks, the world-renown surfing spot.
The pumpkin capital of Half Moon Bay hosts a festival in October and last year's giant broke records, weighing in at 2,560 pounds. If you're looking for more reasonably sized meals, a solid Main Street locale for lunch is the historic San Benito House.
VisitHalfMoonBay has information on nearby hiking spots like Devil's Slide and points of interest along Highway One that covers 650 miles between Orange and Mendocino counties.
If you want an ethnically diverse, politically progressive and youthful city, try Oakland
Next to Berkeley and commuting distance to San Francisco, this city needs neither to entice foodies, culture seekers and nature lovers.
Alameda County is one of the most appealing of the Bay Area nine counties. Oakland encompasses distinct neighborhoods ranging from Temescal to tony Rockridge to the Oakland Hills. Lake Merritt attracts picnickers, boaters and birders, is the oldest wildlife refuge in America and is considered the jewel of Oakland.
Bay Area Rapid Transit doesn't operate 24/7 like New York City's subway, but BART efficiently connects the East Bay to points farther east, Daly City, the South Bay and beyond.
If you're an aficionados of mid-century modern architecture and identify with celebrities past and present, try Palm Springs
Summers generally mean above 100-degree temperatures, but it's dry heat without uncomfortable East Coast humidity, and backyard pools are prevalent in this desert city. If I wanted to relocate to Palm Springs, I'd go for the weekend and check out acclimating to the weather and pace.
An annual Modernism festival is in February, with a Mini-Modernism Week in October featuring tours of Frank Sinatra's Twin Palms estate, examples of Spanish Colonial architecture and glamorous old-time resorts. Palm Springs Preservation Foundation has more information about historic districts.
Coachella Valley Preserve is a 20,000-acre sanctuary of native vegetation, palm oases and rare wildlife habitat not far from city limits. And springtime means there's a dip in average age as festival goers are shuttled from Palm Springs to the Coachella music and art scene in Indio.
If you appreciate a city that's preserved its history and serves as a lively restaurant and craft brewery hub, try Petaluma
If you crave a walkable downtown loaded with enough eateries, ice cream parlors, antique stores and boutiques to keep the entire family well fed and entertained, consider this Sonoma County city. A river does run through it, and along the Petaluma River are brewpubs and the setting for a Craft Beer Festival in September.
Petaluma gets credit for using historic buildings in contemporary ways, including a former Carnegie library. Wonderful, artisanal bread is found at Della Fattoria (open 8 a.m. to 2 p.m. Fridays and weekends) in the US Bakery building (circa 1860). Old Chicago Pizza has been offering consistent, deep-dish pies since the '70s, operating out of the Lan Mart building dating back to the 1800s; and Central Market with its "farm to fork" menu is also in the heart of historic downtown, in the century-old Maclay building.
For sunny skies year-round and the Mexican border less than 20 miles away, try living in San Diego
When you look at the weather forecast, it's no wonder the real estate market is warmer in San Diego than in other parts of the state. The number and variety of beaches along 70 miles of coastline belie the fact that this is the eighth most populous city in the United States, and some former residents of Los Angeles and San Francisco claim big-city problems are less prominent here.
There's no lack of nightlife and shopping in Old Town. Mission Basilica San Diego de Alcalá was among the first of the California Catholic missions, founded in 1769 by Spanish friar Junipero Serra. San Diego Zoo, one of the most interactive zoos and safari parks, offers before-hours experiences like seeing a jaguar, leopard or ocelot.
If you want a cool college city near the coast, try San Luis Obispo
There are parents who, after leaving their kids at a California Polytechnic State University (aka Cal Poly) dorm, fantasize about the Central Coast lifestyle.
No question, San Luis Obispo is very appealing on many levels, with 10 distinct neighborhoods, outdoor concerts in Mission Plaza, public art installations, murals and enough trendy cafes and dining destinations to satiate residents. While not located directly on the Pacific Ocean, Pismo Beach and Morro Bay are close enough for pier sunsets and surfing.
One solution to the high home prices are under-$300,000, prefab houses.
If you want a dizzying choice of outdoor activities set against a mountainous, lake-filled backdrop, try the town of Truckee
Hikers, climbers, campers, skiers and serenity seekers love Truckee for its access to the outdoors and small town ambience. No longer a hidden gem, housing costs have risen along with the popularity of rock climbing, skiing and snowboarding.
It's near mountains, forests, Donner Lake and Donner Pass, Lake Tahoe and the Truckee River where there's enough rafting, fishing and boating for every speed. Mountain cuisine is best explained by the local restauranteurs who have gravitated to Truckee from all over the country.
If you want affordable housing in an agricultural area surrounded by orchards, groves, farms and roadside stands, try Visalia
Besides homes with relatively low price tags, this part of the Central San Joaquin Valley grows food for the entire state. Right now it's peak season at Visalia Farmers Market for stone fruit, squash, sweet corn, okra and leafy greens, and also sells sourdough bread, meat, eggs, flowers, honey, nuts, olive oil, jam, essential oils and offers free water when temperatures hit triple digits (summer heat waves are real and ongoing).
Unlike neighboring towns where strip malls and big-box stores have turned downtowns into ghost towns, Visalia's is comparatively active. Attribute that energy to music and movies at Main Street's Fox Theatre and the presence of students from College of the Sequoias, one of California's 116 community colleges.
Related Content