The Best College Values
Associate editor Kaitlin Pitsker joins the show to discuss Kiplinger's annual college value rankings. Plus, Sandy and Ryan discuss tax holidays and other back-to-school shopping deals.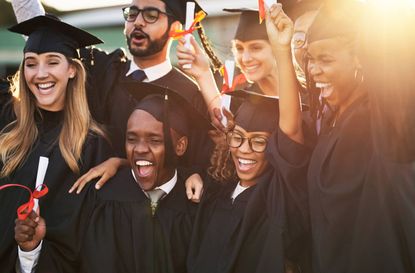 (Image credit: PeopleImages.com - #1548751 (PeopleImages.com - #1548751 (Photographer) - [None])
Ryan Ermey: The hard-partying state university or the quaint liberal arts college? When choosing a school, Kiplinger's wants you to keep one thing in mind above all else: Value. Our annual college rankings factor in everything from cost to aid to the average graduate's debt to deliver you a list of schools that give students the most bang for their buck. The brains behind these rankings? Kaitlin Pitsker, who joins us for an interview in our main segment. On today's show, Sandy and I dish on back-to-school shopping deals and a new edition of Fact Or Fiction tackles tax penalties for couples and IPO stocks. That's all ahead on this episode of Your Money's Worth. Stick around.
Ryan: Welcome to Your Money's Worth. I'm Kiplinger's associate editor Ryan Ermey, joined as always by senior editor Sandy Block. Sandy, how are you?
Sandy Block: I'm good, Ryan.
Subscribe to Kiplinger's Personal Finance
Be a smarter, better informed investor.
Save up to 74%
Sign up for Kiplinger's Free E-Newsletters
Profit and prosper with the best of expert advice on investing, taxes, retirement, personal finance and more - straight to your e-mail.
Profit and prosper with the best of expert advice - straight to your e-mail.
Ryan: We're just about two thirds of the way through the summer, and as a kid I always thought there was plenty of summer left. But already that back-to-school feeling starts creeping up on you. For us adults, that's the opportunity for some deals on back-to-school shopping.
Sandy: That's right, because this is the time of year for back-to-school sales tax holidays. About 16 states offer these. A couple, it's already passed, but most of them occur either this coming weekend or sometime in August. What these states do is exempt certain items, usually associated with going back to school. I want to emphasize that you do not need to have a child to take advantage. They're not going to ask, "Where's your kid?"
Sandy: In some cases, the savings can be very small, but where it really can give you a deal is if you are in the market for a laptop, because several states exempt sales taxes of 6% or 8% on a laptop or $1,000, or in at least one case I found $1,500. That's 60 to 80 bucks. Now again, it's going to depend. Oh, and in Massachusetts, anything you buy up to 2,500 bucks is exempt from their 6.5% sales tax.
Ryan: Just anything at all?
Sandy: Anything. Anything at all. But it's one item up to 20. And that's the thing you got to be careful of, because they all have all these rules. So it's easy to get tripped up.
Ryan: Booze certainly doesn't count.
Sandy: Oh, yeah, yeah. I think Massachusetts exempts motorcycles and marijuana and a few other things. But most things that you'd want to buy ... As I said in the beginning, I think where you really want to pay attention to whether your state has a sales tax holiday is if you are in the market for a computer. And here's one example. If you buy a $1,000 laptop during Florida's sales tax holiday, which is August 2nd through 6th, you could save 60 bucks.
Ryan: That's just on the tax?
Sandy: That's just on the tax. Yeah. And retailers love the sales tax holidays, and they run a lot of promotions, so keep an eye out for sales. Now again, don't get too excited. One example I found, Iowa, limits its exemption to clothes and shoes worth up to a $100. If you buy a $35 pair of pants, you'll save $2.10. It's probably not worth going out of your way for. People love anything that gives them a break on taxes, but oftentimes you might find a better deal somewhere else or something like that. Now most of these states have extended their sales tax holidays to online purchases as well, so you don't have to leave the house to do this. But we will put links in our show notes of all of the states that have sales tax holidays.
Sandy: One other thing I'll mention is that it doesn't just apply to back-to-school. A few states also offer sales tax exemptions on emergency items like generators, and generators can cost a lot of money. Check out our show notes, see some examples, and if you are in the market for something, particularly a laptop, anyway, look for an advantage to save some money.
Ryan: Well, and you can get a double whammy really. I went back. This was your thing, because it's a state tax thing, and I was starting to feel a little left out. So I went back through my old calendars, and August is always a dead month for just about everything because everyone leaves. When it comes to sales, you're quite right that laptops, this really is the time to get them. Deals on laptops and tablets for students rival those offered on Black Friday and Cyber Monday typically, and you can expect discounts of 10% to 50% on new tech, 30% to 50% on older, low-budgets laptops and Chromebooks, which are really popular among students. I also remembered writing one of those like we talked about, Inside Scoop columns at the Apple Store, because I had a bunch of friends when I was just out of college working for the Apple Store.
Sandy: Some of them still there, probably.
Ryan: I think one of them actually is. People are weirdly loyal to Apple.
Sandy: I know.
Ryan: But anyway, if you're a student, you should always ask for a discount anyway.
Sandy: Yes, yes.
Ryan: Because at the Apple Store, their back-to-school promo goes year round, as long as you mentioned that you're a student. I went back through my email, and he said, "We don't just give students discounts during the back-to-school promo. It's all year round and ranges from $50 to more than $200, depending on the model computer you're getting. That works for educators, government employees, and military as well." Like I said, you can be stacking up these sales with the sales tax holiday.
Ryan: The last thing I wanted to mention to back-to-school, because I thought maybe some of our senior listeners ... and by senior, I don't mean high school seniors ...might feel a little bit left out about the sales tax holiday thing for back-to-school, but it can be back-to-school for seniors too. This is something that we've written about, that colleges around the country allow older adults to audit classes, take them for credit, lifelong learning programs. The website that I quoted last time I wrote about this was ASeniorCitizenGuideforCollege.com (opens in new tab) and I went and looked and it's still up. It doesn't look like they post all that much, but it's a good place to start to see where in your state you may be able to get continuing education. So back-to-school for everyone. Enjoy the last third of your summer. It's not over. In Jersey, we say down the shore. Go down the shore for a couple of weeks. Enjoy yourself, but make sure that you look around to make sure that you can get some deals.
Ryan: After the break, associate editor Kaitlin Pitsker breaks down our newly released college value rankings. Don't go anywhere.
Ryan: We're back, and we're here with Kaitlin Pitsker, who is an associate editor on Kiplinger's magazine and also the queen of college values. Kaitlin, I know you've been knee-deep in data for longer than any of us like to think about. Thank you so much for making some time to come on.
Kaitlin Pitsker: It's great to be here.
Ryan: Our college rankings are going to be out by the time this airs, and people are probably familiar with rankings at other sort of publications. How are our college rankings different from rankings that people might see elsewhere?
Kaitlin: Kiplinger was the first to assess colleges based on a combination of the school's academic merits and the cost of attendance. We began ranking the best values in public colleges in 1998 and the top values in private schools in 1999, so we've been doing this for a long time. This year, we've published an expanded version of our annual Best College Values List, naming 400 schools to our Best Values List plus 100 schools that narrowly missed our list but also deliver a great value.
Kaitlin: Another key difference for our rankings is that they're based entirely on hard data. You won't find any peer reviews or student evaluations or staff opinions in our calculations. To keep the data from being outdated or skewed by inaccurate information, our reporting team contacts each school to verify the information and then reviews each of the roughly 35,000 data points that go into our final calculations.
Ryan: Holy moly.
Sandy: Kaitlin, I know you've been doing some very serious number crunching. Can you talk to us about what some of the key criteria that you looked at, and for people who've followed your rankings before, did you add anything new this year?
Kaitlin: Sure. We start with data on nearly 1,200 four-year colleges and universities, and then add our own reporting. When we're crunching the numbers, quality always comes first. We start by analyzing academic measures, including student-to-faculty ratios, test scores among incoming freshmen, and the percentage of students who return for their sophomore year, as well as the school's graduation rates. On the financial side, we're looking for schools with affordable sticker prices, generous financial aid, and low student debt at graduation.
Kaitlin: We've made several changes this year that'll make our list even more useful for families. We continue to award the most points for four-year graduation rates because graduating on time keeps costs down, but that's not a reality for a lot of students. The national average for four-year grad rates is about 40%. So to reflect the benefit that comes from earning a degree, even if it takes more than four years, we've revised our rankings to reward a handful of points for five- and six-year graduation rates, and we also reward schools that do a stellar job of graduating students with financial need.
Kaitlin: Another change, our rankings now compare the average first-year financial aid award to that of all undergraduates, rewarding schools that avoid giving generous financial aid packages to incoming students only to reduce them in subsequent years. To make way for these new values, we've placed less emphasis on several factors including a school's admission rate and test scores among incoming freshmen. Both have become less meaningful as some schools have tried to drive down admission rates by encouraging more students to apply, and many have made so many SAT and ACT scores optional.
Ryan: You mentioned price tag, and looking at the lists, you know some of the price tags have gotten really eye popping. I remember when I went to GW. That was supposed to be one of the most expensive schools in the country at mid 50s, low 60s. And now you're seeing price tags all the way up in the 70s. How are these schools that are really topping the list, how are these still considered great values?
Kaitlin: You've made an excellent point. On the surface, naming a school with a $70,000-plus price tag as a best value just seems to defy logic. But the reality is that most families will pay far less. The schools in our rankings offered generous need-based financial aid, often reducing the average price that families paid to about half of the published sticker price. Many also offer non-need-based aid, often called merit aid for students with strong academic records or other achievements. Very often, the schools with the largest sticker price, those really eye-popping numbers, do the best job of cutting it down to size.
Ryan: Right.
Sandy: Let's name names, Kaitlin. Now that we've gone over the criteria and advised people not to get too focused on the sticker price because what really matters is what you actually pay, give us some names of the top dogs in the public and private categories.
Kaitlin: Sure. So let's take a look at the schools that lead each of our lists. Thomas Aquinas, which is a pint-sized liberal arts school northwest of Los Angeles tops both our combined Best Values List as well as our list of private liberal arts colleges. This Catholic college really racks up points on the financial side of our equation with a sticker price that's about half that of many schools on our Best Values List. The University of North Carolina at Chapel Hill retains its Best In-State Value title, leading the pack of public colleges for the 18th straight time.
Ryan: Whoa.
Kaitlin: That's a clean sweep of Kiplinger's Public College Rankings. And it also nabs our top honors for the best out-of-state value. Strong academics, including the 84% four-year graduation rate, that's among the highest of all public colleges on our list, really helped the Tar Heels cement their spot at the top.
Kaitlin: Among private universities, Yale University leads the pack for the third time, earning points for its suburb academics, including an impressive 88% four-year graduation rate, six-to-one student-faculty ratio, and a competitive 7% admission rate. This is a great example of what we were talking about a little bit before. It has an annual sticker price of about $71,000, but surprisingly that Yale education is in reach for many families. Half the students, some from families with incomes of $250,000 a year or more, receive need-based aid at Yale.
Sandy: Kaitlin, I think everybody's heard of Yale, and I know some of the other top contenders on our list are pretty well known. But could you give us a couple of examples of schools that deliver best value at an affordable price that maybe people haven't heard of if they don't happen to live down the street?
Kaitlin: Absolutely. To your point, a lot of people know the names of schools that are local, or maybe they know someone who attended them. And often the smaller schools, say enrollment around 2,000 give or take, get overlooked. Recently I had the opportunity to visit Hamilton College and really get to know some of the people there. I talk with students about why they chose the school. It was a really great opportunity to look at a small liberal arts college that is well known in its area, but perhaps if you live on the West Coast and haven't spent time in central New York, you may not know the name. That profile is on our website.
Ryan: Especially a lot of these smaller schools, you don't think about them until like NCAA tournament, whatever. You start looking up, "Where's Belmont?" That's one that you're always killer at. But just wrap it up. If parents and students should keep one thing in mind when considering whether they're getting a good value for the college education, what should it be? I know you consider thousands upon thousands of criteria, and obviously it's a hugely useful tool for people. But obviously you want to go to the school that you want to go to. If you're trying to narrow down your list when it comes to determining the best value, what should people keep in mind?
Kaitlin: Remember that value isn't one-size-fits-all. As you just mentioned, all of the schools on our list, our Best Values, whether they're number one or number 400 or anywhere in between, and ultimately finding the right fit for your student is going to make that school an even better value. Use our rankings as a starting point to consider your full array of options, not just those names that you know, and then narrow the field to find a school that fits your student, the preferences that they have such as the size of the school, its location, the campus culture, and of course the program of study that they're interested in.
Ryan: All right, well, great. Thank you again for coming on. I know it's been an absolute mountain of work that you're very happy to be finally overcoming. Where can people go to find the rankings?
Kaitlin: It'd be kiplinger.com/links/colleges.
Ryan: All right, cool. We'll put it in the show notes. Go check it out, especially if you have a a high school kid looking at colleges. And Kaitlin, thank you again for coming on.
Kaitlin: Thanks for having me.
Ryan: Might you actually have to pay more taxes if you get married? Find out in the new edition of Fact Or Fiction, next.
Ryan: Before we go, Sandy and I wanted to play yet another game of Financial Fact Or Fiction, where we try to stump each other with statements about personal finance. And Sandy, you're up first.
Sandy: Okay, here's mine. Depending on where you live, getting married could cause your taxes to go up.
Ryan: This seems like one of those got-you things that we write about here, but I don't know. Will people be fighting for marriage rights if it wasn't a huge tax benefit? I think getting married is generally a benefit.
Sandy: Well, it is true as far as your federal taxes are concerned. I have told many people if somebody says they don't want to get married because they're afraid their federal taxes are going up, they just don't want to get married, because the tax overhaul pretty much put a stake in the federal marriage penalty.
Ryan: That's a hell of an excuse to give to someone proposing. "I love you, but tax taxes."
Sandy: Taxes. But however, if your significant other says that they are worried that their state taxes are going to go up, they very well could be right, because in 15 states, you could end up paying more as a married couple than you would if you stayed single and lived together. And in some cases-
Ryan: It's sin.
Sandy: I know. Well, you know. In some cases, they could go up quite a bit. Now there are a few states where it's only going to hit you ... California is really only going to hit you if both of you make lot of money.
Ryan: Okay.
Sandy: But there are quite a few states, and we have a slide show on Kiplinger.com., and we'll post this in the show notes. But there are quite a few states where, no matter what your income level is, you're going to pay more as a married couple in state taxes than you would as two single people just living in sin. And some of those states include Georgia, Maryland, New Mexico, Rhode Island, and Vermont. And Minnesota, which shows up on our website quite often as a high-tax state, is particularly egregious. Two taxpayers, each with $100,000 of taxable income, would pay a total of $15,700 in state income taxes if filing individually, which sounds a lot. But if they got married, and their combined taxable income of $200,000 push them into the state's 9.85% tax bracket, they would pay an additional $4,000 in state taxes for filing jointly. So if you're in Minnesota, you might just want to live together.
Ryan: Because that's in Minnesota.
Sandy: Okay. What you got?
Ryan: All right. Historically and on average, you will make money if you invest in an IPO at the offering price.
Sandy: I have a feeling that that is a fact with a caveat.
Ryan: Yeah, you got me. It is a fact with a caveat. From 1980 through 2017, IPO stocks rose an average of 18% from the offering price on the first day of trading. So free money on the first day. However-
Sandy: I want a piece of that.
Ryan: You can't. You can't have it. Maybe you can. Maybe you can. Maybe you're going to get a job at Palantir or one of these places that's going to have an IPO soon, and they'll give you stock. But the problem is most people aren't getting stocks at the offering price, so generally offering-price shares are given to institutional investors, prized clients of the investment bank that's facilitating the IPO, or quote unquote "friends and family" shares. You're likely none of those things.
Ryan: Now, if you're a big hot-shot client at a certain brokerage like Fidelity or TD Ameritrade, you may be able to get some shares. But the way that they met these out, there's no guarantees. I'll put it that way. You're certainly not guaranteed any shares. For the vast, vast majority of people, you're going to have to get in after the stock goes public. Despite a number of high-profile IPOs recently, including Beyond Meat, which has gone through the roof, there's really no reliable pattern as to how shares behave once they hit the open market.
Ryan: Now, I've written about this a little bit and have interrogated everyone I've ever interviewed about this, and it's really grasping at straws. Analysts typically initiate ratings on a stock after about 25 days after the IPO. If sentiment is good, that can boost the stock 180 days after an IPO, the quote unquote "lockup period" ends. If you are in there, they don't want you to sell immediately, so you have to wait 180 days to sell if you have the pre-IPO shares.
Ryan: A lot of times there can be a little bit of an exodus then, a lot of people cash out, so that can ding the shares a little bit. The general rule of thumb is that IPO stocks tend to be very, very volatile, because they're new, and there's not a lot of information on them. They really shouldn't make up more than a very, very conservative allocation in your portfolio.
Ryan: A couple quick things. If you know one of these like if-you-must, right?
Sandy: I must have a piece of it. I must invest in Beyond Meat.
Ryan: Right. So if you must, a couple things to keep in mind. One thing is float, which is the percentage of a firm's stock that's made available to the public. You want there to be a pretty good percentage coming to market because if it's a tiny percentage of the company, the shares are obviously going to fluctuate even more wildly. People who are into the market, think about Tilray, which is a marijuana company that went through the roof and then shot back down.
Ryan: Another thing to consider is the first day of return. You don't want something that has completely plummeted, because that often spells doom for [the] stock.
Sandy: Bad sign, yeah.
Ryan: You don't want anything that has gone through the roof either. You want something in a sweet spot. One of the guys that I talked to last time I wrote about this said, "Look between 0 and 65%," which I know is a big window. These are volatile things, folks. We don't really know a lot about how they behave. The last thing to keep in mind, and this is what Jay Ritter has told me time and time again. He's the IPO guru. He's a-
Sandy: ... Professor, yeah.
Ryan: A professor at Florida. The big thing to look at, and historically from 1980 on, the number one indicator of long-term returns, or at least I think three-year returns after the IPO, is pre-IPO revenue.
Ryan: These companies have to file with the SEC before they go public. You're looking for something that has at least a $100 million in annual sales. So that is going to significantly boost the average for three-year returns. And the reason for that being is that these companies have demonstrated that they-
Sandy: They have a business.
Ryan: ... have a product or service that people actually want. A lot of these high-profile IPOs are well beyond that, your Uber and Lyft and Palantir coming up, or Peloton or what have you. But that's something to keep in mind, especially if you're going to be investing in itty bitty IPOS. Those are even riskier.
Ryan: So that's it. We had talked about Beyond Meat a couple of episodes ago. It's done really, really well, but if you're going to be doing some IPO investing, be careful and make sure it's a very small portion of your portfolio.
Sandy: Good advice, Ryan.
Ryan Ermey: That'll do it for this episode of Your Money's Worth for show notes and more great Kiplinger content on the topics we discussed on today's show, visit kiplinger.com/links/podcasts. You can stay connected with us on Twitter (opens in new tab), Facebook or by emailing us at podcast@kiplinger.com. And if you like the show, please remember to rate, review, and subscribe to Your Money's Worth wherever you get your podcasts. Thanks for listening.
Links and resources mentioned in this episode
Associate Editor, Kiplinger's Personal Finance
Ryan joined Kiplinger in the fall of 2013. He writes and fact-checks stories that appear in Kiplinger's Personal Finance magazine and on Kiplinger.com. He previously interned for the CBS Evening News investigative team and worked as a copy editor and features columnist at the GW Hatchet. He holds a BA in English and creative writing from George Washington University.