A Guide to Shopping at Outlet and Discount Department Stores
It's a great time for shopping at outlet and discount department stores to see what's on sale.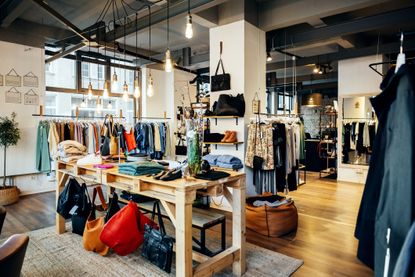 (Image credit: Getty Images)
Inundated by end-of-season sales, store-wide clearances, doorbusters, markdowns and back-to-school specials, shoppers have a dizzying amount of places to buy clothes this time of year.
Kids want to score designer logos with street cred, while parents footing the bills want durability and quality. Inventory at factory stores such as Eddie Bauer and Banana Republic is impressive but often made of less expensive fabrics with their own distinct details, designed similarly but differently than namesake stores.
Bargain hunters rave about deals at discount department stores like Century 21, TJ Maxx, Bloomingdale's Outlet and Nordstrom Rack, but navigating myriad and constantly changing inventory is daunting. So here, Kiplinger takes a look at what's worth looking at, in this guide to shopping at outlet and discount department stores.
Subscribe to Kiplinger's Personal Finance
Be a smarter, better informed investor.
Save up to 74%
Sign up for Kiplinger's Free E-Newsletters
Profit and prosper with the best of expert advice on investing, taxes, retirement, personal finance and more - straight to your e-mail.
Profit and prosper with the best of expert advice - straight to your e-mail.
What's in fashion
"September is the January of fashion," a Vogue editor once declared, as followers of current trends are inspired by cutting-edge outfits presented at CFDA runways shows in New York City, London, Milan and Paris.
Variety in New York's Spring Summer 2024 collections is as limitless as designers' imaginations and moodboards. Anna Sui, consummate pattern-mixer and vintage connoisseur, used old film as the backdrop of her flowery presentation. Sui said she was inspired by the documentary "My Octopus Teacher," recent travels and the endangered ocean.
Proenza Schouler's show, held at Phillips auction house, made a statement about art and commerce with light (and light blue) flowy dresses, mesh and denim. Actress Rosario Dawson amplified social causes with Studio189's African-made prints worn by a diverse group of dancing models.
Sheer, body-baring looks are in, as are cropped tops, pants that look more like bathing suits or underwear, oversized jackets and slouchy trousers. The runways boasted plenty of metallics, monochromatic looks (especially white), stripes, bows, polka dots, feathery fringe and actual feathers, men in pink and numerous riffs on the trench coat. For more ideas, watch NYFW shows live and archived.
Where to find fashion this season
TJ Maxx Steel yourself to spend some time digging through racks and displays chock full of designer duds from Nicole Miller, Trina Turk, Juicy Couture, even expensive Burberry coats.
The minute I entered Manhattan's Midtown location, Rachel Zoe's ubiquitous and on-trend name was everywhere on luggage and snazzy, zippered sweaters. No matter where you are, TJ Maxx is a dependable destination for Italian and Indian leather handbags, long blue jean skirt, name-brand suits and all things Halloween.
Nordstrom Rack For a discount department store, the Rack is comparatively civilized, spacious and well arranged, with clean fitting rooms (one hook for Possibly, another for Absolutely), on-site alterations and designer sections that seem only a season away from the current moment.
Flash events mean deals on Free People, Madewell, Tumi and Vince, while a Givenchy logo beanie might be reduced from $305 to $142, and a Herve Leger halter gown slashed from $1,890 to $247. There are 240 Nordstrom Rack locations nationwide, with more on their way.
Bloomingdale's Outlet You have to enjoy shopping to do diligence here: fitting rooms are bare bones, markdowns appear erratic but helpful staff assured me "everything!" is discounted.
When I visited the Upper West Side store, even employees didn't know where brands were located, as clothes constantly rotate between two floors. But if you look hard, treasures to unearth range from bohemian Johnny Was to British Ted Baker and playful Karl Lagerfeld.
Banana Republic Factory This factory store always delivers if you want a romantic blouse, long satiny dress, duster, cotton cardigan, black blazer or affordable jewelry.
Their stock is on brand but distinctly different and rarely overstock from Banana Republic. Watch their site for frequent promotions, fall events and days set aside for "friends & family."
Century 21 Renamed Century 21 NYC, this local chainlet survived September 11, the pandemic and bankruptcy that closed all 13 stores. In May 2023, the flagship store next to the World Trade Center and Oculus reopened in a smaller footprint, occupying four instead of seven floors.
The New York City location is the only one left of this store, and the more compact, well organized store is a vast improvement in my opinion. Fitting rooms are spotless, and the staff is knowledgeable.
The current, end-of-season clearance means prices are continually getting lowered. You can take your chances, but if you wait for something you want, it might not be there waiting for you while you reflect. Just saying. Also, you have 45 days to return an item instead of the usual 30 days.
Eddie Bauer Rugged clothes for year-round, outdoorsy activities, Eddie Bauer outlet features enough fleece, flannel and down to take you through extreme wintry or wet weather. Mountain climbers, campers, hikers and runners appreciate that this company posts temperature rating, if items are waterproof or water repellant, and four levels of storm-repellent finishes.
Founded more than a century ago in Seattle, Eddie Bauer stores acknowledge Indigenous territories where they're located. For example, the Tulare, California, outlet store sits on Yokuts land.
Coach Jennifer Lopez, the sexy yet relatable global ambassador of the high-quality brand, is motivation to seek totes, carryalls, backpacks, belt bags, pencil cases, notebooks and boots boasting that signature monogram canvas at outlets for less than half of the regular price.
JLo even collaborated with Coach Outlet, just like artist Jean-Michel Basquiat and graffitists Mikhail Sokovikov and Jason Aaron Wall for the Coach X Mint + Serf Lacey collection.
Related Content