Personal Finance Tips for the Year of the Rabbit
Being intelligent like a rabbit by making smart choices about spending and saving, paying attention to details and exercising patience in investing can help increase financial security.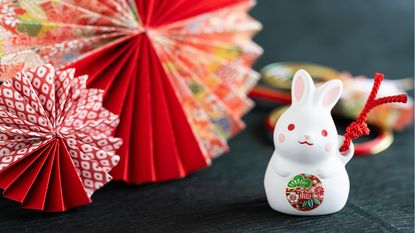 (Image credit: Getty Images)
The year 2023 has started on a strong and positive note after the turbulence of 2022. According to a Forbes Advisor survey (opens in new tab), 43% of Americans are optimistic their finances will improve this year as we look to increase our financial security and prosperity. Let's explore some personal finance tips based on the Year of the Rabbit.
What is the Year of the Rabbit? The Chinese celebrate their new year on different dates. The Chinese calendar is based on solar and lunar cycles. The lunar calendar describes the 12-year repeating cycles of the Chinese zodiac and is named after an animal every year. On Jan. 22, the Lunar New Year began in earnest. It is also called the Year of the Water Rabbit (opens in new tab).
Most animals in the Vietnamese zodiac are the same as those in the Chinese zodiac. However, this year has unique differences (opens in new tab) since the Vietnamese will celebrate the Year of the Cat, while other Asian countries, such as China, Taiwan, Singapore, Indonesia and Korea, will celebrate the Year of the Rabbit. Tibetan and Mongolian cultures also celebrate the Lunar New Year one month later, in February.
Subscribe to Kiplinger's Personal Finance
Be a smarter, better informed investor.
Save up to 74%
Sign up for Kiplinger's Free E-Newsletters
Profit and prosper with the best of expert advice on investing, taxes, retirement, personal finance and more - straight to your e-mail.
Profit and prosper with the best of expert advice - straight to your e-mail.
Some of the unique characteristics of the cat include speed and acuity. Cats are fast and sharp with every detail since they will see things you may not readily notice. They move with speed and are intelligent and honest. They have a fast thought process that allows them to perform a lot of work quickly.
The Year of the Rabbit involves generous rewarding of past sacrifices. All the seeds of effort that you have sown will bear fruit and pay off. Their sweetness depends on your purest intentions.
According to Chinese astrology, the rabbit symbolizes prosperity, peace, longevity and hope. The rabbit is the fourth animal in the Chinese zodiac and the luckiest of all animals. It symbolizes elegance, mercy, alertness, patience, intelligence and swiftness. People born in the Year of the Water Rabbit are peaceful and calm. They shy away from arguments and love fine things. They are artistic and pay attention to details. Rabbits are smart animals, and you can use their traits to plan for a prosperous financial future.
Here's how to use the rabbit's personality to achieve greater financial prosperity in 2023:
Sacrifice and Plant a Seed.
Financial freedom will remain a mirage if you spend everything you earn. Debt due to overspending will leave you stressed. Overspending can prevent you from achieving your financial goals.
It would be best if you were intelligent, like a rabbit. Sow seeds in terms of savings and investments to plan for financial resilience. Short-term saving and long-term investing can help you protect and build wealth. You can increase the amount of money you contribute to your retirement portfolio. Luck comes to those who have invested their resources.
Pay Attention to Details.
If you want to scale up, you must live like a rabbit or a cat. You should be alert and pay attention to the details, such as variable interest rates on any outstanding liabilities, such as lines of credit and credit card debt. Control your credit card debt by paying the outstanding balance before the interest accrues.
As you earn, make a monthly budget with all the details. You should include the amount of money you earn and how you spend it. Follow your budget details and avoid minor diversions. Little loses here and there can turn into significant losses. A budget can help you stick to your goals and push you toward financial stability. Alertness helps you to know when you are drifting away from your goals.
Be Patient in Investing.
As you think about investing in stock markets, you need a rabbit's patience to grow your investment portfolio. The most successful investors acknowledge that patience is the most challenging skill to learn and practice. You must invest in research and perform due diligence before making investment decisions. Investing without patience can lead to unfavorable outcomes.
Use Your Intelligence to Make Gains.
Rabbits and cats are intelligent animals full of intelligence and swiftness. The Chinese idiom "a crafty rabbit has three burrows," points to diversifying your income sources. Tried-and-true strategies, such as diversification and dollar-cost averaging, help you stay focused on your long-term goals and objectives. Consistency is key — be certain to align your risk capacity and risk tolerance, as the most difficult aspect of investing can be staying invested. Understanding how to deal with risk can mean the difference between getting by in retirement and getting ahead.
While rabbits are some of the swiftest animals, you need calm to attain a balanced lifestyle. Calmness builds your confidence and ease. In 2023, you should be alert to your goals and move swiftly away from your distractions.
This article was written by and presents the views of our contributing adviser, not the Kiplinger editorial staff. You can check adviser records with the SEC (opens in new tab) or with FINRA (opens in new tab).
CEO, Blue Ocean Global Wealth
Marguerita M. Cheng is the Chief Executive Officer at Blue Ocean Global Wealth (opens in new tab). She is a CFP® professional, a Chartered Retirement Planning Counselor℠, Retirement Income Certified Professional and a Certified Divorce Financial Analyst. She helps educate the public, policymakers and media about the benefits of competent, ethical financial planning.