Stimulus Plan Has Health Insurance Benefits, Too
The plan's health care provisions could deliver big savings for early retirees and laid-off workers.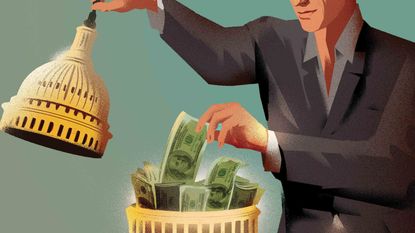 (Image credit: Illustration by Raul Arias)
When President Biden signed the American Rescue Plan Act into law in March, much of the focus was on the stimulus payments, and with good reason: $1,400 is nothing to sneeze at, particularly if multiple people in your household are eligible to receive a check. But depending on your circumstances, other provisions in the $1.9 trillion stimulus bill could be worth even more than $1,400—particularly if you need health insurance.
Health insurance for early retirees. Working longer is one of the most effective ways to make your retirement nest egg last (see The Benefits of Working Longer (opens in new tab)), but not everyone has that option. And if you leave your job before age 65, you'll probably need to buy a health insurance policy that will cover you until you're eligible for Medicare. The Affordable Care Act guarantees that you can buy a policy on the ACA marketplace, even if you have preexisting health conditions. But in the past, premiums for many people in their sixties have been steep, often topping $1,000 a month. Health care experts say the high cost of ACA plans has led some older individuals to buy short-term policies that are less expensive but often lack the protections and coverage guaranteed by ACA plans.
Now, individuals who have eschewed ACA plans, or are paying high premiums to enroll in one, will get some relief. The American Rescue Plan significantly expands eligibility for ACA subsidies, lowering premiums for in­dividuals at every income level and eliminating them entirely for some households. If your estimated modified adjusted gross income for 2021 is between 100% and 150% of the federal poverty level ($17,420 to $26,130 for a two-person household), you'll be able to get enhanced silver-level plans at no cost, says Jon Andrews, managing director, individual marketplace, for Willis Towers Watson, a benefits consulting firm. (Generally, bronze plans have the lowest premiums and highest deductibles, platinum plans have the highest premiums and lowest deductibles, and silver or gold plans fall somewhere in between.)
Subscribe to Kiplinger's Personal Finance
Be a smarter, better informed investor.
Save up to 74%
Sign up for Kiplinger's Free E-Newsletters
Profit and prosper with the best of Kiplinger's expert advice on investing, taxes, retirement, personal finance and more - straight to your e-mail.
Profit and prosper with the best of Kiplinger's expert advice - straight to your e-mail.
Those with 2021 income of 150% to 400% of the federal poverty level will see a significant decline in premiums, and households with income that exceeds 400% of the FPL—$69,680 for a two-person household—will qualify for the most significant drop in cost, because the amount they pay in premiums is capped at 8.5% of their MAGI.
For example, a 63-year-old couple with MAGI of $70,000 will each pay about $496 a month for a silver plan, which is about half of what they would pay without the cap, Andrews says. "Nearly every early retiree who purchases health insurance through public exchanges will see their costs decline," he says.
The Kaiser Family Foundation has a calculator you can use to estimate the cost of a silver plan, based on your estimated income.
To give individuals time to take advantage of the new subsidies, the Centers for Medicare and Medicaid Services has extended the 2021 en­rollment period for ACA plans until August 15.
You can apply for a new plan or update the one you have at healthcare.gov. Unless Congress extends them, the subsidies will expire in 2022.
Unemployed workers. Workers who are laid off don't just lose their paycheck; they often lose their health insurance, too. The Consolidated Omnibus and Reconciliation Act (COBRA) requires companies with at least 20 employees to allow departing employees to keep their coverage for up to 18 months, but they're usually required to pay the entire premium, including the amount previously paid by the employer. That makes COBRA unaffordable for most unemployed workers.
Under the American Rescue Plan, though, the government will subsidize 100% of COBRA premiums between April 1 and September 30 for employees who lost their coverage because they were laid off or had their hours reduced. The federal government will reimburse employers for the cost of the subsidies.
If you lost your job before the law was enacted and are still eligible for COBRA, you can sign up to receive subsidized coverage through September, says Debbie Harrison, director of regulatory and government affairs for the Business Group on Health, a nonprofit that represents large employers. You may also qualify for the subsidy if you enrolled in COBRA and subsequently dropped it before your eligibility ended. However, the subsidies won't apply to any expenses you incurred before April 1, and you don't qualify for the subsidy if you left your job voluntarily.
While the window for claiming subsidized COBRA premiums is narrow, even a few months of coverage could make a huge difference for families of unemployed workers, says John Barkett, senior director of policy affairs for Willis Towers Watson. Without the subsidy, COBRA premiums can cost a family $2,000 a month or more, he says. Continuing COBRA coverage also means you'll be able to keep your health care providers—an important consideration if anyone in your family has a chronic medical condition.
Senior Editor, Kiplinger's Personal Finance
Block joined Kiplinger in June 2012 from USA Today, where she was a reporter and personal finance columnist for more than 15 years. Prior to that, she worked for the Akron Beacon-Journal and Dow Jones Newswires. In 1993, she was a Knight-Bagehot fellow in economics and business journalism at the Columbia University Graduate School of Journalism. She has a BA in communications from Bethany College in Bethany, W.Va.