Vote to Reinsert $15 Minimum Wage in Stimulus Bill Fails
Led by Sen. Bernie Sanders, the effort to get the $15 minimum wage provisions back into President Biden's COVID-Relief package falls short in the Senate.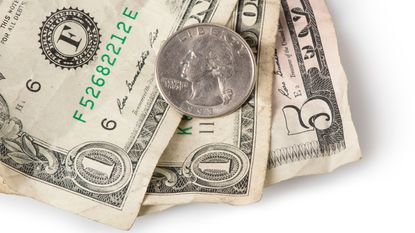 (Image credit: Getty Images)
Efforts to increase the federal minimum wage failed once again, as the Senate rejected an attempt to add language that would increase the minimum wage to the massive COVID-relief bill working its way through Congress. On Friday, Sen. Bernie Sanders (I-Vt.) offered an amendment to the bill that would raise the federal minimum wage to $15 per hour by 2025. However, the amendment was voted down by a 58 to 42 count.
To pass President Biden's $1.9 trillion stimulus package without support from Republicans, Democratic lawmakers are applying rarely used budget reconciliation rules to enact the plan. Under these rules, legislation can be passed in the Senate with a simple majority vote, instead of the 60 votes normally needed to avoid a filibuster, but only provisions that "change spending or revenues" can be included in a reconciliation bill. On February 25, the Senate Parliamentarian ruled that the minimum wage provisions in the COVID-relief bill do not satisfy that standard.
Despite that ruling, the House of Representative included a $15 minimum wage provision in their version of the reconciliation bill. The House passed that bill on February 27. However, because of the Parliamentarian's ruling, the Senate version of the reconciliation bill currently does not contain language to increase the minimum wage. Sen. Sanders' amendment would have changed that.
Subscribe to Kiplinger's Personal Finance
Be a smarter, better informed investor.
Save up to 74%
Sign up for Kiplinger's Free E-Newsletters
Profit and prosper with the best of expert advice on investing, taxes, retirement, personal finance and more - straight to your e-mail.
Profit and prosper with the best of expert advice - straight to your e-mail.
Although they were disappointed in the Senate Parliamentarian's ruling, it didn't come as a surprise to most Democratic lawmakers. Even President Biden predicted that the $15 minimum wage provisions would eventually wind up on the cutting room floor. "I put it in, but I don't think it's going to survive," he told CBS News last month.
Sen. Sanders' effort to reinsert the $15 minimum wage provisions were doomed to fail. That's because there are a handful of moderate Senate Democrats who oppose the planned increase – most notably, Sens. Joe Manchin (D-W.Va.) and Kyrsten Sinema (D-Ariz.). Since the Senate is split 50-50 between Democrats and Republicans (with Vice President Kamala Harris casting the deciding vote to break any ties), the Democrats can't afford to lose any votes unless they can pick up an equal number of Republican votes, which is doubtful. Although some Republican Senators support raising the federal minimum wage, their plans typically call for smaller increases and have strings attached. For instance, Sens. Mitt Romney (R-Utah) and Tom Cotton (R-Ark.) recently released a plan for a $10 minimum wage, but employers would be required to use the E-Verify system to prevent the hiring of undocumented workers.
In a way, the Parliamentarian's decision may be a blessing in disguise for Democrats. They can now move forward and pass the reconciliation bill more quickly without having to go through an inter-party fight between progressive and moderates over the minimum wage provisions. They pledged to pass the stimulus package and send it to the president's desk before March 14 – when enhanced unemployment benefits run out – and it appears as if that will happen. Since the bill is being revised in the Senate (including changes to stimulus checks), it must go back to the House for approval after the Senate passes it. The House is expected to pass the Senate version, though.
[Stay on top of all the new stimulus bill developments – Sign up for the Kiplinger Today E-Newsletter. It's FREE!]
Sen. Sanders' $15 Minimum Wage Amendment
The current federal minimum wage is $7.25 per hour. (States can have their own minimum wage, which can be higher than the federal amount, but not lower.) Under Sen. Sanders' amendment, the federal minimum wage would have jumped to $9.50 per hour starting a few months after the bill is enacted. The rate would have then gone up to $11 per hour in 2022, $12.50 per hour in 2023, $14 per hour in 2024, and $15 per hour in 2025. After that, it would have been increased each year by the annual percentage increase, if any, in the median hourly wage of all employees.
Employees who work for tips would have also seen a pay increase under the amendment. The current federal minimum wage for tipped employees is $2.13 per hour. That would have shot up to $4.95 per hour this year. Then, starting in 2022, the tipped minimum wage would have increased by $2 per hour each year until it equals the federal minimum wage for other workers.
The "youth minimum wage" would have gone up under the amendment, too. Today, employers can pay a new worker who is under 20 years of age $4.25 per hour during the first 90 days of employment. That rate would have risen to $6 per hour in 2021 under the amendment. That hourly rate would then be increased by $1.75 each year thereafter until it's the same as the standard minimum wage.
Finally, disabled workers would also have gotten a pay increase if the amendment was adopted and passed. Right now, employees with a disability can be paid below the standard minimum wage at a rate based on his or her productivity. That would have changed under the amendment. Instead, disabled workers would have to be paid at least $5 per hour in 2021, $7.50 per hour in 2022, $10 per hour in 2023, $12.50 per hour in 2024, and $15 per hour starting in 2025. After that, they would have been paid the standard federal minimum wage.
Future Fights for a Higher Minimum Wage
After the Senate Parliamentarian's ruling, the White House released a statement saying that the president was "disappointed" with the decision, but that he will "work with leaders in Congress to determine the best path forward because no one in this country should work full time and live in poverty." Senate Majority Leader Chuck Schumer (D-N.Y.) expressed similar feelings. "We are not going to give up the fight to raise the minimum wage to $15 to help millions of struggling American workers and their families," he said in a statement. "The American people deserve it, and we are committed to making it a reality."
So, don't expect this issue to go away too easily. President Biden is expected to release another economic stimulus plan in March. Perhaps a minimum wage increase will be included in that proposal. A standalone minimum wage bill could also be introduced in the near future. Sen. Manchin has suggested an $11 minimum wage. So, maybe a compromise can be negotiated that will gain enough support to get through Congress.
Rocky Mengle was a Senior Tax Editor for Kiplinger from October 2018 to January 2023 with more than 20 years of experience covering federal and state tax developments. Before coming to Kiplinger, Rocky worked for Wolters Kluwer Tax & Accounting, and Kleinrock Publishing, where he provided breaking news and guidance for CPAs, tax attorneys, and other tax professionals. He has also been quoted as an expert by USA Today, Forbes, U.S. News & World Report, Reuters, Accounting Today, and other media outlets. Rocky holds a law degree from the University of Connecticut and a B.A. in History from Salisbury University.