Tying the Knot Post-Pandemic
This wedding planner is gearing up for a full fall season amid continuing concerns about safety.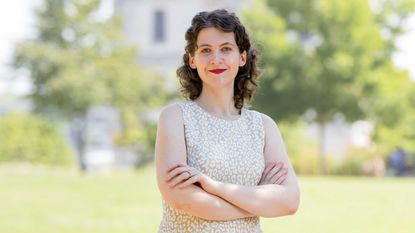 (Image credit: Photo by Susan Seubert)
Profile
Who: Elisabeth Kramer, age 30
What: Wedding planner
Where: Portland, Ore.
Subscribe to Kiplinger's Personal Finance
Be a smarter, better informed investor.
Save up to 74%
Sign up for Kiplinger's Free E-Newsletters
Profit and prosper with the best of expert advice on investing, taxes, retirement, personal finance and more - straight to your e-mail.
Profit and prosper with the best of expert advice - straight to your e-mail.
How has the pandemic complicated your work? In early March 2020, I had a wedding the same week that Portland shut down, which meant that we went into quarantine. For that couple, their whole plan completely blew up. That was the beginning. In April through September of last year, I was just taking my entire client load and trying to figure out what the heck we were doing. Every wedding I had changed plans.
What about this year? Entering 2021, I had an in-box filled with leads, which is not abnormal for a wedding vendor. In the wedding industry, it's called engagement season, from Thanksgiving to St. Valentine's Day. They were for weddings with a minimum of 50 guests, often 75, 100 or 150 guests, for the next four to five months. Those weddings could legally not happen in January.
You have been educating people about the rules? I've been trying to answer the question, Can I have a legal wedding in Oregon right now? That is also the title of a blog post I have on my website. I also created a suite of 33 resources about pandemic wedding planning, including a variety of communication templates for how to create a COVID safety policy for a wedding in 2021 and how to share it with the two groups of people that are at a wedding in person—guests and vendors.
Has there been a crush of weddings this summer? There is this sense that everybody who wanted to get married is now getting married, and couples are out of luck if they didn't book anyone. This is the narrative right now. I don't believe it's true. Yes, lots of people are busy because this summer there are a lot of legacy clients—people who moved their plans from 2020 to 2021. But I get e-mails every day from couples for whom this isn't over. They're immunocompromised, they have children under the age of 12, they have family members who are refusing to get the vaccine, and they're asking what they should do. So, as much as I feel that things are getting better, we have to continue to talk about this stuff, even when it's not fun.
You must have taken a big financial hit. This has been the hardest year of my professional life. I have seen revenue losses between 80% to 90%, and I am on unemployment. I'm not working with clients in person until September. That's when my season officially starts. Vendors are just completely wiped; they are entering a season completely drained.
Do you think the wedding industry will change post-COVID? The wedding industry is a very unregulated space. Through my work as the cofounder of Altared, an event for wedding vendors who want to change the wedding industry, I speak regularly with people who are in the industry all over the country and internationally. Regulations for weddings have been very unclear throughout the pandemic. And of course, as we have all learned during COVID, what is legal (if there are even any regulations, which sometimes there are not) is not always what is safe. But COVID has taught us a lot about boundaries. And that is a long overdue conversation in the wedding industry. In a lot of the conversations I have with wedding professionals, people are much smarter now about what works for them financially, emotionally, for their families and for their health.
Staff Writer, Kiplinger's Personal Finance
Emma Patch joined Kiplinger in 2020. She previously interned for Kiplinger's Retirement Report and before that, for a boutique investment firm in New York City. She served as editor-at-large and features editor for Middlebury College's student newspaper, The Campus. She specializes in travel, student debt and a number of other personal finance topics. Born in London, Emma grew up in Connecticut and now lives in Washington, D.C.