7 Foreign Countries Luring Americans to Work Abroad During the Pandemic
Work remotely – really remotely – in these appealing destinations offering special visas for American workers.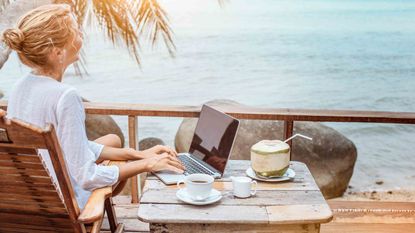 (Image credit: Getty Images)
Tired of working remotely from your kitchen table during these pandemic days? If there are no restrictions on where you can plop down your work laptop, consider a sunny Caribbean island or an idyllic European village as your office for the next year.
Despite COVID-19 still spreading throughout the globe, a growing list of mostly small, tourist-reliant countries are opening their borders to remote workers. These countries have special visas that allow foreigners – including Americans – to live and work remotely for a year or more. Participants must already be employed in their home country or a freelancer, and are prohibited from taking employment in the host country. Health insurance and minimum income levels generally are required, though specifics vary from country to country.
Take a look at seven countries with remote working opportunities:
1/7
Barbados
The Caribbean island's "Welcome Stamp" remote work visa is a bit pricey -- $2,000, or $3,000 for a "family bundle." The visa is good for one year but can be extended. Participants aren't liable for Barbados income tax. And the island has some of the best internet access, health facilities and weather in the Caribbean.
Barbados also has an extremely low rate of COVID-19 cases, with only 174 positive cases as of Sept. 3. For more information, visit https://www.barbadoswelcomestamp.bb/visas/.
2/7
Bermuda
Bermuda offers a year-long residency certificate for $263. It allows participants to enroll in post-secondary education in the North Atlantic island nation. Applicants must be over the age of 18 and "demonstrate good character and not have conviction for an indictable offence." Travelers who don't want to spend an entire year can stay up to six months in Bermuda without a visa.
Bermuda has one of the world's lowest COVID-19 infection rates – 172 positive cases, as of Sept. 3. For more information, visit https://www.gov.bm/articles/one-1-year-residency-certificate-policy.
3/7
Croatia
The Croatian government recently announced it may soon join the list of countries offering a remote worker visa. Details are forthcoming, but the Croatian prime minister is backing the plan, which still needs approval from parliament. Croatia already is a popular tourist destination, and with a relatively affordable cost of living, the Balkan nation's pending "digital nomad" program could be among the most popular available.
4/7
Estonia
Estonia's "Digital Nomad Visa" allows foreign workers to live and work remotely in the Baltic European country for a year at a cost of 100 euros (about $118). (Note: The European Union, of which Estonia is a member, currently has barred American travelers because of the United States' high level of COVID-19 cases. The ban is expected to be lifted once infection rates drop in the U.S.)
Despite Estonia's population of only 1.3 million, the nation is among the most wired and digitally advanced in Europe (it's the home of Skype and many other digital companies). English is widely spoken, particularly in the capital of Tallinn. For more information, visit https://e-resident.gov.ee/nomadvisa/.
5/7
Georgia
The country of Georgia's remote working program is designed for "freelancers, full-time employees and business owners," allowing visitors to stay 360 days without a visa. Foreigners from 95 countries, including the U.S. and Canada, are welcome to apply. And the review time for applicants is lightning quick – only 10 days.
Located in the Caucasus region at the crossroads of Western Asia and Eastern Europe, Georgia – slightly smaller in size than South Carolina – is one of the most ecologically diverse places in the world, with climate zones ranging from subtropical to alpine to semi-desert. For more information, visit https://agenda.ge/en/news/2020/2654.
6/7
Mexico
Mexico's temporary resident visa allows visitors to live in Mexico for a year and can be extended for an additional three years. Applicants must have income of more than $1,620 per month or a bank account balance greater than $27,000. Temporary residents may apply for a permanent resident permit after four years, provided they have paid Mexican income taxes. After five years of legal residency, a resident may be eligible for naturalization.
For more information, visit https://residencies.io/residency/mexico/temporary-residency/mx1.
7/7

Associate Editor, The Kiplinger Letter
Sean Lengell covers Congress and government policy for The Kiplinger Letter. Before joining Kiplinger in January 2017 he served as a congressional reporter for eight years with the Washington Examiner and the Washington Times. He previously covered local news for the Tampa (Fla.) Tribune. A native of northern Illinois who spent much of his youth in St. Petersburg, Fla., he holds a bachelor's degree in English from Marquette University.