The Coin Shortage: How Can You Help?
An increase in online shopping and e-payments has led to a coin crunch.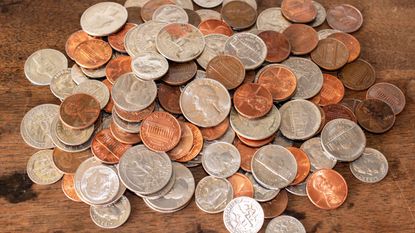 (Image credit: Getty Images)
First it was toilet paper, then yeast. Clorox wipes are still hard to find. But few predicted that the COVID-19 pandemic would also trigger a nationwide coin shortage.
Actually, it's not really a shortage, because there are plenty of nickels, dimes and quarters languishing in sock drawers, jelly jars and overstuffed wallets. The problem is that Americans are making fewer cash purchases, which has reduced the number of coins in circulation, says Cyndie Martini, president and chief executive officer of Member Access Processing, which processes debit card payments for credit unions. Consumers are making more purchases online, and when they do venture out to shop, many prefer using debit cards, credit cards or contactless payments with their phones.
Analysts say the pandemic has accelerated a shift away from cash payments in favor of electronic transactions (see COVID-19 Speeds the Cashless Transition (opens in new tab)). In 2018, consumers used cash for 26% of their payments, down from 30% in 2017, according to the Federal Reserve Bank of San Francisco. A survey by the Pew Research Center found that 29% of Americans said they made no cash purchases in a typical week in 2018, up from 24% in 2015.
Subscribe to Kiplinger's Personal Finance
Be a smarter, better informed investor.
Save up to 74%
Sign up for Kiplinger's Free E-Newsletters
Profit and prosper with the best of Kiplinger's expert advice on investing, taxes, retirement, personal finance and more - straight to your e-mail.
Profit and prosper with the best of Kiplinger's expert advice - straight to your e-mail.
To cope with the coin shortage, many retailers are asking customers who use cash to pay the exact amount. At Kroger supermarkets (opens in new tab), cash purchases are rounded up and the excess is added to a store loyalty card or donated to charity.
The U.S. Mint recently called on Americans to put their spare change back in circulation. "The coin supply problem can be solved with each of us doing our part," the Mint said in a statement.
If you have a lot of change lying around your house, you have some options:
Take it to your bank. Banks that once looked askance at customers who hauled in coffee cans full of quarters and dimes are now happy to roll up your change. One Wisconsin bank even offered $5 for every $100 in coins turned in (the promotion has since ended). If your stash is too big to take to the drive-through window, you may need to make an appointment, because many bank lobbies are closed due to the pandemic.
You can add the money to your emergency savings account. Or, if that account is already funded, use it to pay off any outstanding credit card bills. You'll get an instant return of 15% or better, which is a lot more than the money was earning in your sock drawer.
Take your change to a coin kiosk. Coinstar kiosks, with more than 20,000 locations around the world, will exchange your coins for cash for an 11.9% service fee. But if you opt instead for a gift card, you won't have to pay any fees. Participating retailers include Amazon, Lowe's, Home Depot and Starbucks.
Give the money to charity. Coinstar also lets you deposit your change in the account of a participating charity. Go to coinstar.com/charitypartners (opens in new tab) to search for kiosks in your area. If you deposit your change in your bank account, another option is to write a check to your favorite charity. Taxpayers who claim the standard deduction can deduct up to $300 in cash contributions in 2020.
Senior Editor, Kiplinger's Personal Finance
Block joined Kiplinger in June 2012 from USA Today, where she was a reporter and personal finance columnist for more than 15 years. Prior to that, she worked for the Akron Beacon-Journal and Dow Jones Newswires. In 1993, she was a Knight-Bagehot fellow in economics and business journalism at the Columbia University Graduate School of Journalism. She has a BA in communications from Bethany College in Bethany, W.Va.