Starting Today, Hearing Aids May be Sold Over the Counter
The White House estimates people will save nearly $3,000 by not having to get them through a medical professional.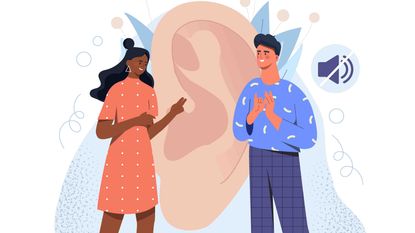 (Image credit: Getty Images)
Starting Oct. 17, millions of Americans with mild or moderate hearing loss could save thousands of dollars because they no longer will be required to go through a medical professional to purchase a hearing aid.
This means people may get their hearing aids in stores or online without first getting an exam from a doctor or an audiologist. Over-the-counter hearing aids will not be available for children or for adults with more serious hearing loss.
The Food and Drug Administration says close to 30 million adults could benefit from hearing aids, which the White House estimates cost an average of more than $5,000 a pair, and are often not covered by health insurance. Original Medicare, for example, does not cover hearing aids or the exams for fitting them. Officials say over-the-counter hearing aids should save consumers nearly $3,000 a pair.
Subscribe to Kiplinger's Personal Finance
Be a smarter, better informed investor.
Save up to 74%
Sign up for Kiplinger's Free E-Newsletters
Profit and prosper with the best of expert advice on investing, taxes, retirement, personal finance and more - straight to your e-mail.
Profit and prosper with the best of expert advice - straight to your e-mail.
A new FDA rule permits the sale of the over-the-counter aids that have previously received FDA clearance and are already being marketed by prescription. Any devices that have not previously been offered for sale must comply with new requirements issued by the FDA and must receive clearance before they can be brought to market.
Hearing Loss Advocates Welcome Change
Barbara Kelley, executive director of the Hearing Loss Association of America said the change is likely to make a difference for people with hearing issues. "We are hopeful that over-the-counter options will inspire some to take a first step to treat their hearing loss sooner," Kelley said. "Ultimately this can mean a better quality of life, and avoiding the increased risk of dementia, falls and isolation associated with untreated hearing loss."
According to the White House, only about 14% of the estimated 48 million Americans with hearing loss use hearing aids. At the same time, per Centers for Disease Control and Prevention, nearly half of Americans 60 and older suffer from hearing loss. Researchers at the World Health Organization say that age-related hearing loss is the "single greatest modifiable risk factor for dementia."
Kelley noted that many consumers will still need treatment and advice from hearing-care professionals. "But opening more options is a big step in the right direction for a growing problem that affects one in seven Americans." The association has a tip sheet giving detailed guidance, including questions to ask about over-the-counter hearing aids.
Congress Approved OTC Hearing Aids Five Years ago:
Over-the-counter hearing aids are the result of a law passed by Congress in 2017 and signed by then-President Trump. In July 2021, President Biden signed an executive order urging the FDA to enact the legislation. Today's announcement is a final rulemaking that stems from these prior actions.
According to the FDA, the new rule allows over-the-counter sale of air-conduction hearing aids for people 18 and older with mild to moderate hearing loss. "A person with mild hearing loss may have difficulty hearing some speech sounds but not others," the FDA says. "A person with moderate hearing loss may have increased difficulty hearing some speech sounds, even in a quiet room with someone talking at a normal level."
Most hearing aids are considered air conduction, bringing amplified sound into the ear canal. Bone-conduction hearing aids, which will not be sold over the counter, are for people with problems with their outer or middle ear. These aids send sound through the skull to the inner ear.
Under the rule, over-the-counter hearing aids must allow users to adjust the volume. The rule also gives specifications for other performance and design requirements.
How to Know if Over-the-Counter May be Right for You
The National Institute on Deafness and Other Communication Disorders provides examples of issues experienced by people with mild to moderate hearing loss who may benefit from over-the-counter hearing aids:
Speech or other sounds seem muffled.
You have trouble hearing when you're in a group, in a noisy area, on the phone, or when you can't see who is talking.
You have to ask others to speak more slowly or clearly, to talk louder, or to repeat what they said.
You turn up the volume higher than what other people prefer when watching TV or listening to the radio or music.
When to See a Doctor for Hearing Issues
The Institute recommends seeing a physician if you have trouble hearing conversations in quiet settings or hearing loud sounds or if you experience any of the following issues:
Pain or discomfort in your ear.
A history of excessive ear wax or the sensation that something is in your ear canal.
Episodes of vertigo (severe dizziness) with hearing loss.
Sudden hearing loss or quickly worsening hearing loss.
Hearing loss that has gotten more and then less severe within the last six months.
Hearing loss or tinnitus (ringing) in only one ear, or a noticeable difference in how well you can hear in each ear.
Fluid, pus, or blood coming out of your ear within the previous six months.
Senior Retirement Editor, Kiplinger.com
Elaine Silvestrini has had an extensive career as a newspaper and online journalist, primarily covering legal issues at the Tampa Tribune and the Asbury Park Press in New Jersey. In more recent years, she's written for several marketing, legal and financial websites, including Annuity.org and LegalExaminer.com, and the newsletters Auto Insurance Report and Property Insurance Report.