3 Unconventional Ways to Save Money: Thinking Outside the Box
There are still actions you can take to save money amid inflation.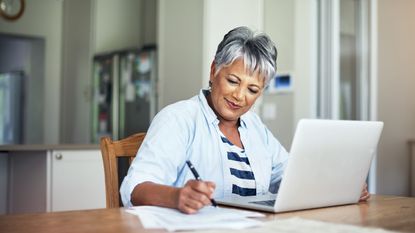 (Image credit: Getty Images)
When inflation rose sharply last year and continued to spike month after month, many people were caught off guard. Some may even have found themselves with less or even zero "extra" money at the end of the month, but they didn't realize why until it was too late.
Unfortunately, if you're one of those who didn't work to get a handle on their skyrocketing expenses quickly, you may be at a loss now. However, that doesn't mean you can't reposition yourself to get ahead on your savings despite the persistently high inflation.
Here are three unconventional ways to save money.
Subscribe to Kiplinger's Personal Finance
Be a smarter, better informed investor.
Save up to 74%
Sign up for Kiplinger's Free E-Newsletters
Profit and prosper with the best of expert advice on investing, taxes, retirement, personal finance and more - straight to your e-mail.
Profit and prosper with the best of expert advice - straight to your e-mail.
This option is only for people who can keep their spending under control, because the worst thing for anyone who's trying to save money is to rack up lots of credit card debt. However, it can be quite effective for those with excellent spending habits.
Many credit cards from a wide variety of companies offer nice cash-back rates for certain categories. For example, you may be able to find one that will give you 5% cash back on necessities like groceries, your utility bill, and gas.
That means you'll get $5 back on every $100 you spend on things you would buy or have to pay for anyway. While it doesn't seem like much, it adds up, especially given how expensive these necessities have gotten over the last year or so.
One great way to keep this in check so that you enjoy the maximum savings without having to worry about a credit card bill at the end of the month is to charge these necessities on your cash-back credit card and then pay them off as soon as the charges clear — long before the due date.
2. Get sneaky.
There can be several ways to get sneaky about squirreling money away without realizing you're doing it. For example, some people program themselves to automatically tuck away every $5 bill they receive, whether it's in the form of change from a purchase they made or anything else. If saving in $5 multiples is more than you can afford, you may be able to do this with $1 bills instead.
Of course, many people no longer use cash, so apps like Chime or Acorns provide a digital way to do something similar. These apps round up every purchase you make to the next whole dollar, plunking that spare change into a savings account.
These apps do charge subscription fees, so you'll need to incorporate those fees into your monthly budget — and ensure they are worth the money you spend on them. Some options even invest your spare change automatically, although that comes with additional risk.
3. Look for free or reduced-cost alternatives to entertainment.
There may be many possibilities in this option, depending on the types of things you do for entertainment. It can be as simple as cutting the cord — dumping cable TV and turning to online streaming options.
In fact, if you subscribe to Amazon Prime for the free shipping, you're already paying for an online streaming service, and if you're not using it, Prime becomes a "free" source of entertainment.
Of course, Amazon Prime isn't the only streaming service out there. If you already subscribe to multiple services, it would be a good idea to look at each service individually and cut the ones you don't watch as much as the others. Paying for many streaming services every month can quickly nickel-and-dime your monthly budget away.
Other free or reduced-cost entertainment options include taking advantage of your local library, attending free events rather than shelling out top dollar for expensive ones, and adopting free or low-cost hobbies like walking in your local park or hiking.
Many towns have local bike paths that don't cost anything to use, and you'll get in shape in the process. Additionally, many museums offer free or discounted days, which would save you a lot of money on tickets by simply adjusting your plans or schedule.
Combatting persistent inflation
Hopefully, you noticed that you'll find several different ways to save money using these three unconventional ways to save, some of which should fit your lifestyle and habits.
So, before dismissing any of these suggestions immediately, it might be a good idea to spend a few minutes figuring out how to personalize each one for the way you live, work and spend.
Jacob is the founder and CEO of ValueWalk. What started as a hobby 10 years ago turned into a well-known financial media empire focusing in particular on simplifying the opaque world of the hedge fund world. Before doing ValueWalk full time, Jacob worked as an equity analyst specializing in mid and small-cap stocks. Jacob also worked in business development for hedge funds. He lives with his wife and five children in New Jersey. Full Disclosure: Jacob only invests in broad-based ETFs and mutual funds to avoid any conflict of interest.