Is Weed Legalized in North Carolina? Medical Marijuana Efforts Gain Traction. This Week in Cannabis Investing
Is weed legalized in North Carolina? A bill that was recently introduced to lawmakers creates a pathway to legalization for medical marijuana in the Tar Heel State.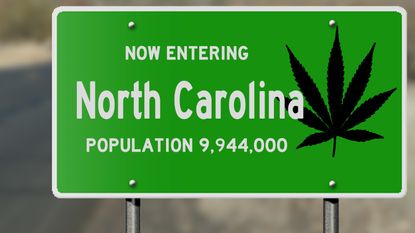 (Image credit: Getty Images)
Is weed legalized in North Carolina? Not currently, but efforts are being made by state lawmakers to pass a medical marijuana bill.
Republican state senator Bill Rabon refiled a medical marijuana legalization bill in late January that, if passed, will allow patients with several qualifying conditions, including cancer, post-traumatic stress disorder (PTSD) and epilepsy, among others, the ability to buy and possess cannabis from licensed dispensaries. A similar bill was blocked last year, but in its current form, was approved by the Senate Judiciary Committee. It still has to make it through a full floor vote in the Senate and House of Representatives, but Republican House Speaker Tim Moore said in an interview (opens in new tab) that he "would not be surprised at all if that bill moved. I think the odds are more likely than not that something will happen on that."
According to early looks at the licensing and qualifying conditions included in the bill, North Carolina is making great progress toward establishing its medical cannabis market. Initial plans within the state are for 10 vertically integrated licenses to be approved that will hold up to eight dispensaries each, essentially allowing for 80 doors statewide. Previously, we have seen thriving operators born from a similar tight license count model combined with limited medical conditions and a good addressable market.
Subscribe to Kiplinger's Personal Finance
Be a smarter, better informed investor.
Save up to 74%
Sign up for Kiplinger's Free E-Newsletters
Profit and prosper with the best of expert advice on investing, taxes, retirement, personal finance and more - straight to your e-mail.
Profit and prosper with the best of expert advice - straight to your e-mail.
We're reminded of a small-scale version of the Florida market, which has grown massively over the years. This will likely result in a ballot initiative for adult-use weed legalization in Florida in 2024. There will be a lively amount of interest when this is all in place and the application process begins.
Right on North Carolina's heels comes additional legislative progress in South Carolina. This week, the Senate approved a bill for the legalization of medical cannabis in the state. We covered the potential for this bill to progress earlier this year and are seeing the momentum carry forward.
The movement to legalize medical cannabis in North and South Carolina reminds us of James Tayler and his wonderful song, "Carolina in My Mind." We are rooting for the Carolinas to bring jobs, tax revenue and legal choice for the good people across both states.
The South shall rise again, but this time as a growth engine for legal cannabis.
Twitter allows ads from legal cannabis companies
This past October, while Elon Musk completed his ownership of Twitter, speculation swirled around the possibility of the social media platform becoming more cannabis-friendly. Last week, the cannabis industry received confirmation of that, as Twitter announced a policy change that will allow U.S. cannabis companies to advertise on its platform.
Twitter is proving to be the social media platform most aligned with the legal cannabis industry, and we are very excited by its move to create a path toward legal cannabis advertising. Mainstream advertising platforms have been reluctant to promote an industry that is federally illegal and have expressed concern about how to validate potential advertisers as legal businesses.
However, Twitter is now stepping in while ensuring procedures are compliant and comfortable (opens in new tab), and we expect to see a lot more growth on the horizon. In 2022, there were over 20 million tweets about cannabis. About 75% of Twitter conversations about cannabis are from those aged 35 and younger, but the most significant jump in conversations comes from those who are over 45. The growth within this older cohort is an intriguing prospect, as advertisers see a growing consumer base with potentially more disposable income. For example, 76% of people surveyed (opens in new tab) said conversations on Twitter resulted in them purchasing a product.
"It is a groundbreaking thing for many cannabis advertisers to be able to reach their markets and their audiences without doing any type of workarounds," said Amy Deneson, co-founder of the Cannabis Media Council.
Twitter is home to many cannabis-focused conversations, including Twitter Spaces like our very own "Cannabis Closing Bell with Poseidon (opens in new tab)," which is hosted on Tuesdays and Thursdays at 4 p.m. ET.
TPCO and Gold Flora merge
Cannabis M&A activity is slowly thawing after a deep freeze. The conditions for M&A returning is one of the top cannabis trends we're watching for 2023, and the cycle is starting to turn from last year's trough.
M&A is a natural need in the legal cannabis industry, given the fragmentation of operators and the requirements for scale to create operational efficiencies and improved bottom-line fundamentals. This week, we saw a merger of equals, between public firm The Parent Company and private California operator Gold Flora.
We have known about Gold Flora for several years and they have a good reputation as a flower producer in California. The resulting transaction will result in Troy Datcher, current CEO of TPCO, becoming chair of "New Parent" company's board, while Gold Flora CEO Laurie Holcomb will take the helm as chief executive officer.
"[The] merger of equals with the Gold Flora Corporation represents the next stage in our evolution, leveraging our complementary assets and core capabilities to deliver the most value for our customers and shareholders," Datcher said in TPCO's press release (opens in new tab). "This vertical integration will fuel development of more consumer brands and broader consumer reach."
Our initial reaction is mixed to negative. The transaction notes savings in the $20-million-plus range, which means this transaction has many redundancies that will need to be shuttered. This comes after The Parent Company has been cleaning up several previously inherited assets that made better business sense. We expect to see headcount reductions, asset sales, and more, as this new footprint centralizes.
We aren't too bullish about creating an unbalanced organizational structure with too much upstream capacity. For example, the proforma company notes a 33% gross margin. A razor-sharp SG&A containment or another M&A transaction will be necessary to significantly bolster The Parent Company's retail footprint to balance and drive a better margin profile. This points to complexity and a heightened degree of execution.
The bright side was to use the cash on The New Parent's balance sheet to provide it with the cushion to execute its strategy. However, this looks less bright with the inherited debt, the issued line of credit to Gold Flora, transaction costs and the likely longer than expected duration of synergy realization.
We see this deal having a decent probability of busting and that is likely a better outcome for The Parent Company versus all the challenges that come with this transaction. Legal cannabis is for the bold, and we will continue to watch this evolving story to see how well the team can achieve this endeavor.
Senate Veterans Committee approves cannabis research bill
Research opportunities are growing in the U.S. with another much needed potential bill underway for veterans. On Tuesday, Feb. 21, the Senate Veterans Affairs Committee passed a bill to conduct further research on cannabis treatments for PTSD and chronic pain. The observational study plans to explore the positive and negative health outcomes of cannabis use by veterans and will investigate other aspects of medicinal cannabis use.
"Our bipartisan bill ensures VA is listening to the growing number of veterans who find critical relief from alternative treatments like medicinal cannabis, while working to empower veterans in making safe and informed decisions about their health," said Democratic Senator Jon Tester of Montana.
The amazing people serving this country should have a choice on how to recover from their service. We have seen similar activity in the House, and it would be great if the legalization of this bill were to move quickly. If so, the bill would represent another data point proving that straightforward legislation is the preferred path for progressing cannabis legalization in D.C. This would be a welcome contrast to the failed bloat of legislation that has drowned previous progress.
Morgan Paxhia is Co-Founder of $PSDN ETF & Managing Director and Co-Founder of Poseidon Investment Management. With over 10 years experience in investing and finance, Morgan has developed a deep understanding of individual company analysis, portfolio construction, and risk mitigation. This content is not intended to provide any investment, financial, legal, regulatory, accounting, tax or similar advice, and nothing should be construed as a recommendation by Poseidon Investment Management, LLC, its affiliates, or any third party, to acquire or dispose of any investment or security, or to engage in any investment strategy or transaction. An investment in any strategy involves a high degree of risk and there is always the possibility of loss, including the loss of principal. This content should not be considered as an offer or solicitation to purchase or sell securities or other services. Any of the securities identified and described herein are for illustrative purposes only.  Their selection was based upon nonperformance-based objective criteria. The content presented is believed to be factual and up-to-date, but we do not guarantee its accuracy and it should not be regarded as a complete analysis of the subjects discussed. Past performance is not indicative of future results.