Stock Market Today: Stocks, Oil Slump in Seesaw Session
A mixed-news day with few new major developments out of Ukraine resulted in a largely lower Thursday for the major indexes.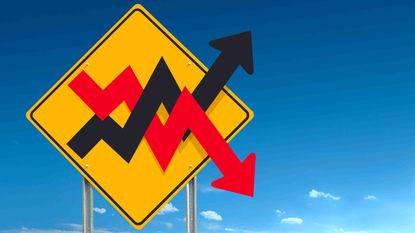 (Image credit: Getty Images)
The major indexes lurched between positive and negative territory as investors flailed about on a relatively slow-news Thursday.
Russia's attacks on numerous Ukrainian regions continued even as negotiators sat for a second round of peace talks; the two sides agreed that it was necessary to establish "humanitarian corridors" for Ukraine's civilians. No cease-fire was reached, but both parties agreed to meet for a third round of discussions.
Also Thursday, the Labor Department reported that initial jobless claims for the week ended Feb. 26 declined to 215,000, 10,000 below expectations. And the Institute for Supply Management showed that service activity continued to expand again in February, though the pace has slowed for the fourth consecutive month.
Subscribe to Kiplinger's Personal Finance
Be a smarter, better informed investor.
Save up to 74%
Sign up for Kiplinger's Free E-Newsletters
Profit and prosper with the best of expert advice on investing, taxes, retirement, personal finance and more - straight to your e-mail.
Profit and prosper with the best of expert advice - straight to your e-mail.
"February's 56.5 headline reading came in well below expectations, which generally anticipated that service sector activity would reaccelerate with fading omicron infection risks. The opposite appears to have occurred," say Barclays economists. "Although February's reading still points to moderate growth, it is the lowest in 12 months."
The Nasdaq Composite (-1.6% to 13,537) led the major indexes lower on a back-and-forth day, while the S&P 500 (-0.5% to 4,363) and Dow Jones Industrial Average (-0.3% to 33,794) closed with more modest declines.
Commodities, most notably oil, also saw their share of swings. U.S. crude oil futures jumped above $116 per barrel intraday for the first time since early 2011 before pulling back to $107.67 per barrel (a 2.7% drop).
Sign up for Kiplinger's FREE Investing Weekly e-letter for stock, ETF and mutual fund recommendations, and other investing advice.
"The volatility in commodities markets continues to be astounding," says Michael Reinking, senior market strategist for the New York Stock Exchange. "Given Russia's importance in the commodities complex, we've seen metals, agriculture and energy-related commodities all moving higher. This week alone wheat and oil futures are up greater than 20%."
Barclays points out that business activity, new orders and employment all fell "to levels not seen since 2020."
Other news in the stock market today:
The small-cap Russell 2000 also headed lower, off 1.3% to 2,032.
Gold futures closed 0.7% higher to $1,935.90 per ounce.
Bitcoin sharply tailed off, shedding 4.6% to $41,811.00. (Bitcoin trades 24 hours a day; prices reported here are as of 4 p.m.)
Best Buy (BBY, +9.2%) reported in-line fiscal fourth-quarter adjusted earnings of $2.73 per share, while revenue of $16.4 billion fell short of the $16.6 billion analysts were expecting. The big-box retailer also said same-store sales declined by a wider-than-anticipated 2.3% for the three-month period, and gave lower-than-expected top- and bottom-line guidance for the full fiscal year. However, the company did boost its quarterly dividend by 26% and said it will spend $1.5 billion on share buybacks over the next year. After the results, CFRA Research analyst Kenneth Leon downgraded BBY stock to Sell from Hold. In the upcoming fiscal year, the analyst expects revenue growth to decline, whiel higher wages and inventory costs will pressure margins.
Snowflake (SNOW) spiraled 15.4% after earnings. In its fourth quarter, the data-analytics cloud company said revenue doubled from the year prior to $383.8 million, while its adjusted per-share loss narrowed to 43 cents. It also reported lower-than-anticipated gross margin of 70% and slowing current-quarter revenue growth. Still, Oppenheimer analyst Ittai Kidron maintained an Outperform (Buy) rating on SNOW. "While management's initiatives to optimize price/performance in hardware/software are a near-term headwind to consumption and revenue, they can drive incremental workloads to Snowflake's platform," Kidron says. "We see a long trajectory of rapid revenue increases fueled by an IT shift to a cloud-centric model, digital transformation, and higher spend on machine learning/data science."
While SNOW sold off after earnings, Kroger (KR) – another member of the Berkshire Hathaway equity portfolio – surged 11.6% in the wake of its results. The grocery chain reported adjusted earnings of 91 cents per share in its fourth quarter on revenue of $33.1 billion. This was higher than the 74 cents per share and $32.9 billion analysts were expecting. Nevertheless, CFRA Research analyst Arun Sundaram maintained a Sell rating on KR stock. "We think wage pressures will persist longer than the net positive impact of higher food prices, noting KR typically has several labor agreements up for renewal each year," the analyst writes in a note. "There is also risk that we could see strikes like King Soopers. Competition and less stimulus, government aid and vaccine benefits will also be headwinds in 2022. Overall, we view the risk/reward as unfavorable with the shares now trading at 14x our fiscal 2023 earnings-per share-estimate vs. 12x historical average."
Billionaires Have Been Unloading These 15 Stocks
Our exploration of institutional investors' recent trades continues today … with a bearish tilt.
Individual investors can find something both educational and entertaining in exploring what the "smart money" is up to, made available on the regular thanks to required quarterly Form 13F filings.
Of late, we've looked into what Warren Buffett has been buying and selling in his Berkshire Hathaway equity portfolio, as well as the most popular blue chips among Wall Street's hedge fund managers. And tomorrow, we'll take one last look at buying activity, this time among bona fide billionaires.
But first, we're going to see what those billionaires have been selling.
Checking out what high-net-worth investors have been cutting loose can be every bit as informative as their buys – sure, sometimes a sell might just be taking prudent profits on a successful trade, but other times it can signal that an equity's story has changed or that headwinds are on the horizon. So read on as we zoom in on 15 stocks getting the cold shoulder by at least one billionaire investor:
Kyle Woodley is the Editor-in-Chief of Young and The Invested, a site dedicated to improving the personal finances and financial literacy of parents and children. He also writes the weekly The Weekend Tea newsletter, which covers both news and analysis about spending, saving, investing, the economy and more.
Kyle was previously the Senior Investing Editor for Kiplinger.com, and the Managing Editor for InvestorPlace.com before that. His work has appeared in several outlets, including Yahoo! Finance, MSN Money, Barchart, The Globe & Mail and the Nasdaq. He also has appeared as a guest on Fox Business Network and Money Radio, among other shows and podcasts, and he has been quoted in several outlets, including MarketWatch, Vice and Univision. He is a proud graduate of The Ohio State University, where he earned a BA in journalism.
You can check out his thoughts on the markets (and more) at @KyleWoodley.