10 Best Green Energy Stocks for the Rest of 2022
The future for green energy is bright, and these 10 top-rated stocks are poised to profit on the growing trend toward sustainability.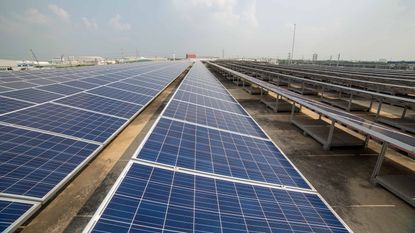 (Image credit: Getty Images)
The global renewable energy market is expected to grow to nearly $2 trillion over the next eight years, up from $881.7 billion in 2020, according to market research firm Allied Market Research. That works out to a compound annual growth rate of 8.4%. And green energy stocks will be one of the major benefactors of this impressive expansion.
Of course, that doesn't mean renewable energy won't face any short-term headwinds. In February, President Joe Biden announced his intention to extend tariffs on solar panels imported from Southeast Asia. But by June, the president had decided to rescind that order. By using the Defense Production Act to expand domestic manufacturing of solar panels, President Biden has declared green energy a national security issue. And that's no small endorsement for the industry.
There have also been fears raised by none other than Tesla (TSLA (opens in new tab)) CEO Elon Musk about a shortage of lithium. This metal is used for a host of electronic products, not the least of which are the batteries for electric vehicles (EVs). This is in addition to the semiconductor shortage that's been hitting both electric and traditional vehicle makers hard.
However, the world is still going green. And suffice it to say, green energy is one area where many investors could be looking for significant growth in 2022 and beyond.
With that in mind, here are 10 of the best green stocks for investors looking to profit on the growing trend toward sustainability. Included in the list are names from a variety of sectors and industries and all are well-liked by the analyst community.
Data is as of July 13. Average price targets and analyst ratings provided by market data tool Koyfin (opens in new tab).
Contributing Writer, Kiplinger.com
Michael Adams's financial writing career has spanned roles with KCI Communications, The Motley Fool, InvestorPlace, InvestingDaily and other major financial publishing outlets. Michael's personal investing style is based on a buy-and-hold approach of primarily up-and-coming tech businesses. He uses fundamental analysis to find great companies with the possibility for tremendous growth over the course of years.