Sweet Silicon: 5 Superb Semiconductor Stocks for 2022 and Beyond
Semiconductor stocks haven't had quite the year many were expecting, but all the drivers remain in place for success once the macro clouds clear.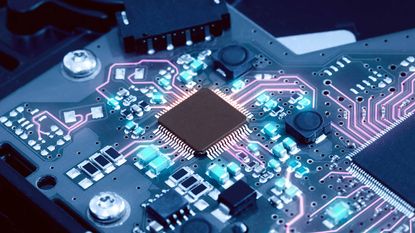 (Image credit: Getty Images)
The prospects were high for semiconductor stocks heading into 2022, but the industry has been hit by curveballs that have upended the market.
Take for instance China's COVID-related lockdowns in key cities where chipmaking factories reside that are only adding additional strain to an already disrupted supply chain. Or the Federal Reserve's plans to hike interest rates, which has sent the 10-year Treasury yield spiking and tech stocks tumbling.
Still, many of the same potential drivers for semiconductor stocks that were in place at the beginning of the year remain: The rollout of 5G and the transformation of the automotive market toward electric vehicles (EVs), for starters.
There's also the digitization of industrial economies – which drives the growth in cloud computing, which drives data center spending, which drives the demand for more and more semiconductors. An eventual easing of supply-chain issues could bring focus back to these potent catalysts.
So while forecasts for a strong start to the year for chipmakers could be described as "inaccurate" as best, to invoke the great Michael Jordan: "I've never lost a game. I just ran out of time." In other words, the growth is there, but time will be needed for the fundamentals to outstrip the very real fears of investors at this moment.
With that in mind, here are five of the best semiconductor stocks for investors looking to find growth in the industry. Some of them are simply fundamentally superior with leadership positions in growing end markets. Others offer some grist for stock pickers who like to look below the surface for opportunities.
Data is as of May 9. Dividend yields are calculated by annualizing the most recent payout and dividing by the share price. Stocks are listed in alphabetical order.