Stock Market Today: Big Tech Gets Grilled; KODK, Stocks Keep Cooking
Big Tech stocks pushed higher Wednesday as their CEOs were questioned on Capital Hill, and Kodak's (KODK) incredible ascent continued.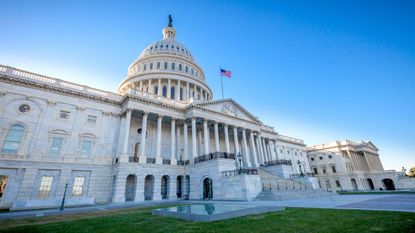 (Image credit: Getty Images)
Investors turned to Washington on Wednesday, where the Federal Reserve made its latest policy statement, and where Big Tech chiefs gathered to face Congress in a historic antitrust hearing. It also saw Eastman Kodak (KODK (opens in new tab)) continue its sudden sizzling run.
The House Judiciary Antitrust Subcommittee questioned Amazon.com's (AMZN (opens in new tab), +1.1%) Jeff Bezos, Apple's (AAPL (opens in new tab), +1.9%) Tim Cook, Facebook's (FB (opens in new tab), +1.4%) Mark Zuckerberg and Alphabet's (GOOGL (opens in new tab), +1.3%) Sundar Pichai on Wednesday, but the hearing did little to shake confidence in their respective shares.
Likewise, America's central bank did little to rock the apple cart, stating it would keep interest rates near zero to support the economy, though Fed Chair Jerome Powell acknowledged "the pace of the recovery looks like it has slowed since mid-June."
Subscribe to Kiplinger's Personal Finance
Be a smarter, better informed investor.
Save up to 74%
Sign up for Kiplinger's Free E-Newsletters
Profit and prosper with the best of Kiplinger's expert advice on investing, taxes, retirement, personal finance and more - straight to your e-mail.
Profit and prosper with the best of Kiplinger's expert advice - straight to your e-mail.
"The key to near-term monetary policy will be all about the Fed's dual mandate, but with one side of the mandate being the primary target (employment) and the other governing how far the central bank is willing to go (inflation)," says Rick Rieder, BlackRock's Chief Investment Officer of Global Fixed Income. "The fact is that the Fed likely has an impressively long runway yet, as it could be a very long time before we regain full employment, which didn't even appear to be inflation-accelerating at a 3.5% unemployment rate."
The major indices finished broadly higher, with the Dow Jones Industrial Average up 0.6% to 26,539, the S&P 500 up 1.2% to 3,258, and the tech-heavy Nasdaq Composite closing 1.4% higher to 10,542.
Wall Street's Hottest Growth Story: Kodak?
But Wednesday's major index leader was the the small-cap Russell 2000, which sprinted ahead by 2.1% to 1,500. That was in part thanks to Wednesday's biggest story: the continuing surge of photography (er, pharma?) stock Eastman Kodak.
KODK shares, which more than tripled Tuesday after the company announced it received a $765 million Defense Production Act loan to open pharmaceutical production factories in America, shot another 318% higher Wednesday, tripping well more than a dozen circuit-breakers during the day.
The once-great photography firm, worth less than $100 million by market value to start the week, now is worth roughly $1.5 billion.
Most investors weren't quick enough to jump on KODK's flash success, of course, but that doesn't mean you still can't tap red-hot growth – if you're willing to wait for more than a couple days for these opportunities to ripen, anyway.
Investors who prefer to stay diversified while chasing growth can do so in traditional growth funds, or even look overseas with these 10 emerging-markets ETFs.
If you're looking to take a shot with individual funds, however, sometimes it's best to look where everyone isn't (yet.) The tech sector, for instance, is filled with stocks that sit in the shadow of the Apples and Microsofts of the world but have explosive growth potential nonetheless.
Actually, tech isn't alone in that respect. Here, we look at 19 stocks that probably aren't on your radar … but are doing more and more to deserve your attention.
Senior Investing Editor, Kiplinger.com
Kyle is senior investing editor for Kiplinger.com. As a writer and columnist, he also specializes in exchange-traded funds. He joined Kiplinger in September 2017 after spending six years at InvestorPlace.com, where he managed the editorial staff. His work has appeared in several outlets, including U.S. News & World Report and MSN Money, he has appeared as a guest on Fox Business Network and Money Radio, and he has been quoted in MarketWatch, Vice and Univision, among other outlets. He is a proud graduate of The Ohio State University, where he earned a BA in journalism.