Cannabis Industry Updates From Capitol Hill: This Week in Cannabis Investing
While debt ceiling talks are top of mind for lawmakers, cannabis remains on the radar amid hopes for a Senate floor vote on the SAFE Banking Act.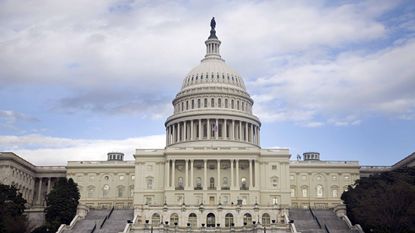 (Image credit: Getty Images)
As investors in cannabis, Poseidon has a rich history of hitting the road and applying a boots-on-the-ground approach. We enjoy meeting with people, seeing local market dynamics, and investigating new opportunities.
This week's trip to Washington, D.C. proved to be highly informative and productive as we met with various trade groups and senators. It's been too long since we last visited the U.S. Capitol, and the progress we witnessed is encouraging.
While the cannabis industry clamors for change, it's important to recognize that the pace of change in D.C. differs significantly from that of private industry or public perception. Nonetheless, we are delighted to see national-level groups acknowledging cannabis and the dichotomies we currently face.
Subscribe to Kiplinger's Personal Finance
Be a smarter, better informed investor.
Save up to 74%
Sign up for Kiplinger's Free E-Newsletters
Profit and prosper with the best of expert advice on investing, taxes, retirement, personal finance and more - straight to your e-mail.
Profit and prosper with the best of expert advice - straight to your e-mail.
Let's delve into a few key highlights from our meetings:
As we've previously covered, the historic Senate hearing on the SAFE Banking Act was met with positive sentiment from several senators we spoke with, including those who participated in the hearing.
While frustration lingers over the events of last year, members of Congress note that significant progress was made in late 2022 and has continued into 2023. We extend our gratitude to Republican Senator Steve Daines from Montana, in particular, for his dedicated efforts on this initiative.
Notably, this is the first time the Senate is proceeding with a regular order on banking reform, instilling confidence among Senators that a floor vote will take place.
While legislative action always carries risks, the industry acknowledges the importance of keeping the bill focused and avoiding unnecessary complications. Both parties seem to lend support to this approach, leaving room for negotiations.
Trade groups have identified SAFE Banking as their top priority in 2023 and are actively working to build more support, highlighting the industry's commitment to progress.
SAFE Banking is more than a cannabis reform initiative; it is a public safety and small business initiative. As more states legalize, Senators are seeing the need for reform as it impacts constituents in their own states.
American Bankers Association (ABA) CEO Rob Nichols is collaborating closely with Senator Daines to help inform and educate Republicans and Democrats about the practical reasons to support the SAFE Banking Act. Although the regional banking crisis and debt ceiling have absorbed the ABA's attention, SAFE remains a significant focus for them.
Senator Daines is resolute in his dedication to ensure the success of the SAFE Banking Act. The alignment surrounding this issue allows it to progress through the Senate in regular order, a noteworthy feat in today's political climate.
Insiders agree that there is no strong formal opposition to SAFE, and any dissenting voices are primarily from individuals who simply oppose anything related to cannabis. Rather than investing efforts in changing their stubborn views, we will focus on building sufficient support.
The key to success will be garnering sufficient Republican backing and avoiding an overloaded bill. Senate Majority Leader Chuck Schumer hopefully understands the need to refrain from loading the legislation with unpopular features, avoiding a repeat of past missteps.
As we move forward, we will closely monitor developments over the next 60-90 days, particularly as attention shifts back to the SAFE Banking Act following the debt ceiling talks.
Related Content
Morgan Paxhia is Co-Founder of $PSDN ETF & Managing Director and Co-Founder of Poseidon Investment Management. With over 10 years experience in investing and finance, Morgan has developed a deep understanding of individual company analysis, portfolio construction, and risk mitigation. This content is not intended to provide any investment, financial, legal, regulatory, accounting, tax or similar advice, and nothing should be construed as a recommendation by Poseidon Investment Management, LLC, its affiliates, or any third party, to acquire or dispose of any investment or security, or to engage in any investment strategy or transaction. An investment in any strategy involves a high degree of risk and there is always the possibility of loss, including the loss of principal. This content should not be considered as an offer or solicitation to purchase or sell securities or other services. Any of the securities identified and described herein are for illustrative purposes only.  Their selection was based upon nonperformance-based objective criteria. The content presented is believed to be factual and up-to-date, but we do not guarantee its accuracy and it should not be regarded as a complete analysis of the subjects discussed. Past performance is not indicative of future results.