In ESG Investing, Money Changes Everything
ESG investors put their money where their mouths (and hearts and minds) are by investing in companies with better management of environmental, social and corporate governance factors.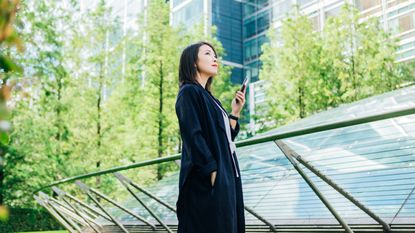 (Image credit: Getty Images)
Cyndi Lauper was not commenting on ESG investing when she sang "Money Changes Everything" in 1984. But she could have been. The entire premise behind ESG investing is to use the power of money to create positive change.
What is ESG? ESG encompasses broad areas that companies routinely impact, for better or worse. Businesses inevitably affect the environment (E) and can develop policies that minimize or neutralize the negative effects or produce positive effects in areas such as carbon emissions, water usage, green energy and pollution, to name a few.
Companies also impact the social (S) element, or the relationships it has with people and institutions in their community — that influence is demonstrated through hiring and labor practices, diversity and inclusion policies, workplace safety and philanthropy.
Subscribe to Kiplinger's Personal Finance
Be a smarter, better informed investor.
Save up to 74%
Sign up for Kiplinger's Free E-Newsletters
Profit and prosper with the best of expert advice on investing, taxes, retirement, personal finance and more - straight to your e-mail.
Profit and prosper with the best of expert advice - straight to your e-mail.
Finally, firms decide on governance (G) — the internal system of practices, procedures and controls for decision-making, governing itself and complying with the law. Governance includes matters such as board diversity, executive pay, business ethics, competitive fairness and financial processes.
ESG Investing Is Growing in Popularity
ESG investing has become an increasingly popular trend, but it's not just a fad, as ESG assets have been steadily growing for decades now. Globally, ESG investors are increasingly putting their money where their mouths (and hearts and minds) are to the tune of a projected $50 trillion by 2025 (opens in new tab), up from $35 trillion in 2020. ESG assets represent a third of total global assets under management.
If the money is there, the next question is, is it creating positive change? The answer can be found by looking at examples of how industries and companies have created change with ESG in mind.
Just as ESG assets are on the rise, opportunities to invest are likewise growing. The most common way to invest in ESG and be automatically diversified is to choose from the hundreds of ESG mutual funds and ETFs available.
Personalized Indexing Gives Investors More Flexibility
An exciting development, though, is the personalized indexing (PI) option that has more recently emerged.
PI allows an investor to choose exactly which companies will be in their ESG fund, akin to the best Las Vegas casino buffet in investing. An investor could fill a plate with a scoop of wind energy, a dollop of social justice and a sprinkling of gender diversity while actively avoiding any helpings of animal testing or slices of unethical behavior.
This custom-tailored approach ensures the fund will precisely align with the investor's values, rather than relying on a fund manager's judgment, as well as provide enhanced opportunities to improve the tax efficiency of the investor's portfolio.
So Many Choices Can Be Overwhelming
It's always nice to have a choice, and clearly the choices are plentiful when it comes ESG investing. Sometimes, however, those choices can also make investing seem somewhat overwhelming. The most surefire way to make sure your portfolio not only aligns with your values but also meets your overall investment goals is to work with a financial adviser well-versed in ESG.
ESG investors can feel good about intentionally and thoughtfully using their dollars to make a difference. ESG investing provides the opportunity to receive a return on an investment while prioritizing the environment, people and ethics at the same time.
Without ESG, would some companies independently create change on their own and focus on environmental, social and governance issues to make positive strides in those areas? Of course. Some companies would, but others would not.
The pressure and financial incentive to make that progress is important in encouraging good behavior across the board. The goal for many ESG investors is just that — to encourage positive change in our world by investing in funds and companies that prioritize those changes. Money talks, and beyond that, it has the potential to change everything.
This article was written by and presents the views of our contributing adviser, not the Kiplinger editorial staff. You can check adviser records with the SEC (opens in new tab) or with FINRA (opens in new tab).
President & CEO, Francis Financial Inc.
Stacy is a nationally recognized financial expert and the President and CEO of Francis Financial Inc. (opens in new tab), which she founded 15 years ago. She is a Certified Financial Planner® (CFP®) and Certified Divorce Financial Analyst® (CDFA®) who provides advice to women going through transitions, such as divorce, widowhood and sudden wealth. She is also the founder of Savvy Ladies™, a nonprofit that has provided free personal finance education and resources to over 15,000 women.