Why COVID-19 May Cause You to Consider a Greater Purpose for Your Money
With all that is going on right now, you may be thinking more about what values you hold dearest. If so, faith-based investing can offer you an outlet to support the companies that share your beliefs.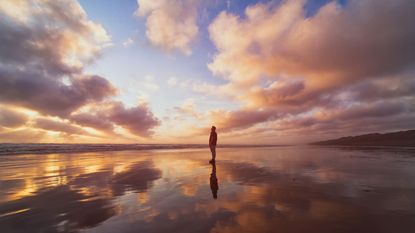 (Image credit: Getty Images)
I think it's safe to say that 2020 hasn't exactly been what we all expected. Very few of us have been immune to the consequences of the COVID-19 pandemic, and the true economic fallout from the crisis ais just beginning to take shape. Our economy has shed more than 30 million jobs since March, and countless businesses — both large and small — have been shuttered.
It has been challenging to say the least — but not all the news has been bad.
Across America and around the world, people and communities have come together to support each other and those on the front lines during the pandemic in ways we haven't really seen since 9/11. Drive-by parades celebrate kids' birthdays, New Yorkers join together every night at 7 p.m. to salute health care workers, and actor John Krasinski set up a home studio to bring us Some Good News.
Subscribe to Kiplinger's Personal Finance
Be a smarter, better informed investor.
Save up to 74%
Sign up for Kiplinger's Free E-Newsletters
Profit and prosper with the best of Kiplinger's expert advice on investing, taxes, retirement, personal finance and more - straight to your e-mail.
Profit and prosper with the best of Kiplinger's expert advice - straight to your e-mail.
As news of the pandemic continues to shift and America takes its first steps toward "normal," many people are likely contemplating what changes they want to make in their lives going forward — including how they invest. If that is you, now may be as good a time as any to refocus your investment strategy and reflect on how and why you invest.
Putting Faith in Your Portfolio
Throughout this crisis, many have leaned on their faith to calm fears and anxieties — a tactic that's probably been helpful. In fact, according to research (opens in new tab) conducted by scholars at Baylor University, Duke University and MIT, economists have found that those who are active in their faith have strong associations between measures of subjective well-being as well as a better tolerance for economic movements — such as booms, busts or income shocks — than those who are not active in their faith. So it would come as no surprise if this unique time has awakened the desire to further align your investment goals with your personal values and spiritual beliefs.
Whether you are an institutional investor, someone scraping to save for retirement or anyone in between, many believe it is important to always keep your investment portfolio aligned with your long-term financial goals. But there is another layer to consider when making investment decisions, and that is whether or not you want your portfolio to also have a greater purpose.
If you answered "yes," you may be able to find the purpose you're looking for by adopting a faith-based investing approach.
Exploring Your Faith-Based Investing Options
Before diving into a faith-based investing strategy, it's important to understand the universe of investment options available. While the bad news is that there isn't a specific Morningstar category for faith-based mutual funds, the good news is faith-based options are available across nearly all asset classes, style boxes and risk profiles.
While they carry many similar provisions, it's also important to highlight that faith-based investing options differ from other values-driven approaches like Environmental, Social and Governance (ESG) and Socially Responsible Investments (SRI). While ESG and SRI funds also aspire to do good, those investments that are faith-based often screen out companies that don't adhere to biblical values, such as the support of the sanctity of life, family, stewardship, health and safety.
For many faith-based investment firms, their approach to aligning faith and finance doesn't stop at just a screen. In recent years, our firm has participated alongside industry peers in also proactively advocating for Christian principles with companies to bring about better business practices — a philosophy that drives our practices at GuideStone®. These shareholder advocacy efforts derive from a desire to positively impact the well-being of our clients and fellow citizens by influencing the way companies engage their employees, customers and communities.
For instance, GuideStone joined investor efforts to gain broader disclosure of policies on labor practices within the Kraft Heinz supply chain. These efforts resulted in Heinz publishing a Global Human Rights Policy and created a Human Rights Risk Assessment that they now use in their own due diligence processes.
Starting the Faith-Based Conversation
Your values are where your search should start. Before meeting with your financial adviser or analyzing specific mutual funds or exchange-traded fund (ETFs), take the time to reflect on what truly matters to you. Are you against predatory lending? What about tobacco companies or gaming companies that stack the deck against their customers? These answers are key in helping you define your personal values.
Next, take your values set and do some online research to find some of the major players that align with your investment philosophy. At GuideStone Capital Management (opens in new tab)®, we often tell the financial advisers, retirement plan participants and clients we work with not to look at faith-based investing any differently than they would any other strategy, and we would tell you the same thing: Consider both performance AND values.
Leveraging research tools, such as this Fund Screener from Morningstar (opens in new tab), will allow you to evaluate options based on performance, risk, expenses and more. This information can help ensure you adopt the most appropriate faith-based approach.
Once you assess where you stand and have familiarized yourself with the faith-based universe, you should meet with your financial adviser to gather a professional perspective and talk through your specific questions. A simple way to start would be to ask if faith-based investing is something he or she has experience with or how you can refocus your financial plan through the lens of your faith and beliefs.
It's important to let your adviser know what your priorities are and the values you want to incorporate into your portfolio. Because in the same way you want your investments to align with your faith, you also want to work with someone who understands and fully supports your desire to invest with purpose.
The health and social crises our country has experienced in recent weeks have pushed all of us to spend time thinking about what we cherish most. If your faith is important to you, then now is the time for that higher purpose to influence your portfolio.
Important information: This information is prepared by GuideStone Capital Management, LLC, a controlled affiliate of GuideStone Financial Resources®. This material is provided for educational purposes only and should not be construed as investment advice or an offer or solicitation to buy or sell securities. Diversification is not a guarantee against loss. This information does not represent any GuideStone product. Special risks are inherent in international investing, including those related to currency fluctuations and foreign, political and economic events.
The material represented has been obtained from sources we consider reliable, but which we cannot guarantee. It is subject to change without notice and is not intended to influence your investment decisions. This information discusses general market activity, industry or sector trends or other broad-based economic, market or political conditions and should not be construed as research or investment advice.
Director and Head of Intermediary Distribution, GuideStone Funds
Will Lofland is director and head of intermediary distribution at GuideStone Funds (opens in new tab) based in Dallas, Texas. In addition, Will oversees GuideStone's shareholder advocacy strategy and represents the firm as a participant in the Interfaith Center on Corporate Responsibility.