Fresh Voices in Personal Finance
An impressive number of young women have entered the personal finance field via blogs, websites and social media.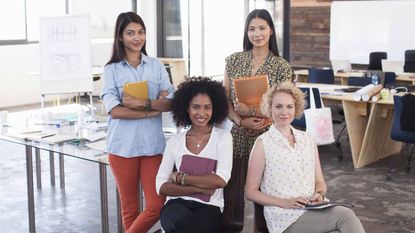 (Image credit: Getty Images)
Not long ago, I was on a panel at my alma mater, St. Bonaventure University, speaking to a group of business and journalism majors about career opportunities that spanned both fields. One of my fellow panelists was Erin Lowry, a 2011 SBU grad who created the Broke Millennial franchise and wrote Broke Millennial Takes On Investing and other financial books. My curiosity was piqued: How did a young woman who majored in journalism and theater find her way into personal finance?
"I fell into it backward," Lowry told me. After graduating, she headed for New York City to find work in theater, but found herself working three jobs to cobble together survival earnings of $23,000 during her first year. She started writing about her experiences on her Broke Millennial blog, and it snowballed into a full-time venture.
Lowry gives a lot of credit to her upbringing. "Money was a regular part of the conversation in my family," she says. Her parents paid for half of her college costs, and by using scholarships and earnings as a resident assistant she graduated debt-free.
Subscribe to Kiplinger's Personal Finance
Be a smarter, better informed investor.
Save up to 74%
Sign up for Kiplinger's Free E-Newsletters
Profit and prosper with the best of expert advice on investing, taxes, retirement, personal finance and more - straight to your e-mail.
Profit and prosper with the best of expert advice - straight to your e-mail.
As Broke Millennial, Lowry, 31, answers peer-group questions ranging from "How can I tell my friends that I can't afford to split a dinner bill?" to "Is it too late to start investing if I wait till I'm in my forties?" It's never too late, she replies. "You just have a different time line, so your risk and asset allocation will be different."
Other voices. Lowry is one of an impressive number of young women who have entered the personal finance field via blogs, websites and social media. Another is Cindy Zuniga, 31, who graduated from law school in 2015 with $215,000 in (mostly student) debt and paid it all off in four years.
To repay the debt, Zuniga refinanced to a lower rate and shortened the term to cut interest costs. Then she "budgeted extremely carefully," she says. "Every dollar I brought in had its job—rent, groceries, transportation—and anything extra went to paying off the loans."
She chronicled her experience with a "zero-based budget" on In­stagram, and launched her business, Zero-Based Budget Coaching, in 2019. "As long as you have an intentional plan, you can achieve your goals regardless of income," she says.
Like Lowry, Zuniga was influenced by her family history. Her parents, immigrants from Ecuador and Honduras, were "very much against consumer debt," but in her low-income community in the Bronx, "money was a taboo topic," she says. "Everyone talks about the lack of money, but nobody talks about money management. So it was important for me to tell my story."
Family background was also a factor for Shang, who uses her platform, Save My Cents, to encourage her followers to take charge of their personal finances. Her parents, immigrants from China, emphasized the value of saving and frugality. At one point in her career, Shang, 35, was saving one-third of her income as a management consultant and aiming at saving 50%. Reaching that lofty goal is a matter of mind-set over money, she says. "Don't worry about what other people think of you. When you fine-tune your spending and saving to bring them in line in with your values, you're not dependent on your education or your income."
Her extreme savings measures are in line with the FIRE philosophy—financial independence, retire early. She has no plans to retire early, but FIRE principles have given her other options, such as taking an unpaid maternity leave and helping to support her retired in-laws. She hopes eventually to establish a scholarship foundation. Her advice: "Have a neutral view of money. It's not bad, nor is it everything. It's just a tool."

Janet Bodnar is editor-at-large of Kiplinger's Personal Finance, a position she assumed after retiring as editor of the magazine after eight years at the helm. She is a nationally recognized expert on the subjects of women and money, children's and family finances, and financial literacy. She is the author of two books, Money Smart Women and Raising Money Smart Kids. As editor-at-large, she writes two popular columns for Kiplinger, "Money Smart Women" and "Living in Retirement." Bodnar is a graduate of St. Bonaventure University and is a member of its Board of Trustees. She received her master's degree from Columbia University, where she was also a Knight-Bagehot Fellow in Business and Economics Journalism.