Scarlett Cochran on Getting Your Finances in Shape
Emma Patch talks to Scarlett Cochran, author of 'It's Not About the Money: A Proven Path to Building Wealth and Living the Rich Life You Deserve.'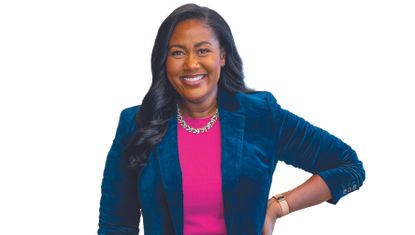 (Image credit: OneBigHappyLife.com)
Scarlett Cochran started out as a single mother living below the poverty line. She is a graduate of Yale Law School and a Marine veteran, and she has worked for several federal government agencies, including the Consumer Financial Protection Bureau. She and her partner, Joseph Cochran, founded the Wealth Builders Society, a financial coaching program.
If it's not all about the money, then what's it all about? Money evolved as a tool to help us solve problems and make our lives easier. But somewhere along the way, that has been lost, causing some people to live for money and even hoard it. The premise of my book is to bring people back to the purpose of money.
What advice do you have for people who want to get their finances in shape in the new year? First, release any guilt or shame you feel about overspending. All it does is make the process of managing money unpleasant. You can both enjoy the memories and experiences you received as a result of your spending and decide to not make the same decision going forward.
Subscribe to Kiplinger's Personal Finance
Be a smarter, better informed investor.
Save up to 74%
Sign up for Kiplinger's Free E-Newsletters
Profit and prosper with the best of expert advice on investing, taxes, retirement, personal finance and more - straight to your e-mail.
Profit and prosper with the best of expert advice - straight to your e-mail.
At the beginning of the year, I always recommend that you create a one-year spending plan. This is a year-long budget that you can see on a single spreadsheet. First, decide what you'll need to do to get your finances back on track. Will you need to pay off debt, beef up your savings accounts, or a little of both? And how long will it take you to do that? Second, decide right now how much you want to spend on your holidays in 2023. Divide that amount by twelve and save that amount in a special holiday savings account so the money will be waiting for you when the holidays come around again.
Debt has become more expensive. Yet you have argued on your blog and YouTube channel that people shouldn't be afraid of debt. What is good debt? I suggest not looking at debt as either good or bad. Instead, think of it as a tool that you can use to create the life you want. Then the question becomes, as with any tool, is this the right tool for the job? Debt is a way of trading time for money. You can get what you want now, but it will cost you more, and you'll have less income available in the future. Are you willing to pay more to have the thing you want — whether it's a house, college tuition, or a vacation — now? If, after looking at the impact debt will have on your future budget, you decide that those trade-offs aren't worth it, say no to the debt.
Why did you decide to leave government service to start your own business? When I pictured what my life would look like going down both paths, entrepreneurship was the option where I saw the most opportunity for growth, autonomy and impact. I loved that my career potential wouldn't be limited by whether or not my employer had a vacancy for me to be promoted. And I loved that the work that I was doing with financial coaching impacted lives in a tangible way, versus the indirect impact my work had as a regulatory attorney.
What advice do you have for other entrepreneurs? Just get started. Find a mentor who can guide you through the process of starting and growing your business. You don't have to have everything figured out. All of that stuff comes later, after building your business skills.
Staff Writer, Kiplinger's Personal Finance
Emma Patch joined Kiplinger in 2020. She previously interned for Kiplinger's Retirement Report and before that, for a boutique investment firm in New York City. She served as editor-at-large and features editor for Middlebury College's student newspaper, The Campus. She specializes in travel, student debt and a number of other personal finance topics. Born in London, Emma grew up in Connecticut and now lives in Washington, D.C.