Where to Go for the Best Off-Season Travel
You can save money and avoid the crowds by visiting popular vacation spots at unpopular times.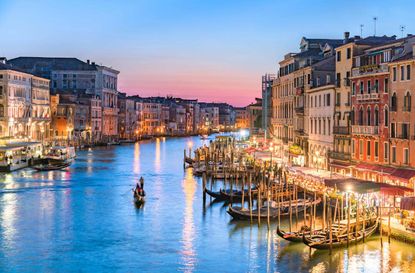 (Image credit: Cui Yi (Cui Yi (Photographer) - [None])
Traveling during the off-season is in. And no wonder: Off-season travelers are rewarded with shorter lines, lighter crowds and lower prices—as well as activities that didn't exist several years ago. As crowds swell in major destinations during the high season, "these places are getting creative, beefing up experiences and transportation options to attract visitors during the low season," says Gabe Saglie, senior editor at Travelzoo, a deal-finding website. Tour operators such as Globus and Insight Vacations offer programs dedicated to fall, winter and spring travel; travelers can typically save 20% to 40% compared with peak-season itineraries to European and other hot spots.
But no one wants to spend a vacation indoors, even if the price is right. Because not all off-season getaways are created equal, we found five ideas for summer, fall and winter trips that deliver good value and great experiences—and often better weather than you might expect.
Hit the Slopes Without the Snow
Ski resorts are fast becoming hubs of year-round activity, especially for avid hikers and bikers. But the mountains can suit anyone seeking a tranquil vacation. "You can find almost anything you want in a mountain town," says Evan Reece, CEO of Liftopia, an online seller of lift tickets. "Activities can be as simple as riding the chairlift to the top of the mountain and hiking around, or as varied as attending music festivals or zip-lining." Nearby rivers and lakes beckon those who want to fish, boat or swim, and night owls can join an astronomer for star-gazing. You'll likely pay a fraction of the cost for accommodations compared with peak season, even at upscale hotels.
Subscribe to Kiplinger's Personal Finance
Be a smarter, better informed investor.
Save up to 74%
Sign up for Kiplinger's Free E-Newsletters
Profit and prosper with the best of expert advice on investing, taxes, retirement, personal finance and more - straight to your e-mail.
Profit and prosper with the best of expert advice - straight to your e-mail.
Vail, Colo. In the summer in Vail, you can slide down the tubing hill, zoom through the forest on a raised alpine coaster, soak up views from a gondola or try your hand at white-water rafting in the Eagle River. For something tamer, visit the weekly farmers' market and art show, stroll the highest botanical garden in the U.S., or catch a performance by the visiting New York Philharmonic. In summer, you can also take advantage of deep discounts at luxury accommodations. For example, rooms at the Sonnenalp Hotel start at about $350 per night for a weekend in mid June, but they jump to $500 or more for a midweek stay in February.
Stowe, Vt. The village of Stowe in the Green Mountains is a skiing hot spot on the East Coast, and crowd-wary travelers might also want to avoid the summer and leaf-peeping seasons. Those are even busier times to visit, says Scott McIntosh, director of sales and marketing at Topnotch Resort in Stowe. But if you come after Columbus Day, the autumn crowds will have died down and colors will still be present (if not as vibrant). Take in the scenery by hiking or mountain biking. When temperatures dip, you can hop around the area's craft breweries or sample flavors at the nearby Ben & Jerry's factory. Topnotch Resort offers discounts of up to 50% off rooms and deals on activities—such as buy one spa treatment, get one free—in November and April.
St. Anton am Arlberg, Austria. This is one of Austria's most popular ski areas in the winter, but it is relatively quiet in the summer, says Liftopia's Reece. You can traverse more than 180 miles of walking paths, passing a variety of alpine flowers that grow only at high altitudes, and stop for a snack at a mountainside hut with a stunning view. Grab a free St. Anton Summer Card on the first day of your vacation from your hotel or guesthouse owner, which rolls together one day of unlimited cable car rides, a two-hour e-bike rental, a torchlight hike and more.
Cruise When Others Refuse
The height of hurricane season in late summer and early fall coincides with some of the best cruise deals of the year. As families settle back into the school year and ships return from Europe, cruise lines lower prices and throw in perks to help fill cabins. If you're flexible about which islands you visit, don't let the risk of storms deter you. Cruise lines monitor the weather and can easily circumvent oncoming storms. Keep in mind that you will probably get a credit or partial refund if your itinerary is drastically changed, but there is no guarantee. In extreme situations, such as returning to a different port city, you may be on the hook for flight changes and extra nights in a hotel.
September is a good time to catch the tail end of Alaska's cruising season. Though the weather cools down, you'll go on the same excursions as high-season cruisers and see wildlife without crowds getting in the way. Head to the Mediterranean for an October cruise, when the weather is still warm but fewer tourists populate the port cities.
Caribbean. The editors at CruiseCritic.com found a seven-night western Caribbean cruise from Miami on the Norwegian Breakaway, which visits Honduras, Belize and Mexico, for as little as $549 per person in mid September. That price jumps to $849 in mid July. (Tack on $170 for taxes and fees.)
Alaska. CruiseCritic also spotted a seven-night one-way cruise from Vancouver, Canada, on Princess Cruises' Golden Princess in early September for as little as $579 per person. A similar itinerary in late July would cost $879. (Taxes and fees are an extra $210 per person.)
Mediterranean. The MSC Divina offers a seven-night western Mediterranean cruise out of Valencia, Spain, that makes stops in Marseille, Rome, Palermo and other port cities, starting at $538 per person in mid October. You'll pay more than twice that to sail the same route in mid July. (Taxes and fees run $72 per person.)
Extend Your Summer
In southern Europe and the Middle East, balmy temperatures linger into the fall. It may not be warm enough to lie on the beach, but exploring villages and ancient sites is more bearable, especially when you're not jostling for space with fellow travelers in the heat. If you choose to take a tour, expect considerable discounts.
Greece. Although the islands quiet down in the late fall and winter, there is plenty to do on mainland Greece all year round. "Greece has been off-the-charts for us in the off-season," says Steve Born, chief marketing officer of Globus, which runs low- and shoulder-season tours through its Escapes by Globus program. He calculates that travelers on Globus's fall tours to Greece can save about 45% compared with similar summer itineraries. Vacationers can climb the Acropolis, walk the ruins of Olympia, and learn the traditional Greek sirtaki dance; some tours also include a cruise around Mykonos, Santorini and other islands dotting the Aegean Sea. Flying there in the fall is considerably cheaper than in the summer. Round-trip airfares from the U.S. cost an average of $712 in November 2018, compared with $1,160 in June 2018, according to Kayak.
Egypt. Low season in Egypt varies depending on where you go. But hotels are still trying to entice tourists to return following the Arab Spring uprisings in 2011, so you'll get strong value for your dollar at any time of year. The State Department rates the country a Level 2 ("exercise increased caution")—the same designation as a number of Western European countries—but for an extra layer of security, join a tour. "We walked away from Egypt for seven years, but in 2018 we felt like the destination was back," says Marty Seslow, vice president of marketing at Gate 1 Travel. Gate 1 Travel's 9 Day Classic Egypt with 3 Day Nile Cruise shuttles travelers to pyramids, temples and tombs, and culminates in a three-night cruise through the Nile Valley. Departures in October and November start at $2,099 per person, including round-trip airfare from New York City and two domestic flights. Play around with departure dates to figure out the cheapest time to go, but you can expect pleasant daytime temperatures even in the depths of winter.
Bermuda. Bermuda is cooler than you might expect in the winter, with temperatures only hitting the mid 60s during the day. "It's beachy, not beach weather," says Saglie, of Travelzoo. But unlike in the Caribbean islands a thousand miles south, you'll find the best deals on high-end resorts in Bermuda during the winter. For example, Travelzoo advertised nightly rates of $173 to $185 for the luxurious Fairmont Southampton resort last year for stays between December and March. Summertime sales at the same resort recently went for $209 to $349 per night. Activities such as golfing, sailing, sunset cruises and scuba diving are available on the island year-round, while others—such as kite-surfing or catching spiny lobsters for dinner with a licensed diver—are best done in the fall and winter.
Hot Deals in Chilly Places
Cool temperatures can be a small price to pay to visit over-touristed destinations during their winter lulls. "Experiencing a church or museum without people waving selfie sticks makes a huge difference," says Sarah Schlichter, senior editor of SmarterTravel.com. Plus, accommodations are easier to grab, and you'll dine along with locals rather than visitors.
Grand Canyon. The Grand Canyon's jagged peaks and endless valleys are spectacular at any time of year, but prices and visitors to the South Rim plunge during the winter. (The North Rim starts shutting down on October 15 and doesn't fully reopen until May 15.) Although the weather can get bitterly cold, you also get plenty of sunny days with comfortable temperatures in the 50s and 60s, says Betsy O'Rourke, chief marketing officer for Xanterra Travel Collection, which manages concessions for several national parks. Three of the five shuttle-bus routes (included in your park admission) operate year-round, dropping riders off at various lookout points and trailheads. Or take a day trip aboard the Grand Canyon Railway, a historic railway with vintage cars and roaming musicians playing old Western tunes. The biggest perk related to visiting during the low season is being able to scoop up one of the limited hotel rooms within the park with only a few weeks' notice, especially if you stay midweek. "We sell out our summer inventory the day we open it for booking, 13 months in advance," says O'Rourke. Rates are typically 20% to 30% off summer highs, or up to 40% off if you book during one of Xanterra's two annual sales, on July 25 and Cyber Monday (December 2 in 2019).
Venice, Italy. Without hordes of cruise ship passengers and day-trippers mobbing the narrow alleys, Venice can feel even more romantic in crisp weather. "You see Venice in a different light after 5 p.m., when the overnight crowds are no longer there," says Born. Cozy up under blankets for a gondola ride through the misty canals, warm up with a mug of sumptuous Venetian hot chocolate, or shell out $14 to glide around the ice rink at Campo San Polo, skate rentals included. Kayak reports the cheapest month to visit Venice (based on airfare and a two-night hotel stay) is January; in 2018, flights from the U.S. averaged $620, and hotels averaged $106 per night.
Japan. Cherry-blossom season in late March and April is the most popular time of year to visit Japan, but competition for hotels and guides is fierce. Instead, plan your trip a month or two earlier for plum-blossom season, says Lesa Clarkson, travel specialist at ATJ, an agency that focuses on Asian travel. You'll see explosions of fragrant pink flowers but pay half the price for luxury accommodations. Plum blossoms typically appear from the beginning of January through March and can be found at parks, shrines and temples across the country, she says. For example, the Yushima Tenmangu shrine in Tokyo is one of the city's most famous viewing spots, and the Mito Plum Festival—with more than 100 plum- tree varieties—is an easy day trip from Tokyo. Round-trip flights to Tokyo from the U.S. ran in the $800s, on average, in January, February and March of 2018. Airfare sales to Japan are spotty, but we recently saw round-trip flights in the $600s from Boston and in the $700s from Cleveland.
Defy the Rain
Think of the rainy season as green season, when downpours set the stage for verdant landscapes and lush vege­tation. In some parts of the world, wet months may only amount to afternoon showers with otherwise sunny skies; in other places, you risk cold and damp weather at any time of year, meaning low season is as good a time as any to visit.
Thailand. Rainy season starts in mid May and lasts until mid October in most of the country, but showers typically hit in the afternoon or evening and last for an hour. That means you can still get in a full day of sightseeing and head into a restaurant or spa to escape the wettest parts of the day. Clarkson recommends visiting the north of Thailand in June or July, when summer rains have cleared away the smog from springtime crop-burning, rice terraces are lush and green, and waterfalls are in full force. Flights to Bangkok averaged $964 round-trip from the U.S. in July 2018, according to Kayak, and four-star hotels averaged $77 per night that same month. Domestic flights can be cheap. We recently saw flights from Bangkok to Chiang Mai in the north of Thailand for as little as $31 round-trip this July. Craving the beach? Islands in the Gulf of Thailand, such as Koh Samui, stay relatively dry this time of year—albeit without the same low-season discounts available elsewhere in the country.
Scotland. Despite a reputation for inclement weather, Scotland's winters tend to stay above freezing. If you stick to the east coast, which sees less rain and snow than the west, you can visit the clifftop Dunnottar Castle, the university town of St. Andrews (home to the world's oldest golf course) and the buzzing Christmas markets in Edinburgh. Or head up north to the Highlands region of Moray Speyside, famous for its malt whiskies and one of your best chances in the U.K. to see the northern lights. Kayak reports the cheapest month to visit Edinburgh (based on airfare and a two-night hotel stay) is February, when flights from the U.S. averaged $617 in 2018 and hotels cost an average of $113 per night.
Aruba. The "ABC" islands of Aruba, Bonaire and Curaçao are far enough south in the Caribbean that they usually escape heavy storms during hurricane season. But lower demand in the region means you can find discounts of 30% to 50% at resorts from late August through October, says Leslie Clevenstine, director of marketing at CheapCaribbean.com. In peak winter season, four-night packages at the Renaissance Aruba Resort & Casino, which has a private island nearby with separate beaches for families and adults-only, start at $1,199 per person (including airfare from Fort Lauderdale) on CheapCaribbean.com. The cost drops to $749 per person for the same package in September.

Associate Editor, Kiplinger's Personal Finance
Miriam lived in Toronto, Canada, before joining Kiplinger's Personal Finance in November 2012. Prior to that, she freelanced as a fact-checker for several Canadian publications, including Reader's Digest Canada, Style at Home and Air Canada's enRoute. She received a BA from the University of Toronto with a major in English literature and completed a certificate in Magazine and Web Publishing at Ryerson University.