What Type of Giver Are You? To Do the Most Good, Find Your Giving Personality
Not all service is meaningful. In fact, contributing to a cause without first identifying what gets you excited could turn your charity work into an unpleasant obligation. You need to find the right charity for you. Here's how.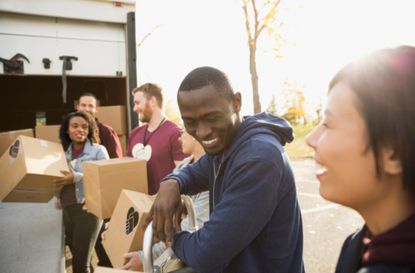 (Image credit: (c)2013 Hero Images Inc. All rights reserved.)
Just as there is a difference between working at a job only for the money and working because it ignites a passion, serving because you think "it's the right thing to do" is not nearly as satisfying as serving because you love it.
There are limitless ways to serve, but only a handful will fit your personality. Identifying your "giving personality" and taking steps to contribute in ways that resonate with your core values can dramatically raise your sense of purpose.
The Seven Giving Personalities
As you read through each personality, think about what resonates with you.
Subscribe to Kiplinger's Personal Finance
Be a smarter, better informed investor.
Save up to 74%
Sign up for Kiplinger's Free E-Newsletters
Profit and prosper with the best of expert advice on investing, taxes, retirement, personal finance and more - straight to your e-mail.
Profit and prosper with the best of expert advice - straight to your e-mail.
1. Mentor/Succession Planner
Mentors or succession planners are interested in passing the baton to the next generation or training those who ask for help. They love to spread their knowledge to help others become more successful and competent. Think about people you could mentor in your career or in other areas of your life, such as teaching a skill or helping younger kids through an organization like Big Brothers Big Sisters of America.
2. Kindness Spreader
The goal of kindness spreaders is to make others feel good. They are always there with a kind word or encouraging comment. If this is you, make sure that you hold roles that are social and allow you to connect with others. Serving on a welcoming committee or in positions that enable you to provide emotional support is a good place to start.
3. Crisis Reliever
Crisis relievers want to help people (or animals) who are going through a rough patch. When something bad happens in the community or a neighbor's basement floods, they are the first ones there to help. They also may volunteer at the hospital to work with terminally ill patients, take in foster kids or travel to other countries to give medical procedures to those in need. Examples of charities that appeal to them include the American Red Cross or Americares.
4. Cultural Enthusiast
These are people who love the arts: music, fine art, writing, theater and so on. They see the value of contributing to a gallery or modern dance project. It is in connecting with creative people and their visions that they gain understanding. Consider contributing to local arts or theater projects.
5. Infrastructure Enhancer
These are individuals who want to improve the infrastructure within their communities or outside of them (such as Brad Pitt working with the charity Make It Right to build homes in New Orleans). They contribute to schools, universities, libraries, hospitals, building restorations and community projects. John Rockefeller was extremely influential in this area; his family foundation still is. Many public buildings are the result of his contributions and those of others like him.
6. Change Agent
Change agents see a problem and are determined to change it. This can be done as a part of a group or as a vision they pursue on their own. Sometimes, this takes the form of charity work; other times, it takes the form of a business, such as Elon Musk's vision to transform transportation. If you see a problem that needs changing, consider connecting with organizations with a similar mission.
7. Truth Seeker
This personality comes in two flavors. Flavor 1 includes those who are devoted to their beliefs and want to spread the message or contribute to the success of their religion, group or organization. Flavor 2 includes those who have been on a personal journey of recovery (e.g., overcoming alcoholism, addictions, etc.) and would like to share what they discovered with others who are struggling with the same issues. Either path is a way to spread hope and joy to others.
As you serve, pay attention to what gets you excited. In addition to the above personalities, think about what roles you're most comfortable fulfilling. Do you feel most comfortable on a board making high-level decisions, in the trenches working side-by-side with other volunteers, or in your living room sewing blankets for kids? When you discover what lights you up, keep doing more of that. Your charity work will blossom into passion.
This article was written by and presents the views of our contributing adviser, not the Kiplinger editorial staff. You can check adviser records with the SEC or with FINRA.
Founder and CEO, Paragon Road
Laura A. Roser is the founder and CEO of Paragon Road, the leading authority in meaning legacy planning (passing on non-financial assets, such as values, wisdom and beliefs). For more information about legacy planning, visit www.paragonroad.com.