Want a Second Passport? Here Are 3 Countries You Can Buy Your Way Into the EU
Quality of life, health care and the freedom to spend unlimited time in Europe are a few reasons why people are looking into citizenship programs in Malta, Cyprus and Portugal.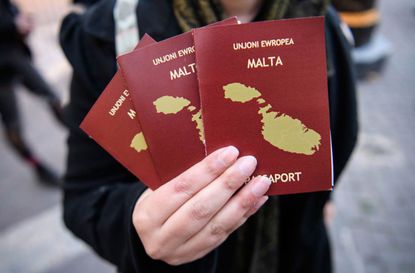 (Image credit: 2017 Getty Images)
One's wealth serves as a safety net for professionals and their families. However, the current geopolitical and economic landscape might mean that wealth alone, without a larger plan, may not be enough.
When it comes to travel freedom, the passport that wealthy individuals hold can hamper their ability to respond to threats or new opportunities to access the global travel, business opportunities and lifestyle options that they find most appealing. For this reason, the financial planning model for high- and ultra-high-net-worth individuals (HNWIs) is evolving to include citizenship planning, with many law firms, family offices and wealth advisers expanding their investment offerings to satisfy their clients' increasing needs.
Safety, Security and Stability in Europe
Given the incomparable level of protection and comfort that the region offers, Europe has become the first choice for many individuals looking to acquire alternative residence or citizenship. According to experts in this field, European passports are also among the strongest in the world in terms of the travel freedom they afford their holders.
Subscribe to Kiplinger's Personal Finance
Be a smarter, better informed investor.
Save up to 74%
Sign up for Kiplinger's Free E-Newsletters
Profit and prosper with the best of Kiplinger's expert advice on investing, taxes, retirement, personal finance and more - straight to your e-mail.
Profit and prosper with the best of Kiplinger's expert advice - straight to your e-mail.
While U.S. passports have traditionally offered visa-free access to EU countries, passport holders have still been restricted from working and living in the countries and could only stay there for a maximum period of three months at a time. Beginning in July 2021, further barriers will be in place for U.S. citizens traveling to Europe. The European Travel Information and Authorization System will be conducting an additional security check on all non-EU travelers headed to Europe's Schengen Area, which is made up of 26 countries (opens in new tab), including France, Germany and Spain. The new rules affecting U.S. citizens will require a separate application, cost and border control approval, both upon leaving the USA and upon arrival in Europe.
Individuals with a second EU passport or residence card can eliminate the restrictions to their travel freedom, whether now or in the future, move seamlessly through airports, and access the immeasurable business potential of the European market and the region's world-renowned educational and health care facilities.
How can U.S. citizens make that happen, and which countries might they consider pursuing a second EU passport? Here are some ideas:
Gaining Citizenship Through Malta or Cyprus
The small yet highly advanced islands of Malta and Cyprus offer two of the most highly regarded citizenship-by-investment options in the EU. Malta's high standard of living, along with its central location in the Mediterranean, makes it an attractive second home for wealthy families. It has experienced above-average economic growth in recent years, as investors and travelers alike tap into the island nation's enormous potential.
Considered the investment migration industry's gold standard, the Malta Individual Investor Program (opens in new tab) (MIIP) offers a gateway to the world's eighth- strongest passport, according to the Henley Passport Index (opens in new tab), which ranks all the world's passports according to the number of destinations their holders can access without a prior visa. A Malta passport offers visa-free or visa-on-arrival access to 182 destinations. The minimum contribution for the MIIP is approximately 1 million euros, and the Maltese passport can be obtained within roughly 12 months.
Cyprus, a fellow Mediterranean marvel, features an accessible business environment, state-of-the-art communication infrastructure, and a skilled labor force. A minimum investment of 2 million euros (opens in new tab) in real estate is required for the Cyprus Investment Program, and successful applicants gain visa-free or visa-on-arrival access to 173 destinations worldwide within approximately six months.
Inclusive and Peaceful Residence in Portugal
The Portugal Golden Residence Permit Program is an excellent option for HNWIs seeking residence that leads to citizenship in the EU, particularly for entrepreneurs with the capacity to create jobs. With a minimum investment of 250,000 euros (opens in new tab), this highly popular program grants five-year residence permits to successful applicants and residence in one of the world's most multicultural nations.
Citizenship Planning
We want to thank Henley & Partners, a global industry leader in residence and citizenship planning, for the data provided for this report. Each year, hundreds of wealthy individuals and their advisers rely on their expertise and experience in this area. Their highly qualified professionals work in over 30 offices worldwide.
Managing Partner, Jeffrey M. Verdon Law Group, LLP
Jeffrey M. Verdon, Esq. is the managing partner of the Jeffrey M. Verdon Law Group, LLP (opens in new tab), a Trusts & Estates boutique law firm located in Newport Beach, Calif. With more than 30 years of experience in designing and implementing comprehensive estate planning and asset protection structures, the law firm serves affluent families and successful business owners in solving their most complex and vexing estate tax, income tax, and asset protection goals and objectives.