Girlfriend Getaways Gain Popularity Among Retirees, Preretirees
Many women over 50 are discovering the rejuvenating properties of vacationing with female friends.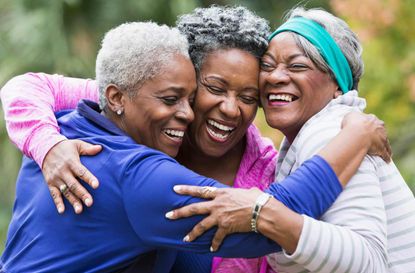 (Image credit: kali9)
Every June for the past four years, Barbara Klein, 66, of Bethesda, Md., has gone on a weeklong spa trip to Rancho La Puerta in Tecate, Mexico. Her companions consist of a dozen women, mostly in their fifties to mid sixties. At the ranch, Klein and her girlfriends are busy, with hikes, exercise classes and cooking lessons. They meditate, get massages and other treatments, and attend lectures on subjects ranging from practicing wellness to the human microbiome.
"It's the best vacation, and it recharges me," says Klein, a retired lawyer. "All I think about is what do I want to do? It's self-indulgent in the best possible way." On these girlfriend getaways, Klein enjoys the mix of spending time alone and with her friends, and putting her own desires first. It's the opposite of her daily routines at home, where the needs of her husband, elderly mother and adult sons often take precedence.
Like many women over 50, Klein has discovered the rejuvenating properties of vacationing with female friends. "It's a huge trend and increasing every year," says Marett Taylor, vice president of sales at travel company Abercrombie & Kent (opens in new tab). Taylor notes a 33% increase in bookings for groups of women in the past five years. In the first month of 2018, women-only bookings have surpassed the total number of women-only trips operated by the company in 2017. Typically, the company's trips are 7 to 10 days, with groups of 8 to 12 women, and are mostly high-end, with stays at luxury hotels. For example, a week in Iceland runs $12,000 a person and an African safari ranges from $6,000 to $15,000 (without airfare).
Subscribe to Kiplinger's Personal Finance
Be a smarter, better informed investor.
Save up to 74%
Sign up for Kiplinger's Free E-Newsletters
Profit and prosper with the best of expert advice on investing, taxes, retirement, personal finance and more - straight to your e-mail.
Profit and prosper with the best of expert advice - straight to your e-mail.
It's not just the luxury market that's seeing an uptick in girlfriend getaways. Some travelers are in search of adventure. Cynthia Dunbar, general manager of REI Adventures (opens in new tab), says, "Since 2010, women traveling with us has grown 60%, and the figure goes up every year. Over the last five years, 26% of our women travelers were ages 50 to 59."
Travel industry experts cite reasons for the uptick: Women traveling together may share a special interest that they want to explore, such as photography or cooking lessons in Sicily. A shared vacation is a good way to catch up with far-flung friends. And while family trips are fun, they can be exhausting for mom, who is often the designated travel agent/concierge. Also, professional women over 50 are accustomed to leaving spouses behind for business trips and other travel.
While many women travelling with one or more friends make their own arrangements, providing tours for women-only groups is a growing travel industry niche. Many tour companies are expanding their offerings to include more exotic destinations and adventure expeditions. Some current hot destinations for Abercrombie & Kent include India and Morocco. For instance, the company offers "Taj Mahal and the Treasures of India," a 15-day trip that costs $8,995 plus airfare. Highlights include taking a safari in search of tigers in wilderness haven Panna National Park and a private sunrise cruise along the Ganges.
"Our newest, most popular destinations include Chile, Easter Island and African countries such as Namibia. They combine the exotic and mystical with beautiful scenery," says Phyllis Stoller, who runs The Women's Travel Group (opens in new tab), which has organized small group tours for women for 26 years. About 60% of Stoller's 500 clients each year are 50 and older.
Road Scholar (opens in new tab), a nonprofit educational tour company for age 50-plus travelers, gears its trips to special interests, such as crafts, art, antiquing and outdoor activities. And Road Scholar trips are attracting female travellers: Of its 110,000 clients each year, 60% are women traveling with other women, says JoAnn Bell, senior vice president of program development.
And while spa trips and exploring European cities are still crowd-pleasers, more women are testing their physical stamina. Last year, REI Adventures offered 19 women's adventure trips, led by female guides, that feature mountaineering, backpacking and trekking in destinations such as New Zealand and Yosemite.
For example, REI's eight-day Machu Picchu Women's Lares Lodge Trek trip next summer starts at $3,299 for REI members and $3,649 for non-members, plus airfare, and features trekking on a restored Inca trail and hiking the mountains of Machu Picchu.
If you prefer to hang out with your friends in a more laidback setting, check out wellness retreats, another category currently in vogue. Road Scholar offers a five-day Rejuvenation Retreat for Women, at the Land of Medicine Buddha retreat center near Santa Cruz, Cal., for $539 plus airfare. The program includes a Qigong movement class, guided meditation and nature walks in the redwood forest. All meals are vegetarian.
Set Some Ground Rules
When planning a trip, there's more to think about than agreeing on a destination. The adage that traveling together is a true test of a relationship applies equally to girlfriend trips. Thus, experts advise testing the waters before embarking on a long, expensive vacation. "Start small, such as with a weekend or a domestic vacation of a few days," says Debra Asberry, who 20 years ago launched Women Traveling Together (opens in new tab). Her company runs 80 trips a year with about 15 participants per tour, mostly ages 45 to 65.
Road Scholar's Bell, who takes an annual trip to Paris with friends, says it's a good idea to set some ground rules in advance. For instance, is the group going to split up for activities and meals? Share rooms? Her group keeps a common "kitty" to cover meals, taxis and other incidentals; they replenish it as needed, instead of having to split the bill for every expense.
For an adventure trip, make sure you and your friends are in proper physical condition. A good tour company will give you conditioning tips, Dunbar says.
Girlfriend trips are an opportunity to try out a new activity, as well as pursue existing interests that your spouse may not share. In addition to the spa trip, Klein takes an annual three-day trip to New York City with a different group of women, some of whom she sees infrequently the rest of the year. They see a few Broadway shows, take walking tours and check out museums. "It's really different from going to New York City with my family," Klein says. "This is girl time, and a way to see a few shows that my husband probably wouldn't enjoy."