How to Travel by Tour and See the World
From the beaches of Samoa to the palaces of India, these excursions include all the arrangements and offer as much hand-holding as you want.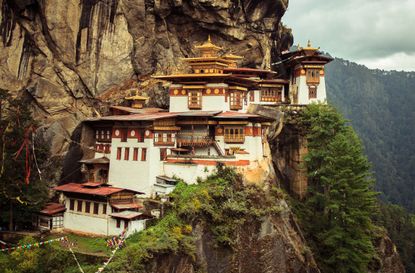 (Image credit: mantosh)
Traveling abroad with an organized tour has always been appealing because the operator takes care of the logistics, nabs group rates for hotels and sightseeing, and provides VIP entry to popular, crowded attractions. "Tours are a way of accessing unique experiences in hard-to-reach parts of the world," says Christine Sarkis, senior editor at SmarterTravel.com.
But you don't have to be stuck aboard a bus with 40 tourists toting selfie sticks. Tour operators are trimming group sizes, relaxing rigid itineraries and incorporating more features to satisfy travelers thirsting for adventure. Go on a tour today and you could find yourself waltzing in a Viennese palace, shooting Buddhist fortresses in Bhutan with a documentary photographer or exploring Game of Thrones locations in Croatia. Or maybe you'll watch the sun set over the Taj Mahal from across the Yamuna River because your guide knows that's the best vantage point. To show you the range of tours available, we spotlight trips in five categories. (Prices do not include airfare, unless otherwise noted.)
Splurge a little (or a lot).
Attentive, individual service is one thing that sets apart upscale tours. For example, on a luxury getaway, you won't have to hang around the airport waiting for other travelers to land so you can catch a group transfer to your hotel; you'll be whisked away as soon as you arrive. Other hallmarks of luxury trips include small groups, sumptuous accommodations, languid pacing so you have time to enjoy those accommodations, and perks such as laundry service, luggage handling and window seats for every guest. Most sightseeing fees, gratuities and other costs should be bundled into the price tag.
Subscribe to Kiplinger's Personal Finance
Be a smarter, better informed investor.
Save up to 74%
Sign up for Kiplinger's Free E-Newsletters
Profit and prosper with the best of Kiplinger's expert advice on investing, taxes, retirement, personal finance and more - straight to your e-mail.
Profit and prosper with the best of Kiplinger's expert advice - straight to your e-mail.
On Cox & Kings' 13-day "Splendors of Royal Antiquities" journey through India ($5,295 for an October departure), the focus is on majestic palaces and forts. Swain Destinations customizes itineraries in far-flung locales, including Australia and South Pacific islands. For a blowout trip, you can jet around the world on a private plane. At $117,000 for its October departure, Abercrombie & Kent's "Islands, Savannas & the Amazon" whisks 50 passengers from the beaches of Samoa to the rain forests of Madagascar and more, before concluding in Monaco.
Butterfield & Robinson, which specializes in cycling and walking trips, has a van circle the routes to deliver refreshments and pick up weary participants. That support might come in handy during its six-day Camino de Santiago biking trip in Spain (from $3,795 for 2017 departures), as the terrain steepens in the region of Galicia.
One trick to making the most of a luxury tour is avoiding destinations that don't have a variety of accommodations. In that case, says Sarkis, "luxury trips won't stand out as much as a less-expensive tour."
Make it a family affair.
If you can't stand the thought of braving the lines again at Disney World, it's time to shake up your family vacation. Look for an operator that specializes in multigenerational travel and designs trips to appeal to kids as well as parents and grandparents.
Tauck Bridges offers a range of family trips, such as the eight-day "Italia Bella: Rome to Venice," starting at $4,390 per person for 2017 departures. Your clan can gaze at the ceiling of the Sistine Chapel during a special after-hours visit, as well as float on a gondola down a Venetian canal to the strains of a private serenade. Adventures by Disney takes families with kids as young as 6 or 7 to snorkel in the Galápagos or walk along the Great Wall of China.
Grandparents can bond with their grandkids on special "grand travel" trips, perhaps to celebrate a rite of passage or keep the young ones occupied while parents are working. Road Scholar's intergenerational getaways run the gamut from surfing in Hawaii to hiking in the Alps. Recently, a five-day literary-themed excursion in California centered on the classic Boxcar Children series by Gertrude Chandler Warner (fittingly, about a grandfather and his four grandchildren), starting at $999 per adult. Thomson Family Adventures treats grandparents and grandkids (and parents, if they care to tag along) to a number of exotic outings, such as zip-lining and white-water rafting in Panama.
Multigenerational tours usually mix downtime with activities where the kids can play and the adults can sit back and watch. "Not everyone has to play Frisbee on the lawn at Zion National Park," says Jennifer Tombaugh, president of Tauck. "We find that if the kids are happy, the parents and grandparents are happy."
To help make your trip a success, encourage every member of your family to weigh in on the destination. You can also call to ask about the age range and genders of kids who have registered for the tour you are eyeing. When in doubt, err on the side of a shorter rather than a longer excursion.
Travel solo.
Joining a tour group alone can be intimidating. No matter how welcoming your guide is, no one wants to feel like a third wheel with couples and families. One solution is to find a tour geared toward solo participants.
Women-only tours are almost exclusively made up of unaccompanied travelers, says Debra Asberry, president of Women Traveling Together, which takes groups everywhere from Ireland to Antarctica. Or you could pick a regular tour that specializes in one of your passions, such as baseball or kayaking, to boost your chances of clicking with other people. But ask the operator how it accommodates solo travelers. For example, will it put you in touch with the other single travelers before departure?
A few traditional tour companies waive or reduce the "single supplement" fee on certain departures, or offer to match unaccompanied travelers with a roommate of the same gender. Insight Vacations is doing away with the single supplement entirely on select fall and winter departures of its 16-day "Treasures of Turkey" getaway, starting at $2,050. Classic Journeys, which runs cultural walking tours and culinary excursions, raises prices only by about 15% for single travelers. And Overseas Adventure Travel never charges a single supplement, making its South American treks and Asian odysseys friendly to those traveling alone. Upon request, Mayflower Tours will pair up solo guests of the same gender at a shared-room rate—and guarantee that rate even if they can't find a suitable roommate.
[page break]
Get an education.
Educational tours balance learning with hands-on activities, so your day in Paris could start with a lecture about Impressionism and continue with a stroll through the Musée d'Orsay to view paintings. "You get a behind-the-scenes perspective on the place you're visiting," says Jim Moses, president of Road Scholar, which focuses on experiential learning.
Besides tour operators such as Road Scholar and Perillo's Learning Journeys, look into academic trips offered by a museum or art gallery. Members of the Art Institute of Chicago can learn about the murals and architecture of Mexico City with an expert from the museum's education department. Or take in the temples and pyramids of Egypt with a curator of Egyptian art from the Metropolitan Museum of Art.
Smithsonian Journeys offers more than 350 departures a year. For example, its 16-day "Discovering Vietnam" starts at $4,357 for fall 2016 departures, including airfare. You'll spend a day boating among the limestone islands of Ha Long Bay and dine at the home of a local historian. For animal and nature encounters, look for programs backed by zoos, aquariums and environmental organizations. For instance, an expert in reef life from the Shedd Aquarium in Chicago will lead 14 guests on a six-day diving expedition in Palau, a tiny archipelago in the Pacific Ocean, in February. The price starts at $3,780.
College alumni associations also host travel programs, and many allow nongraduates to participate if they join the association. Sometimes the tour is led by an academic. For example, an astronomy professor from the University of California, Berkeley, will lead a 10-day trip to Chilean Patagonia to glimpse the solar eclipse in February (from $5,855).
Go off the beaten track.
A tour is the easiest—and sometimes the only—way to delve into remote or inaccessible parts of the world, including the Andes and Machu Picchu, the Galápagos Islands, and polar regions.
Sure, you can fly to Winnipeg, Canada, yourself and book a regional flight or train to the northern town of Churchill, a prime spot for polar bear and beluga whale sightings. But viewing the wintry wildlife is hard to arrange on your own. On Natural Habitat Adventures' seven-day "Ultimate Churchill Adventure" ($7,595 for fall departures in 2016, including charter flights between Winnipeg and Churchill), you'll traverse the Canadian tundra in a heated "Polar Rover" to watch polar bears tussle, and descend into a (vacant) den by helicopter. Intrepid Travel's expeditions range from reindeer herding with a nomadic tribe in the far north of Russia to joining a tribal New Year festival in a remote region of Myanmar, the country also known as Burma.
Lion World Travel goes beyond its name with safaris that showcase giraffes, rhinos, zebras and more. Its 10-day "Luxury Kenya" safari includes drives to observe game as well as breakfast by a hippo pool and evening cocktails overlooking Lake Nakuru, flecked pink with flamingos. The package starts at $3,399 for November departures, including flights, from Washington, D.C.
If adventure means immersing yourself in a foreign culture, consider Cuba, where "people to people" tours are one popular way to visit the country. (The U.S. still restricts travel to Cuba to certain authorized tours.) For example, National Geographic Expeditions' nine-day "Cuba: Discovering Its People and Culture" starts at $6,295 for fall 2016 departures (plus charter airfare). Cross Cultural Journeys offers some themed trips, such as "writers and artists" and "Cuban boxing," accompanied by an expert in that field (2017 departures for the former start at $4,995, including charter airfare from Miami).
Another country that is slowly opening up to U.S. visitors is Iran. Alexander+Roberts' new 14-day "Persian Moments" trip (from $7,199 for 2017 departures, including airfare from Dubai) leads you through palaces, bazaars and inhabited caves.
Associate Editor, Kiplinger's Personal Finance
Miriam lived in Toronto, Canada, before joining Kiplinger's Personal Finance in November 2012. Prior to that, she freelanced as a fact-checker for several Canadian publications, including Reader's Digest Canada, Style at Home and Air Canada's enRoute. She received a BA from the University of Toronto with a major in English literature and completed a certificate in Magazine and Web Publishing at Ryerson University.