Explore the World as a Roving Retiree
One retired couple proves there's no need to slow down (or settle down) in retirement.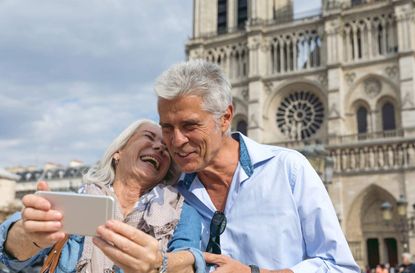 (Image credit: DO NOT USE WITHOUT PERMISSION)
Eager to hit the road, Roxanne and David Draves decided to retire early. Nine years ago, Roxanne gave up her real estate appraisal work, and David left his job doing lift maintenance for a ski area. They rented out their Carbondale, Colo., house, which they later sold, and bought a motor home.
Since then, they've been crisscrossing the U.S., working on 43 Habitat for Humanity building projects in 19 states, watching the Daytona 500 and a Space Shuttle launch in Florida, following Revolutionary and Civil War trails up the east coast, and helping their daughter build a home in Montana.
Roxanne, 62, and David, 68, have no intention of settling down. "Every place has something beautiful to it, and it's such a joy to meet new people," Roxanne says. "It's hard to sit still for too long."
Subscribe to Kiplinger's Personal Finance
Be a smarter, better informed investor.
Save up to 74%
Sign up for Kiplinger's Free E-Newsletters
Profit and prosper with the best of expert advice on investing, taxes, retirement, personal finance and more - straight to your e-mail.
Profit and prosper with the best of expert advice - straight to your e-mail.
A growing number of retirees agree. The rise of technology that makes it cheap and easy to stay connected anywhere in the world, home-sharing sites that offer low-cost accommodations, and longer life spans promising many active years in retirement are all inspiring a generation of retirees to make travel a lifestyle rather than an occasional splurge.
Some, like the Draveses, find new purpose in far-flung volunteer projects, while others pursue second-act careers as travel bloggers or photographers or simply tick some boxes on their bucket list. And many find they're spending less than they did as homeowners. "You can do this on a shoestring--or do it on a private jet," says David Kuenzi, a financial planner in Madison, Wis., whose clients include many expatriate Americans.
It's not all nomadic nirvana. You'll need to plan carefully to stay within your budget and constantly research new destinations and accommodations. Before making a full-scale commitment, and certainly before selling your house, "take several months off and give it a try," says Lynne Martin, a globe-trotting retiree and author of "Home Sweet Anywhere" (Sourcebooks, $15).
Trim Travel Costs
Use websites such as NomadList.com and Numbeo.com to research costs of living before deciding on a destination. To save on travel costs, consider basing yourself in a region--such as Europe--where there's cutthroat budget airline competition, says Kathleen Peddicord, publisher of website www.liveandinvestoverseas.com. Or take "repositioning" cruises--discounted one-way voyages offered when cruise lines are relocating ships.
Find affordable accommodations on sites such as HomeAway.com and Airbnb.com. Or get free accommodation by housesitting. Get started at sites such as TrustedHousesitters.com or HouseCarers.com.
If you're traveling overseas, extra homework is required. You may need additional health coverage. Medicare typically won't cover you outside the U.S. Review each country's visa rules at the U.S. Department of State website so that you don't overstay your welcome. And research the country's residence rules to ensure you won't become subject to taxation there. If you stay in Italy for more than 183 days in a year, for example, your worldwide income will be subject to Italian tax, Kuenzi says. And remember that U.S. citizens must always file U.S. tax returns, no matter how long they live abroad.
But those nagging details can't dampen the pleasures of life on the road, roving retirees say. And though you may be far from loved ones, you're likely to develop many close bonds as you go. The Draveses say they've formed many friendships working with Habitat for Humanity's RV Care-A-Vanners, a group of about 6,000 volunteers, mostly retirees, who travel the U.S. and Canada in their motor homes building houses. About half are full-time RVers, and they tend to team up with the same volunteers on many different building sites, says Habitat spokesperson Bryan Thomas. "We couldn't give it up," says Roxanne Draves. Her husband finishes her thought: "It would be like abandoning your family."
This article originally appeared in the October 2017 issue of Kiplinger's Retirement Report. All information is correct as of the original publish date.

Senior Editor, Kiplinger's Retirement Report
Laise covers retirement issues ranging from income investing and pension plans to long-term care and estate planning. She joined Kiplinger in 2011 from the Wall Street Journal, where as a staff reporter she covered mutual funds, retirement plans and other personal finance topics. Laise was previously a senior writer at SmartMoney magazine. She started her journalism career at Bloomberg Personal Finance magazine and holds a BA in English from Columbia University.