ACA Open Enrollment: Shop Health Insurance Exchanges for a Better Deal
You'll have between November 1 and December 15 in most states to take a second look at your coverage.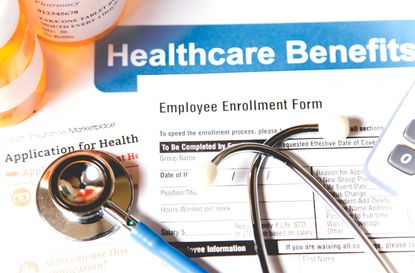 (Image credit: (C) 2017 fstop123 ((C) 2017 fstop123 (Photographer) - [None])
Editor's Note: The federal government has extended the deadline for enrolling in Affordable Care Act plans for 2020 until 3am EST on December 18, 2019.
As the Affordable Care Act marketplaces open their doors for this fall's open enrollment, these individual health insurance exchanges are looking healthier than in years past. And no group stands to benefit more than early retirees.
Just ask Dan Wickenhauser. The Brighton, Ill., retiree has been on an ACA plan since the start of last year, and he hasn't paid a penny in premiums. He draws his spending money from a taxable account, keeping his income low enough to qualify for premium tax credits as well as cost-sharing reductions that lower his deductibles and co-payments.
Subscribe to Kiplinger's Personal Finance
Be a smarter, better informed investor.
Save up to 74%
Sign up for Kiplinger's Free E-Newsletters
Profit and prosper with the best of expert advice on investing, taxes, retirement, personal finance and more - straight to your e-mail.
Profit and prosper with the best of expert advice - straight to your e-mail.
That low-cost coverage turned out to be crucial. Wickenhauser's wife, who passed away earlier this year, suffered from cancer. When they exceeded their plan's $2,600 cap on out-of-pocket spending, the plan paid for 100% of all covered benefits. What's more, the plan's provider network "is plenty big and has some of the finest doctors in it," Wickenhauser says.
The ACA open enrollment period runs from November 1 through December 15 in most states, and if you've shrugged off shopping for coverage in years past, now may be the time to take a second look. "There's increasing insurer participation this year, and there are new options available" for many consumers, says Ning Liang, chief technical officer at HealthSherpa, which helps consumers enroll in marketplace plans. Greater competition among insurers, he says, is putting downward pressure on premiums. Nationwide, average 2020 premiums are expected to be about the same as in 2019.
The roughly 11 million people enrolled in marketplace plans enjoy a host of protections: They can't be denied coverage for preexisting conditions or charged more based on gender, and their plans can't place annual or lifetime dollar limits on coverage of essential health benefits, such as emergency services and prescription drugs. What's more, marketplace plans have a cap on annual out-of-pocket costs.
The recent stabilization of the health exchanges comes after years of upheaval. Initially, prices were too low, and many insurers lost money and exited the business, says Katherine Hempstead, senior policy adviser at the Robert Wood Johnson Foundation. After some sharp premium increases, rates started to stabilize for 2019 plans—but many consumers who were weary of 30% to 40% rate hikes didn't shop, says Tom Loach, director of carrier relations at eHealth. "They were tired of playing this game every year."
Now, renewed profitability has drawn more insurers back into the market—but challenges remain. Consumers who don't qualify for any subsidies may still find the premiums unaffordable. New regulations have expanded the sale of non–ACA-compliant short-term health plans, muddying the waters for consumers seeking comprehensive coverage. And the Fifth Circuit Court of Appeals is expected to rule soon on a case challenging the validity of the entire ACA.
A ruling dismantling the ACA would certainly be appealed to the U.S. Supreme Court, and 2020 plans are not in danger, marketplace experts say. So for now, early retirees should tune out the political noise and focus on finding 2020 coverage that will keep their health—and their nest egg—intact.
Ready, Set, Shop for Health Insurance
If you have a marketplace plan now and don't select any 2020 coverage, you'll be automatically reenrolled in your plan—or a similar plan, if your current plan isn't available next year. But insurance experts don't recommend this passive approach. Plans' premiums, provider networks, drug coverage and other benefits can change substantially from year to year. Changes in your income could affect the subsidies you receive and make a different plan more affordable for you. And with new carriers entering many counties in 2020, people who don't shop may be missing out on attractive new options.
As you start your search, first determine whether you qualify for any subsidies. If your income is between 100% and 400% of the federal poverty level, which is $12,490 for individuals and $16,910 for a family of two in 2019, you qualify for premium tax credits that will reduce the monthly cost of a marketplace plan. If your income is between 100% and 250% of the federal poverty level, you may also qualify for cost-sharing reductions, which will lower your deductible, co-payments and out-of-pocket maximum if you enroll in a "silver" level plan. (More on plan types in a moment.) Check your eligibility for subsidies at healthcare.gov.
Early retirees may be able to qualify for subsidies by tweaking their retirement drawdown strategy. Instead of pulling money from a traditional IRA, which will boost your taxable income, perhaps you can take tax-free distributions from a Roth IRA.
Marketplace plans range from bronze policies, which generally have the highest deductibles and lowest premiums, to platinum plans, which have the lowest deductibles and highest premiums. Silver and gold plans are in between. While a silver plan is often the best bet for people who qualify for cost-sharing reductions, other consumers will have to weigh the trade-off between monthly premium costs and out-of-pocket spending for doctor visits and other services.
When Will Eaton, 60, initially enrolled in a marketplace plan, he went with a silver policy. But he and his wife rarely visited the doctor, and he thought, "Why do we keep paying this money? Let's keep some of it for ourselves," says the Sarasota, Fla., retiree. So he switched to a high-deductible bronze plan. He's saving about $4,000 a year in premiums, which he sets aside in a bank account that he can draw from when he or his wife incur any significant out-of-pocket costs.
He's also maxing out a health savings account, which he can tap tax-free to cover medical expenses later in retirement.
When comparing plans, also pay attention to the provider network and drug coverage—particularly if you take specialty drugs, Hempstead says. Most silver plans charge co-insurance for specialty drugs after the deductible is met, and the median co-insurance is 40%—a hefty price to pay, considering that specialty drugs can easily cost more than $5,000 a month, according to the Robert Wood Johnson Foundation.
This enrollment season, consumers will also have a new way to compare plans: The exchanges must display a quality rating for each plan, which can range from one to five stars. Ratings are based on how enrollees rate the plan's network doctors, how well network providers manage enrollees' health care and customer service, among other factors. But ratings may not be available for new plans or those with low enrollment.
You can sign up for a marketplace plan using HealthCare.gov—where you can access the federal exchange or links to state marketplaces—or enrollment platforms, such as HealthSherpa, that focus on ACA plans. To find local organizations that can help you compare plans, go to localhelp.healthcare.gov.
Use caution when dealing with brokers or websites that mix ACA plans with non–ACA-compliant policies such as short-term health plans. These plans, which can now offer coverage for up to 12 months with an option to renew for up to 36 months, don't have to offer ACA protections, such as a cap on out-of-pocket costs and coverage of preexisting conditions.

Senior Editor, Kiplinger's Retirement Report
Laise covers retirement issues ranging from income investing and pension plans to long-term care and estate planning. She joined Kiplinger in 2011 from the Wall Street Journal, where as a staff reporter she covered mutual funds, retirement plans and other personal finance topics. Laise was previously a senior writer at SmartMoney magazine. She started her journalism career at Bloomberg Personal Finance magazine and holds a BA in English from Columbia University.