Plan Your Funeral as a Gift to the Kids
Lifting the burden now will ensure your last wishes are carried out at the right price.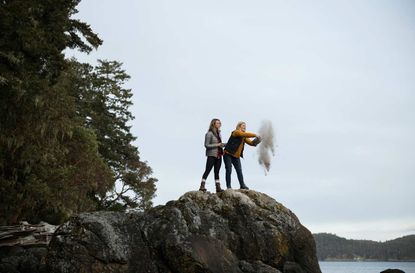 It may seem to be inviting bad luck to plan your funeral while you are still in decent health. But you will be doing your family a big favor if they can avoid the emotionally tough decisions immediately after you die.
No detail is too small. You can name preferences for a funeral home, eulogists, readings, individuals to invite to a service, and the location of a get-together for mourners. "When people are dealing with the loss of a family member, they are not thinking clearly. It's an amazing gift to let your family know what you want," says Abby Schneiderman, co-founder of New York City–based Everplans, an online platform for the storage of end-of-life information.
Topping a funeral-planning checklist should be your choice for burial or cremation. Elva Roy, 73, made it clear to her two sons that she wants a "direct cremation." A funeral home will deliver the body directly to a crematory, thus eliminating the need for a casket or embalming.
Subscribe to Kiplinger's Personal Finance
Be a smarter, better informed investor.
Save up to 74%
Sign up for Kiplinger's Free E-Newsletters
Profit and prosper with the best of expert advice on investing, taxes, retirement, personal finance and more - straight to your e-mail.
Profit and prosper with the best of expert advice - straight to your e-mail.
Roy says she found two funeral homes near her home in Arlington, Texas, that will provide the service for less than $1,000, and she has set aside money to pay the tab. A direct cremation is cheaper than a traditional cremation or burial. "I don't want to enrich funeral homes," says Roy, who is divorced. "I want to leave as much money as possible to my heirs."
Rather than a formal memorial service, Roy, a retired manager for a computer services company, told her sons she prefers a small gathering like the ones that took place after other close relatives died. In honor of those relatives, family members gathered in the house of one of her sons, eating barbeque and sharing memories. And even that is not necessary: "If my two sons got on the phone and said, 'I'm going to miss Mom,' that would be good enough," she says.
Mark Cooke, president of Heritage Financial, in Gainesville, Va., says he advises clients to draw up end-of-life plans, such as funeral instructions and advance-care directives. "Most of my clients will say they don't want to be a burden on their adult children, but they're talking in financial terms," Cooke says. "I tell them they need to do the same with end-of-life planning, to reduce the stress and burden on their kids."
Cooke, 64, is posting some of his funeral preferences on his Everplans archive. He wants to be cremated, and he says he is noting that his memorial service should be in the evening or on the weekend "so people won't have to take off work." He has discussed his plans with his two sons and two stepdaughters, and Cooke says it will be up to them to decide what to do with his ashes.
The music at Cooke's service is important to him. Before he became a financial adviser, he spent many years as a church minister of music. He also is a professional trumpet player. Cooke is leaving instructions for hymns and recordings that he would like played at his service, including recordings of classical trumpet. "Whoever organizes the memorial service will have some idea of what would be meaningful," he says.
Funeral Costs: Big Bash or Simple Service?
In drawing up your funeral plans, consider the costs. A blowout party to celebrate your life or a burial in a mausoleum will cost considerably more than a modest service or cremation. In any event, leave funds in a payable-on-death savings account, so the executor or beneficiary has immediate access to the money. "If people have strong preferences for something expensive, they have no right to expect anyone to pay," says Joshua Slocum, executive director of the Funeral Consumers Alliance, a research and advocacy group in South Burlington, Vt.
Setting aside a reserve for your loved ones is a wise course. If you instead use a prepaid plan, in which you sign a contract with a funeral home and pay in advance, you could lose your money if the funeral home goes bankrupt or you move far from the facility's location.
Let your loved ones know if keeping down funeral costs is important to you. Funeral homes are businesses, and many directors try to persuade frazzled heirs to buy high-cost caskets and all the trimmings as evidence of their love for the deceased relative. "You don't want your family going to a funeral home and hearing a director say, 'You want the best for your mom, don't you?' " says Steve Byrne, co-founder of Seattle-based Final Roadmap, a digital repository for users' end-of-life documents and instructions.
To help loved ones avoid making rash decisions, you can do some homework for them by visiting or calling several funeral homes and asking for price lists, Slocum says. Costs for the same services and merchandise, such as cremations and caskets, can vary widely, even in the same community. "I urge people to do this before death is knocking on the door," Slocum says.
Advising on even small details can ease loved ones' distress. A person who wants to be cremated or does not want a visitation or viewing can leave instructions to forgo a casket or to buy an inexpensive one. Although costs can change by the time you die, you can give your loved ones price lists and your recommendations. (For more information on costs, read Smart Ways to Save on Funeral Costs.)
For guidance in thinking through your preferences, Everplans and Final Roadmap provide information and checklists on funeral planning. (Everplans charges $75 a year, while Final Roadmap charges a one-time fee of $249.) Everplans, for instance, offers a list of possible venues for a service, such as a religious place of worship, a funeral home, a cemetery chapel, someone's home or a park. Individuals might note that they prefer a large service or an intimate gathering for close friends and family. Everplans' website also provides sections for obituary details and a list of charities or causes to which people can donate in your honor.
Everplans' users are asked to name at least one "deputy" who has access to the information. "The plan is worth nothing if no one knows about it," says Everplans' Schneiderman. "We urge people to sit down with their family and let them know what they want."
Byrne, 61, of Final Roadmap doesn't want a funeral after he dies. His own final roadmap, he says, notes that his organs are to be donated before he's cremated. He has left a list of friends and past co-workers he would like to have invited to a party at a bar. "I want my ashes on the bar, so I can be toasted," Byrne says. "I want people to tell stories." Although Byrne would like the music played to be 1970s classic rock, he says he would understand if people do not want to hear Led Zeppelin's Stairway to Heaven.

Contributing Editor, Kiplinger's Retirement Report
Susan Garland is the former editor of Kiplinger's Retirement Report, a personal finance publication whose subscribers are retirees and those approaching retirement. Before joining Kiplinger in 2006, Garland was a freelance writer whose work appeared in the New York Times, the Washington Post, BusinessWeek, Modern Maturity (now AARP The Magazine), Fortune Small Business and other publications. For 12 years, Garland was a Washington-based correspondent for BusinessWeek, covering the White House, national politics, social policy and legal affairs. Garland is a graduate of Colgate University.