Boomers Eye Work in Aging Market
Earn additional income in retirement by starting a business that serves your peers.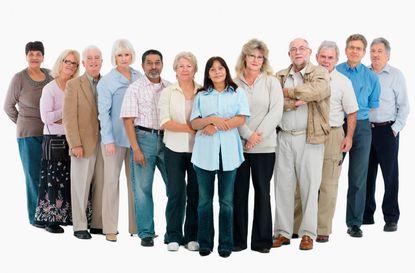 (Image credit: This content is subject to copyright.)
Are you considering a second-act business when you leave your career job? Look no further than your own age group for customers. As the number of older people grows, so do the opportunities to serve them. And many older folks themselves are developing products and services—or taking jobs—in what's known as the longevity economy.
That's what Barbara Green decided to do after decades as a certified public accountant in private practice and later as an auditor for the U.S. Department of Defense. For many of those years, Green also managed her mother's finances as well as those of an intellectually disabled sister. When she left her government job in 2010, Green decided to start a business helping older people with diminishing capacity manage their day-to-day financial affairs. "I knew there was a need for it, but I wasn't sure I could find clients who would pay for it," says Green, 73, who lives in Arlington, Va. "I have more clients than I can possibly want."
Most of Green's clients are in their eighties and nineties. She pays bills, consolidates numerous checking and investment accounts, helps manage rental properties, and hires professional organizers to get rid of stuff. When one wealthy client told Green that she did not understand what her financial adviser was talking about, Green began attending meetings with her.
Subscribe to Kiplinger's Personal Finance
Be a smarter, better informed investor.
Save up to 74%
Sign up for Kiplinger's Free E-Newsletters
Profit and prosper with the best of expert advice on investing, taxes, retirement, personal finance and more - straight to your e-mail.
Profit and prosper with the best of expert advice - straight to your e-mail.
Green also consults with family members. She worked with one daughter to persuade her mother to stop ordering boxes of vitamin supplements. "Older people will not believe that younger people know what they are talking about," she says. "Because I am old, they will listen to me."
The inclination of many older individuals to take advice and help from their peers offers aging boomers a big advantage in the growing senior-oriented market. Just think of a service or product that you or your aging parents could use, and it may be a niche that you can fill. If you're detail-oriented, you could become a senior move manager, advising people who are downsizing to smaller homes. Someone with a flair for writing could become a personal historian, helping retirees tell their life stories. Other possible solo businesses useful to older clients: personal assistant, fitness coach, driver, handyman and photo organizer.
Nancy Collamer, author of Second-Act Careers (Ten-Speed Press, $15), says people who already have expertise can "customize a business for the senior market." For example, a travel agent can design trips for grandparents or high-end adventure vacations for active boomers. A personal chef Collamer knew decided, after being diagnosed with cancer, to train as a nutritionist and counsel others who had to change their diets because of illness.
Services that help people age in place could be winners, Collamer says. Someone with a design or construction background could become certified as an aging-in-place specialist. These professionals remodel cabinetry, change door knobs to levers and widen doorways for wheelchairs. Services that provide caregiving, companion care and adult day care "will go through the roof," Collamer says.
The health care field is rife with opportunities for older workers interested in delivering non-medical services. Some fields require short-term training or certification. A nutrition counselor, for example, could focus on the dietary needs of seniors, while a diabetes coach could help those with the disease take better care of themselves.
As Green found with her daily money management business, academic research shows that older individuals who coach seniors on fall prevention or how to manage a chronic illness are more likely than younger coaches to coax clients to follow instructions.
The success of peer-to-peer counseling is central to the dementia-care coach program at ReServe, which places professionals age 55 and older in part-time positions with nonprofit organizations. The organization created a two-day training program two years ago for clients at its New York City affiliate, says ReServe national director Laura Traynor. Dementia-care coaches provide support for people with early-stage Alzheimer's disease and their caregivers. Most of the 23 coaches are in their sixties and have had some caregiving experience, either personally or professionally, Traynor says.
Cristina Pastor, 61, a freelance writer who lives in Rahway, N.J., began working part time as a dementia-care coach in 2015. She visits one of her clients, a 90-year-old who lives alone, three times a week. Pastor takes the woman to the bank so she has someone with her when she takes the cash home. They also visit the park. "We walk and we sing because she loves to sing," Pastor says. She leaves reminders for turning off the TV and brushing her teeth.
As the "eyes and ears for the family," Pastor passes along information about what her client is eating and whether she is taking her medicine. After Pastor reported suspicions to the family that a neighbor was borrowing money, relatives intervened. Pastor says she enjoys the work "because I love the stories [clients] tell me. There is so much I can learn from them."
Boomers Helping Boomers Find Their Way
As many baby boomers try to plot their retirement years, some older individuals are going into business to guide them. Eloise Stiglitz, 68, is one of a growing number of retirement coaches.
Stiglitz is a psychologist who spent most of her career in private practice and in university management positions. In later years, she ran two senior centers in San Diego. When Stiglitz and her husband moved to Orlando, Fla., last December, she did a "little soul-searching about my strengths and what I love to do." She decided her strength was helping people change, and she loves working with older people. She started her new business, Embrace Your Aging.
Now she helps new retirees and those approaching retirement do their own soul-searching. That could lead to second-act jobs, volunteering or new recreational activities. Stiglitz also works with people in their seventies and eighties. Some are pondering a move to a smaller home, while others are trying to manage when an illness limits mobility. "I help them shift their thinking into a more positive framework" in order to make the most out of their lives, she says.
To prepare for her new career, Stiglitz looked at the local competition, took webinars on aging issues and created a website. To get the word out, she contacted people she knew by e-mail and LinkedIn (see Network With the Help of LinkedIn). She also "reached out" to nonprofits, the local senior center and the local library. "My thought is to use as many avenues as possible," she says. For now, Stiglitz spends about 10 to 20 hours a week on her new venture, which gives her time to pursue photography and cooking.
Those with some technology background—or at least a good idea and access to people with tech knowhow—could grab a piece of the longevity economy. Tavis Schriefer says he thought up his venture after spending years helping care for his mother, who lives alone. "She had a problem with telemarketers and scammers," he says. In 2016, Schriefer, 53, launched his company to address telephone-related frauds that target people with cognitive impairments. The teleCalm service was designed, he says, "to protect people and still keep them connected."
With teleCalm, a family caregiver will attach a regular phone to a special adapter, which is then connected to a high-speed Internet connection. Only calls from approved telephone numbers—say, those of a parent's friends and relatives—will ring. Other calls will go directly to voicemail. Caregivers can listen to the messages on a smartphone app.
A serial entrepreneur in the electronics field, Schriefer has raised more than $150,000 for his Dallas-based firm from family, friends and a few angel investors. He's marketing the service on social media and through referrals from home care companies and elder law attorneys.
If you're mulling a second-act career in the aging market, Collamer says, "there's literally an association for every business you can imagine." Associations of daily money managers, senior move managers, patient advocates, personal historians and photo organizers conduct national conferences and offer training and marketing tips. You can also get on their referral directories if you meet their criteria.
Community colleges and many professional organizations offer certificates and short-term training in certain fields. Collamer's website (www.mylifestylecareer.com) offers links to resources on hot job fields, business development and marketing.

Contributing Editor, Kiplinger's Retirement Report
Susan Garland is the former editor of Kiplinger's Retirement Report, a personal finance publication whose subscribers are retirees and those approaching retirement. Before joining Kiplinger in 2006, Garland was a freelance writer whose work appeared in the New York Times, the Washington Post, BusinessWeek, Modern Maturity (now AARP The Magazine), Fortune Small Business and other publications. For 12 years, Garland was a Washington-based correspondent for BusinessWeek, covering the White House, national politics, social policy and legal affairs. Garland is a graduate of Colgate University.