Why Galveston, Texas, Is a Great Place to Retire
Galveston offers quiet beaches as well as a lively cultural scene.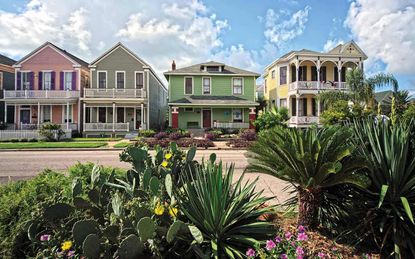 (Image credit: Vadim Troshkin)
Population:
48,733
Nearby large city:
Subscribe to Kiplinger's Personal Finance
Be a smarter, better informed investor.
Save up to 74%
Sign up for Kiplinger's Free E-Newsletters
Profit and prosper with the best of expert advice on investing, taxes, retirement, personal finance and more - straight to your e-mail.
Profit and prosper with the best of expert advice - straight to your e-mail.
Houston
What $300,000 will buy:
historic East End home with 4 bedrooms, 3 baths, 10-foot ceilings and a large front porch
Wander around Galveston's historic neighborhoods and you'll notice two things: There aren't many large trees. There are, however, dozens of tree sculptures, depicting, among other things, dolphins, dogs, pelicans and the Tin Man from The Wizard of Oz.
The sculptures, carved out of the remains of old oak trees that were wiped out by Hurricane Ike in 2008, speak to the resilience and creativity of this island city's residents. Instead of hauling away the stumps, says Galveston mayor Jim Yarbrough, "local people said, 'We can take chain saws and knives and make something neat out of this.' "
The city is no stranger to natural disasters. In 1900, a Category 4 hurricane with winds of more than 135 miles per hour killed more than 6,000 people and leveled 3,600 buildings (and was the subject of the best-selling book Isaac's Storm). More than a century later, Hurricane Ike caused more than $27 billion in damage, but the city has bounced back in a big way. Insurance payouts sparked a building boom that has revitalized previously rundown neighborhoods. "There's not a block in town where somebody isn't doing some landscaping or adding a front porch," Yarbrough says.
The recovery has boosted real estate prices, but Galveston is still a bargain compared with other coastal communities. Condos and townhouses are available for less than $200,000; single-family homes in the city's historic East End start at less than $300,000. Galveston, known as the "Wall Street of the Southwest" in the years after the Civil War, has the biggest stock of Victorian homes in the U.S. west of the Mississippi River.
Residents who need a big-city fix can cross the causeway and get to Houston in about 45 minutes. In addition to the Astros baseball and Texans football teams, Houston is home to 19 museums, including the Museum of Fine Arts, the nation's sixth-largest art museum (everything is big in Texas). You'll also find restaurants offering everything from haute cuisine to barbecue, as well as dozens of live performance venues. The city's MD Anderson Cancer Center is one of the nation's best-known hospitals for cancer care, treating more than 100,000 patients a year.
But Galveston residents don't need to cross the causeway to attend to most of their health care needs. The University of Texas Medical Branch, based in Galveston, has more than 600 hospital beds and provides both primary and specialized care.
And because Galveston attracts a lot of weekend visitors, there's always something going on. Galveston's annual Mardi Gras celebration is the third-largest in the U.S. In May, the island hosted its eighth annual Food and Wine Festival. For beer lovers, there's the Brewmasters Craft Beer Festival over Labor Day weekend. Moody Gardens, an amusement and theme park, hosts concerts every Friday and Saturday night in the summer. Texas A&M's Galveston branch and Galveston College offer lectures and other intellectually stimulating activities, says Tom Schwenk, a real estate agent with the House Company. "When you have universities, you get really great, diverse people," he adds.
Michelle Robach, 51, and her husband, Patrick, 59, have been second-home owners in Galveston for more than 15 years and are in the process of moving there permanently. Michelle recently opened BLU, a clothing and jewelry boutique, in the historic downtown area. The island's mellow vibe, along with a lower cost of living, were major factors behind their decision to retire here. "I love to get on my golf cart and go grocery shopping," Michelle says. "It beats sitting in a two-hour traffic jam."
Thanks to the tourist industry, there are plenty of part-time jobs, Yarbrough says, and many retirees with small units behind their homes rent them to tourists. Texas has no state income tax, so those earnings—along with income from pensions and retirement savings—are state-tax-free. Texas also has no estate tax. The median property tax in Galveston County is $2,965, according to the Tax Foundation.
Schwenk, 61, a native of New York City, moved to Galveston in 1984 and says he never looked back. He and his husband bought and renovated a Victorian home in the East End and plan to retire there. Yarbrough, who is a BOI (Born on the Island), also plans to stay on the island when he retires. "I've got sand up to my neck," he says.

Senior Editor, Kiplinger's Personal Finance
Block joined Kiplinger in June 2012 from USA Today, where she was a reporter and personal finance columnist for more than 15 years. Prior to that, she worked for the Akron Beacon-Journal and Dow Jones Newswires. In 1993, she was a Knight-Bagehot fellow in economics and business journalism at the Columbia University Graduate School of Journalism. She has a BA in communications from Bethany College in Bethany, W.Va.