What Happens When the Insurer of Your Annuity Goes Broke?
State guaranty associations provide a safety net for annuity money, but you need to know your state's coverage limits before you invest.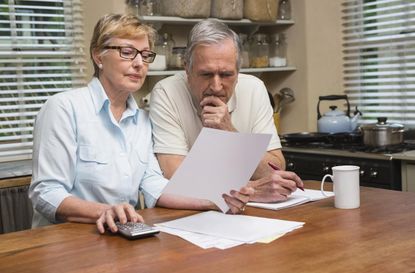 (Image credit: Getty Images/iStockphoto)
Many retirees buy annuities to protect themselves from an economic downturn and to provide guaranteed income for the rest of their lives. But what happens if the insurer you're counting on to provide those lifetime guarantees ends up in financial trouble itself?
State guaranty associations provide a safety net to protect money in insurance policies and annuities if the insurer becomes insolvent. But the amount of protection varies by state. And it can be complicated to calculate how much coverage you'll get, especially if you're receiving lifetime payouts.
Only six insurers licensed to sell annuity and life insurance have entered receivership since 2008, says Peter Gallanis, president of the National Organization of Life and Health Insurance Guaranty Associations. Most were small regional companies. Still, understanding the safeguards in place and the steps you can take before you buy an annuity can give you some peace of mind.
Subscribe to Kiplinger's Personal Finance
Be a smarter, better informed investor.
Save up to 74%
Sign up for Kiplinger's Free E-Newsletters
Profit and prosper with the best of expert advice on investing, taxes, retirement, personal finance and more - straight to your e-mail.
Profit and prosper with the best of expert advice - straight to your e-mail.
If an insurer starts to have financial troubles, the insurance regulator in the company's home state works with the guaranty association to find another company to take over its business. The transition can be seamless if the regulator steps in early.
But if the company's failure is sudden, your money may be temporarily inaccessible while the guaranty association and state regulators find a new insurance company. "They never interrupt scheduled annuity payments," says Gallanis. The regulator, however, may place restrictions on lump-sum payouts, he says.
If regulators can't find another insurer, the guaranty association coverage kicks in. Benefit limits vary based on your state of residence. Most states cover $250,000 in annuity benefits, but New Hampshire has a limit of just $100,000 (as does Puerto Rico). Twelve states and the District of Columbia have limits of $300,000 or more. Go to the Web site of Gallanis's group at www.nolhga.com for links to your state association.
Coverage Varies by Annuity
Coverage could differ based on the type of annuity you own. If you have a deferred fixed annuity, the guaranty association limit applies to the cash surrender value of the account -- the amount of money you could receive, after surrender charges, if you cashed out your annuity. With a deferred fixed annuity, your investment grows tax-deferred until you start making withdrawals or turn it into an income stream.
Money in variable annuities is generally invested in mutual funds in your own account. But any money covered by the insurer's general account could be at risk if the insurance company becomes insolvent. That could include any guaranteed value that exceeds the actual value of your investments.
If your annuity is worth more than the guaranty association limits, you could get back some more money after the insurer is liquidated.
The calculation gets more complicated if you are receiving, or are due to receive, lifetime payouts from the annuity. Coverage would be based on the value of the future income stream in today's dollars. If the annuity's net present value is less than the limits, your payouts would continue as they have been. If its value is more, the payouts would continue up to the limits and you could get additional payments once the insurer is liquidated.
Know your state's coverage limits before you invest. Mark Cortazzo, a certified financial planner in Parsippany, N.J., looks for insurers with an A.M. Best financial strength rating of B+ or higher. He then often splits large fixed annuity investments between two companies to stay below the state's limits, especially if they both offer similar interest rates.
Cortazzo also keeps an eye on the financial strength of variable-annuity companies for clients who have income guarantees or money in the insurer's general account. If the guaranteed amount gets close to exceeding the state limits, his clients may start to withdraw some money from the annuity.

Contributing Editor, Kiplinger's Personal Finance
As the "Ask Kim" columnist for Kiplinger's Personal Finance, Lankford receives hundreds of personal finance questions from readers every month. She is the author of Rescue Your Financial Life (McGraw-Hill, 2003), The Insurance Maze: How You Can Save Money on Insurance -- and Still Get the Coverage You Need (Kaplan, 2006), Kiplinger's Ask Kim for Money Smart Solutions (Kaplan, 2007) and The Kiplinger/BBB Personal Finance Guide for Military Families. She is frequently featured as a financial expert on television and radio, including NBC's Today Show, CNN, CNBC and National Public Radio.