Put Smart-Home Technologies to Work for You
You can put together a basic system using Amazon Echo or Google Home for a few hundred dollars.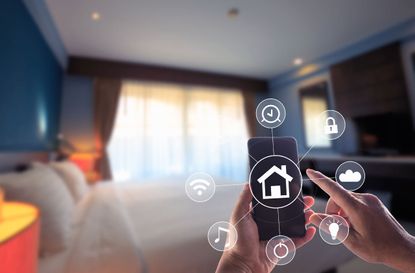 (Image credit: (c) Krunja Photographer. All Rights Reserved.)
For decades, we've imagined being served by a robot butler (or a robot housekeeper, à la Rosie in The Jetsons) and owning smart appliances, such as a fridge that ordered a carton of milk when you ran low. Now, Amazon Echo (opens in new tab) and Google Home (opens in new tab) as well as an assortment of other systems you can control with your smartphone are making some of those futuristic scenarios a reality. You won't have Rosie serving you a home-cooked meal anytime soon, but a rapidly expanding list of smart-home devices are available, with more on the way.
Because their systems are inexpensive and easy to use, Amazon, Google (and, soon, Apple and Facebook) are quickly taking over the smart-home market. The systems are built around a voice-activated smart speaker connected to your home Wi-Fi. Just say "Alexa" or "OK, Google" and the system springs into action. As with Siri or Google Assistant on your smartphone, the speakers connect to the internet to, among other things, check traffic or the weather, read news headlines, add appointments to your calendar or items to your shopping list, and look up basic information. But the technology is hands-free: You don't have to stop what you're doing to fiddle with your phone.
What makes these smart speakers even more powerful is their ability to connect with and control other smart-home devices -- allowing you to create a network that responds to your spoken commands. You can create a basic smart-home network for less than $500. With it, you will be able to turn off the lights after you've climbed under the covers at night, turn up the heat and turn on the coffeemaker before you get out of bed, and complete any number of other tasks while you're at work during the day.
Subscribe to Kiplinger's Personal Finance
Be a smarter, better informed investor.
Save up to 74%
Sign up for Kiplinger's Free E-Newsletters
Profit and prosper with the best of expert advice on investing, taxes, retirement, personal finance and more - straight to your e-mail.
Profit and prosper with the best of expert advice - straight to your e-mail.
Choose a Control Center
Which system you adopt as the brains of your smart home will depend on how you plan to use it and which smart-home devices you already own or plan to buy. The services you currently use will play a part, too. For example, Google Home is a natural at syncing up with other Google products, such as a Gmail account, and generally does a better job than the Echo of searching for information online. If you are a loyal Amazon customer and already subscribe to Amazon Prime (opens in new tab), you'll be drawn to the Echo. Alexa (opens in new tab) makes placing an order on Amazon.com a breeze.
Amazon's still-growing lineup of smart speakers have many of the same features, with a few notable differences. The Amazon Echo (opens in new tab) ($180), at just 9.25 inches tall, is small enough to sit on your kitchen counter, yet it contains two speakers with surprisingly good audio quality. A group of seven built-in far-field microphones are always listening for your call to Alexa. When you summon her, the blue ring atop the cylinder lights up and Alexa is ready to go.
For less than a third of the price, the diminutive Echo Dot (opens in new tab) ($50) -- it looks like a hockey puck—packs nearly as much punch. Its speakers aren't as powerful as the Echo's, but you can connect it to other speakers for better sound quality. Among Amazon's latest offerings, the Echo Show (opens in new tab) ($230) includes a 5-megapixel camera and a 7-inch touch screen. It adds new features to the mix—for example, it will display recipes, enable video chatting and show you the feed from a home security camera. (The Amazon Tap (opens in new tab), $130, is a portable option if you're staying within Wi-Fi range.)
Google's approach is more streamlined. Its system is built around a single device, the 5.6-inch-tall Google Home (opens in new tab) ($130). The virtual assistant inside will seem familiar to many Android smartphone users. And Google Home can be trained to recognize the voices of up to six different people -- allowing, say, you and your spouse to each ask what's on your individual schedules for the day or what the traffic on your commute is like. This feature isn't particularly kid-friendly -- you set up voice recognition using your Google account and smartphone or other device -- but older children with a Google account could, say, select music from their playlist or ask for help researching a history paper.
Adding Smart Devices
Both Google Home and Echo devices pair easily with a variety of smart-home devices -- which devices and how many options you'll have depend upon which smart speaker you're using. Amazon had a two-year head start on Google and chose to make it easy for companies and outside developers to add new skills to Alexa's repertoire. That means that Echo devices sync up with a laundry list of other smart devices. "If you buy an Echo, you're going to be able to shop around more for specific smart bulbs, switches and other products that Alexa will control," says Ry Crist, senior associate editor at CNET.com (opens in new tab).
Google has taken a more selective approach, and so far it has established partnerships with just a few companies -- including Honeywell and Nest, which make smart thermostats, and Philips Hue, which makes smart lights. Echo's mile-long list of features and compatible devices can be appealing, but a shorter menu of carefully vetted options may help protect you from smart-home items that don't pair with the speakers as smoothly or those that may pose a security risk.
Smart plugs. A smart plug allows you to incorporate basic household items that plug into a standard wall outlet -- table lamps, floor fans, slow cookers and coffeemakers -- into your smart-home setup. Smart-plug devices, such as the TP-Link Smart Wi-Fi Plug Mini (opens in new tab) ($35), which works with Amazon Echo, and the Belkin Wemo Mini (opens in new tab) ($35), which works with Google Home as well as Amazon's lineup, are typically smaller than the size of your palm and cost between $25 and $40 each.
Setting up a smart plug is easy: Place the plug between the item you want it to control and the standard wall outlet. Then use the app for your smart speaker to connect the device to your smart-home system and give it a name that you'll remember when you ask your smart speaker's assistant to turn the item on or off. Besides controlling the item connected to the smart plug with the sound of your voice, you can set up schedules so that, for example, the living-room light goes on at sunset, regardless of whether you are home. You'll also be able to control the item from outside your home.
Smart lights. Smart-light systems make adjusting the lighting in your home easier, and many offer additional features -- such as serving as a motion detector or doubling as a connected camera. Most smart lights offer color-changing bulbs that allow you to select a different color -- say, an energizing orange in the morning or the color of your favorite sports team during the big game. The bulbs typically cost $15 to $40 each, but to get started you usually need a bridge -- a small device that plugs into your router and acts as a translator between the bulbs and your Wi-Fi network.
Crist recommends Philips Hue White Starter Kit (opens in new tab) ($70) for your first smart-light purchase. The kit, which works with Amazon's Echo devices and Google Home (and will work with Apple HomePod), includes a bridge and two white light bulbs that work with other Philips Hue products, so you won't have to start from scratch if you decide to add additional smart lights. However, the starter kit doesn't include color-changing bulbs.
Automating a single light is straightforward. Just swap out the traditional bulb for the smart bulb -- which has Wi-Fi capabilities packed inside -- and use the app to pair the device with your smart speaker.
Smart thermostats. Smart thermostats collect information about your daily routine and temperature preferences, learn about your home (how quickly it heats and cools) and use algorithms to create a custom schedule for your habits. The devices also use sensors to determine when no one is home and avoid cranking up the heat or the air-conditioning if the house is empty. And if you're not comfortable with the temperature they've set, you can use your smart speaker or smartphone app to make an adjustment on the fly.
You can buy a smart thermostat online or in a big-box store for $130 to $300. Simple models, such as the Emerson Sensi (opens in new tab) ($130), which works with Apple and Echo, offer most of the same features as more-expensive models. If you want a sleeker option, consider the Nest Learning Thermostat (opens in new tab) ($250) or the Ecobee3 Lite (opens in new tab) ($170). The Ecobee uses additional sensors to monitor the temperature in different parts of the house -- and whether anyone is in them -- then heats or cools those spaces accordingly. Even homeowners who aren't handy can install and connect a smart thermostat to their smart speaker in about an hour.
Smart locks. If you've ever left home for the day or been moments away from drifting off to sleep and wondered whether you locked the door, smart locks offer a solution. A midrange model, such as the August Smart Lock HomeKit Enabled (opens in new tab) ($200), which is compatible with Echo devices and will work with Apple HomePod, allows you to lock and unlock doors and alerts you when the door has been unlocked. Some models use a keypad and will let you assign temporary access to guests or maintenance workers. Others use geofencing to monitor your phone's location, set up a perimeter around your property and lock the door when you (and your smartphone) leave.
Smart locks aren't perfect. At $200 to $300 each, they're expensive, and they require a little more work to install than other smart devices. Crist points out that if you leave a window open, an intruder could, say, instruct Alexa to unlock the door and let himself in. As a precaution, many lock companies are making it possible for you to lock a door but not unlock it using voice control.
Security. A smart-home device can help you keep a watchful eye on your home. To monitor what's happening outside and who comes to your door, consider a Wi-Fi video doorbell, such as the Ring Video Doorbell 2 (opens in new tab) ($200) or the Skybell HD (opens in new tab) ($200). (Ring works with Echo Show, and Skybell is compatible with other Echo devices.) When placed within range of your home's Wi-Fi network, they monitor your door and the surrounding areas to detect motion and alert you to visitors. When someone rings the doorbell or something triggers the motion detector, you can use your Alexa device to hear or your smartphone, tablet, computer or Echo Show to see the camera feed and communicate with whoever is at the door -- even if you're not home.
To monitor what's happening inside, Nest Cam Indoor (opens in new tab) ($170) includes both live and recorded video in crisp 1080p. The camera includes motion and sound alerts, but to record video and improve alert quality, you'll need a Nest Aware subscription (opens in new tab) (starting at $100 a year). With Echo devices, you can listen to audio from security cameras, and Echo Show users can watch footage on the device's 7-inch screen.
Beyond the Basics
If adding a few basic smart-home devices to your home has you eager for more home automation, you'll find plenty of options, from smart ovens to refrigerators and washers and dryers. But be prepared to pay up: Samsung's Family Hub Refrigerator, for example, features a 21.5-inch touch screen, three inventory-watching cameras that let you check what's inside when you're not at home, and a list of features that allow you to create shopping lists, order groceries, share calendars, and leave notes and doodles on a virtual white board, among other things. But the price starts at $3,500.
Sears recently announced a partnership with Amazon.com: Not only will the online retailer begin selling Sears's popular Kenmore brand on its site, but Kenmore smart appliances will integrate with Echo. A washing machine that you can start with your voice or smartphone -- and that notifies you when it's done -- may take some of the hassle out of mundane household tasks, but you'll still need to be home to load your dirty clothes into the machine and put them in the dryer. And so far, no one has developed a robot housekeeper who will fold your clothes and put them away.
Facebook and Apple Join In
Apple and Facebook will soon enter the smart-home fray. The roughly 7-inch-tall, capsule-shaped Apple HomePod (opens in new tab) ($349), with Apple's skilled-up Siri as a virtual assistant, will be available in December. HomePod will be able to connect with smart-home devices—but its biggest selling point is expected to be better audio quality rather than its virtual-assistant or smart-home capabilities (it has eight speakers, including an upward-facing woofer designed to avoid sound distortion).
Facebook is expected to release its own smart speaker that can be used as a smart hub. Few details, including price, have been announced, but the system will likely debut in 2018 and is expected to include a large touch-screen display.
How to Beef Up Security
No two ways about it: If you buy an Echo or Google Home system, Amazon or Google will be collecting data about you and your habits. And there's not much you can do about it.
Alexa and Google Home are always listening for their "wake words," but how much of that information is saved or shared by the devices varies. Amazon's devices store roughly 60 seconds of audio before a wake word but transmit a fraction of a second of audio before the wake word, plus your interaction with Alexa, to Amazon. At least for now, Amazon isn't sharing the voice data it collects with anyone. But Google shares anonymized information with developers.
Smart-home devices can broadcast information about your household, too. For example, for years Roomba's robotic vacuums have been mapping homes as they clean to maximize efficiency. Now the company is planning to sell that data -- which could include the floor plan of your home, the shape of items on your floor, which areas of your home require the most floor cleaning and more -- to other smart-home device manufacturers.
You can prevent a hacker from invading your system several ways. First, set up strong passwords, including a custom password (not the default) to your home's Wi-Fi network. Second, run regular app or skill updates to keep devices from falling prey to new types of tech attacks. Companies that are vigilant about security will release periodic updates with new security features to combat the latest cyberattacks.
Also, be sure you buy smart devices from established manufacturers that are up front about their security and encryption policies. Strong encryption will make it difficult for anyone to intercept the signal that devices send back and forth to your router.
Associate Editor, Kiplinger's Personal Finance
Pitsker joined Kiplinger in the summer of 2012. Previously, she interned at the Post-Standard newspaper in Syracuse, N.Y., and with Chronogram magazine in Kingston, N.Y. She holds a BS in magazine journalism from Syracuse University's S.I. Newhouse School of Public Communications.