Updates That Can Help You Fall in Love With Your Home All Over Again
Enjoy the benefits of refreshing your home years before you decide to sell by picking the right projects. You'll be happier now, and your future buyer will be impressed down the road.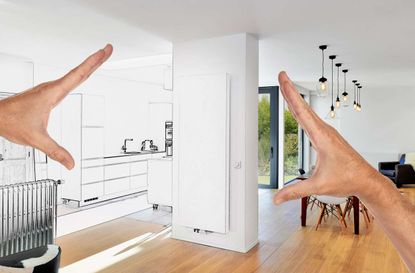 (Image credit: pbombaert@skynet.be(pbombaert@skynet.be(Photographer) - [None])
Does your home rise to meet you at the end of a busy day? Is it time for a transformation?
Over the years, a once-new home can become tired and have a dated appearance. Why wait until you decide to sell to make the necessary changes to potentially increase your home's value and bring your home up to date?
By now you have created a home with many so memories stored in the rooms of your living space that you may not wish to sell. So why not freshen up, instead? Spending the money now instead of for a future sale will allow you to enjoy the improvements. There's a sense of renewal as you add fresh coats from a new color palette, lighting and improvements that express your lifestyle today.
Subscribe to Kiplinger's Personal Finance
Be a smarter, better informed investor.
Save up to 74%
Sign up for Kiplinger's Free E-Newsletters
Profit and prosper with the best of Kiplinger's expert advice on investing, taxes, retirement, personal finance and more - straight to your e-mail.
Profit and prosper with the best of Kiplinger's expert advice - straight to your e-mail.
Make the smartest investment decisions
Take an honest look at your home. How does it compare to other homes in the neighborhood? These will be your future real estate comps. Begin by knowing your home's value and how much you should reasonably spend in improvements and still get the best value at closing time. (See 10 Small Home Projects That Pay Off Big.)
Set a reasonable spending policy, and be cautious to keep emotions at bay. Consider the interior as well as the exterior for areas that you will get the best value for in resale. Keep in mind most buyers focus on kitchen and bathroom upgrades (opens in new tab), as well as curb appeal when purchasing a home. With the correct spending policy and a plan on where to allocate your financial resources, you will enjoy the benefits and potentially improve the value of your home. Thus, making a sound investment decision.
To regain that sense of renewal, follow the guidelines below for updates that will bear the most fruit.
Interior improvements
Take a look around. What looks tired and dated? Declutter and lighten the energy. Remember, the goal is to have your home rise up to meet you at the end of the day. A place of peace and refuge. Be mindful if your flooring colors will not change as you choose your new color palette.
Change all flood or canned lighting to new LED daylight bulbs. The fluorescence of traditional lighting (opens in new tab) can be harsh on the paint and décor of a room. Make sure to match the color of the bulb throughout the home. Your home will have a clean look with the intended paint color shining through, unlike with warm bulbs that give off a yellow glow and can alter the appearance of your paint colors. Replace old kitchen lights with an inexpensive chandelier, which creates a perfect opportunity to add a dimmer switch. This is a great way to enhance the most utilized area in the kitchen, an elegant but casual feel when paired with a wood table.
Paint freshens up interior walls. Agreeable Gray (opens in new tab) by Sherwin-Williams is the new neutral. It beautifully accompanies dark woods and white cabinets. Interior designer Alexis Rodgers loves this shade, as it, "makes your space appear neater (opens in new tab) by giving it airy, seamless transitions from one room to the next."
For your kitchen and bathrooms, consider hiring a cabinetmaker to paint over darker cherrywood cabinets to a white, fresh look. Add new hardware to update the appearance. This is a much less expensive update than replacing everything with all-new cabinets. A new backsplash, refinishing cabinets, lighting and possibly conversion of countertops to a new lighter quartzite (opens in new tab), will go a long way in adding value to your investment. In addition, assuring you will get much enjoyment over the years to come.
Exterior improvements
Curb appeal matters!
Freshen up your home with new lighter contrasting colors by choosing three colors for an exterior. Use a darker trim while leaving the main body of the home a neutral, lighter color and adding a punch of color to garage doors to accent the home.
As for the front door, is it time for paint or a new front door altogether? Consider a new style to let the light in or a move to glass from wood. When the light is allowed to flow transparently, it can change the feel inside and outside the home. It's the first and last thing to be touched on a home visit, so it makes an impression (opens in new tab).
New light fixtures make your exterior fresh and trendy, allowing you to add panache to your entrance. Add landscape lighting: Solar is an affordable, easy installation and saves money. Replace tired plants and add color and curb appeal near driveways and walkways. Sculpt and trim trees so that they don't appear overgrown. Add a water feature, such as a stand-alone fountain, for calming energy flow.
Remodeling's annual Cost vs. Value Report (opens in new tab) of different renovation types for 2019 suggests that "for all projects, the overall cost-to-value ratio stands at 66.1%, slightly ahead of last year." Now is the time to make these changes. By considering these simple changes, you will create a fresh look and can enjoy the upgrades while potentially increasing the value of your home.
Your newly remodeled home now rises up to you!
Founder and CEO, Abundant Wealth Strategies
Melissa Attanasio, CFP®, CDFA®, MAFF®, is the founder and CEO of Abundant Wealth Strategies (www.abundantws.com (opens in new tab)) and Divorce Strategies Group (www.melissaa.net (opens in new tab)). Abundant Wealth Strategies is a wealth management firm founded in 1992. The firm specializes in financial matters and comprehensive cash flow management for high net worth individuals, among them, women in transition.