10 Stocks on Warren Buffett's Buy List
Berkshire Hathaway's recent results stink, but you can still learn some lessons from the Oracle's stock purchases.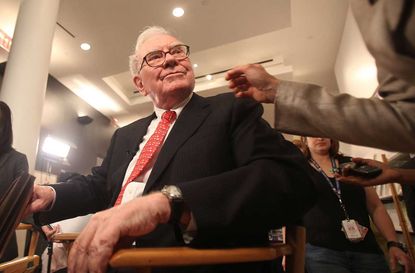 (Image credit: 2010 Getty Images)
It's been a rough year for shareholders of Berkshire Hathaway (symbol BRK-B), the huge conglomerate and investment portfolio controlled by Warren Buffett. Year to date, Berkshire's stock has sunk 10.2%, trailing Standard & Poor's 500-stock index by a whopping 11.4 percentage points. And although Berkshire still outperforms the index solidly over the long term, its five-year record is sagging, too. Over that period, the stock's annualized 11.1% return lags the index by an average of 1.8 percentage points per year.
Buffett has always had an affection for media stocks, and during the third quarter Berkshire raised its stake in several companies in the sector, including cable-TV company Charter Communications (CHTR, $178.25). In May, Charter announced plans to acquire competitors Time Warner Cable (TWC, $181.08) for $78.7 billion and privately held Bright House Networks for $10.4 billion. If the deals go through, Charter will become the third-largest pay-TV provider in the U.S.
Buffett also boosted his position in Rupert Murdoch's Twenty-First Century Fox (FOXA, $27.33) by 44%, to 8.5 million shares. The company, which owns Fox cable networks and produces films, among other things, has struggled lately because of disappointing box-office results. In the third quarter, film revenues declined 28% from the same period a year earlier. But Fox has leading sports and news programs and should be able to command higher affiliate fees for that content, say analysts. Meanwhile, planning is under way for the 84-year-old Murdoch's eventual successor. Over the summer, his son James took over as chief executive officer. Rupert now shares the position of executive co-chairman with his other son, Lachlan.
Subscribe to Kiplinger's Personal Finance
Be a smarter, better informed investor.
Save up to 74%
Sign up for Kiplinger's Free E-Newsletters
Profit and prosper with the best of expert advice on investing, taxes, retirement, personal finance and more - straight to your e-mail.
Profit and prosper with the best of expert advice - straight to your e-mail.
Liberty Media Corporation is another media darling of Buffett's. He owns two share classes (LMCA, $39.49) and (LMCK, $37.99), and as of the end of September he held a combined 23.2 million shares, up 93% from the number of shares he held on June 30. Liberty Media is a conglomerate that owns the Atlanta Braves baseball team and has a major stake in Sirius XM Holdings, the satellite-radio company, among other media companies. Change is on the way for Buffett's holdings, though. In November, Chairman John Malone announced plans to reclassify Liberty Media's common stock into three tracking stocks (which reflect a business segment's performance but don't have a claim on the assets). One stock will track the Braves, another Sirius and the other Liberty's remaining media companies.
Buffett also added to his position in Liberty Global (LBTYA, $40.00), the largest cable operator in Europe. In July, Liberty Global, which Malone also chairs, launched tracking stocks for its Latin American and Caribbean operations, and like other shareholders Buffett received one tracking share for every 20 Liberty Global shares he owned. That, plus additional investments in the company, meant that as of September, he had 20.2 million total shares of the company, an increase of 14% from the second quarter.
Buffett, who is known for buying when others are fearful, put his philosophy into practice by increasing his stake in a couple of energy stocks. In the third quarter, he increased his holdings of Suncor Energy (SU, $25.59) by 34%, to 30 million shares. Suncor is an integrated energy firm in Canada that specializes in developing the Athabasca oil sands in the province of Alberta. Because of low oil prices, analysts expect the company's earnings to sink 65% this year, to $1.11 per share. But Suncor is proving resilient. During the third quarter, it cut oil sands operating expenses to 27 Canadian dollars per barrel, the lowest level since 2007. That, plus rising production levels, could help boost profits in 2016. "We think that Suncor's risk and reward profile is very compelling," says Matthew Miller, an S&P Capital IQ analyst. So far this year, Suncor's shares have sunk 16.7%.
But in Phillips 66 (PSX, $81.78), Buffett has found an energy company that seems immune to the industry's woes. Although Phillips shares have dropped 8.2% over the past month, they're up 29.0% for the year, a stunning gain in a sector that has been suffering because of the crash in oil prices. But that is precisely why Phillips has been prospering. Spun off from ConocoPhillips (COP, $50.56) in 2012, Phillips is a major oil refiner, with significant stakes also in natural gas pipelines and chemical production. Lower oil prices have helped reduce Phillips's costs and juice earnings. For the third quarter, the company reported profits of $13.96 per barrel in its refining segment, up from $10.89 per barrel a year earlier. For the same time period, Buffett more than doubled his holdings in Phillips stock, to 61.5 million shares.
[page break]
Buffett has thrown his weight behind the auto industry. At the end of the third quarter, he owned 50 million shares of General Motors (GM, $34.54), an increase of 22% from three months earlier. GM's profits are rising due to a better lineup of vehicles, increased demand in the U.S. and lower costs. In 2016, analysts expect earnings for the company to rise 13%, to $5.40 per share.
Buffett also upped his holdings of Axalta Coating Systems (AXTA, $26.66) by 16%, to 23.2 million shares. Once part of DuPont (DD, $66.50), Axalta makes paint and protective coatings primarily for automobiles. The company went public in November 2014, and Berkshire made its first investment five months later. A rising middle class in developing nations should help boost demand for Axalta's products. Analysts project that earnings will climb 20% in 2016, to $1.30 per share.
Finally, in what may arguably be Buffett's most-puzzling move, he boosted his stake in International Business Machines (IBM, $137.79) by 1.8%, to 81 million shares. Buffett, who has frequently said he avoids companies he doesn't understand, including technology firms, first bought shares of Big Blue in 2011, for an average price of $170. Since then, he has lost about $2 billion on the holding. But Buffett stands by his decision. In Berkshire's third-quarter earnings report, he said, "We expect that the fair value of our investment in IBM common stock will recover and ultimately exceed our cost." IBM shares have lost 11.0% so far this year.
Contributing Writer, Kiplinger's Personal Finance
Carolyn Bigda has been writing about personal finance for more than nine years. Previously, she wrote for Money, and is a regular contributor to the Chicago Tribune.