Move Over Tech: Marijuana Stocks Are the New Star
Cannabis isn't a mainstream investment, but it's a powder keg of potential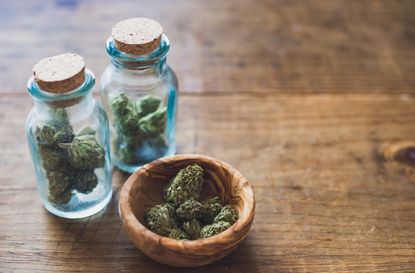 (Image credit: This content is subject to copyright.)
Cannabis is just a plant – a controversial plant, but a plant nonetheless. However, this humble plant increasingly looks to be at the heart of the next great investment: marijuana stocks.
On the federal level, marijuana, hemp and all types of cannabis plants and their products remain illegal. However, the tide here is turning, and several states already consider medicinal and even recreational use as legitimate and lawful within their borders.
And as that movement expands, there will be increasing opportunities in the publicly traded companies that call the industry home.
Subscribe to Kiplinger's Personal Finance
Be a smarter, better informed investor.
Save up to 74%
Sign up for Kiplinger's Free E-Newsletters
Profit and prosper with the best of expert advice on investing, taxes, retirement, personal finance and more - straight to your e-mail.
Profit and prosper with the best of expert advice - straight to your e-mail.
Why Cannabis Is Exploding
The cannabis plant produces more than 100 compounds (called cannabinoids), though most people know about just one. THC, short for tetrahydrocannabinol, is the psychoactive component that gets the user high. That is the drug that launched a counter-culture and the government campaign against it. It is also the recreational component.
Those a bit more advanced in their cannabis terminology know about the medicinal component called CBD, short for cannabidiol, and it has virtually no psychoactive component at all. It does not get anyone high. Rather, it works with the human body to ease symptoms of disease and aging.
Both compounds work with receptors in the human (and mammalian) nervous system. Not surprisingly, these receptors have the name endocannabinoid system (ECS), which regulates day-to-day bodily functions.
The name is a bit of a chicken-and-egg story here because ECS receptors are perfect matches for phytocannibinoids naturally contained in the cannabis plant. And when the human body does not produce adequate amounts of its own ECS neurotransmitters, the plant supplements what is already there.
The distinction between cannabinoids that get you high and cannabinoids that help you heal is huge. In fact, making the public aware of this is one of the callings of CB1 Capital, a money manager specializing in cannabis-based, publicly traded investments.
Scientists already know the cannabinoids found in cannabis are identical in action to what our bodies produce. They also believe that a decline in the ECS is probable as we age, which may be responsible for a host of currently unaddressed medical conditions.
Todd Harrison, founder and chief investment officer of CB1 Capital, who also founded Minyanville Media and previously was a hedge fund trader, says the perception of cannabinoids in the public arena is wrong. Cannabis is an ingredient that will end up in many mainstream products that people use.
"Legal weed," as some call it, has the wrong connotation. "Tomorrow's cannabis consumer won't just smoke it; they'll drink it, eat it, rub it on, take it as a pill, or wear it as a patch. They'll take bubble baths in it."
CB1's head of research, Loren DeFalco, knows this firsthand; he says he cured himself of a seizure condition using CBD and hemp plant seeds. The question is why are such treatments still in the shadows?
They may not be for long. Two studies published recently in the American Medical Association's peer-reviewed journal now show that cannabis for pain is safer than opioids, and opioid use is lower when there is an alternative to offer.
Several states have already legalized medical marijuana, and some – including California with its 39 million people and huge economy – went fully legal at the beginning of this year. New York state Democrats endorsed marijuana legalization at their May convention. And just this month, New York City Mayor Bill de Blasio (D) told police to end arrests for marijuana use in public.
Senators Elizabeth Warren (D-MA) and Cory Gardner (R-CO) introduced the Strengthening the Tenth Amendment Through Entrusting States (STATES) Act to protect states that legalize marijuana from federal interference. The president himself said he would probably support a bipartisan bill that would return decision-making on marijuana laws to the states.
And Canada just became the first G7 country and only the second country in the whole world to legalize cannabis at the federal level.
The tipping point will come when people realize cannabinoids are actually good for them. It will happen when the medical community catches up with the science. Harrison and DeFalco said that just 1 in 10 medical programs study the endocannabinoid system, largely because cannabis remains a Schedule 1 drug and off-limits to research.
Hope Becomes Reality
The question for consumers is when products containing cannabinoids appear in their local stores or online.
Answer: They're already there.
In April, New York magazine's website listed their top 14 products containing CBD, which included calming gummies, soothing massage cream, hemp oil capsules, infused coffee and vaping supplies. There are even products for pets.
Back in 2012, Harrison called cannabis the single biggest investment idea for the next decade. He wasn't alone. Michael Robinson, Editor of Money Map Press' Strategic Tech Investor, started recommending shares of GW Pharmaceuticals (GWPH (opens in new tab)) in 2013.
GW develops prescription medicines using extracts derived from cannabis plants, including Sativex, which is used to treat pain in multiple sclerosis patients. The drug was approved in the United Kingdom in 2010.
Its next drug, Epidiolex, a treatment for epilepsy, may hit the market this year, its chances improved in April when an advisory panel recommended that the FDA approve Epidiolex when it votes in June. Robinson expects it to top $1.7 billion in sales by 2026.
Other cannabis-related studies and trials are looking at treating many other conditions, from ALS to brain cancer to autism.
Deloitte forecasts that once legalization is complete, Canadians alone will spend up to $7 billion on cannabis in next year. Robinson thinks the overall global medical cannabis market will reach $55.8 billion by 2025.
How to Invest in Cannabis
Typically, the stock market sniffs all of this out in advance; that's why we call it "forward-looking." However, in this case, the artificial impediments created by the U.S. government quashed development and even expectations, putting Wall Street well behind the curve on this one. Despite the potential, analyst coverage still is sparse.
Such a lack of analysis presents a great opportunity for investors, especially those who understand that valuations, especially in Canadian companies, seem too rich for plant farmers. However, "these aren't farming operations, they're biotech companies in drag," Harrison says. "Consider them to be large-scale producers of consumer-packaged goods. Or both."
Picking individual stock winners still is tricky here, although investors can participate through the operations of unlikely "marijuana stocks." Scotts Miracle Gro (SMG (opens in new tab)), known for its lawn-care products, is a major supplier to the industry. Even Microsoft (MSFT (opens in new tab)) is involved – it provides cloud services to the industry, which is important when compliance is critical. But naturally, these companies are more diverse, so the cannabis effects are limited.CB1 Capital already owns iAnthus Capital Holdings (ITHUF (opens in new tab)), which finances cannabis businesses throughout the U.S., and Liberty Health Sciences (LHSIF (opens in new tab)), which exists to acquire and operate American cannabis companies. GW Pharma still is one of Michael Robinson's favorites.
You can even get exposure to marijuana stocks via exchange-traded funds (ETFs). There are also several exchange-traded funds (ETFs). The first and largest is Horizons Marijuana Life Sciences Index ETF (HMLSF), which isn't listed on an official exchange in the U.S. (hence the over-the-counter ticker), but is listed on the Toronto Stock Exchange as HMMJ. The ETF holds a basket of North American companies involved in crops, supplies, research and property leasing. There are only about 40 holdings, however, and the four largest holdings make up more than 40% of the fund.
None of these are specific recommendations; there is no one-size-fits-all investment in cannabis right now. Rather, this is an introduction to a little-known and potentially very underrated industry. The risks are high, so individual homework is a must. But a small amount of your portfolio in the right area could pay off in spades once this industry gets more mainstream attention.
0
Contributing Writer, Kiplinger.com
Michael Kahn, CMT (Chartered Market Technician) has been writing about the markets since 1986. He is the author of three books on technical analysis published in five languages. His specialty: jargon-free analysis accessible to everyone. He has contributed to many leading financial media including Barron's Online, MarketWatch and Nightly Business Report and was the Chief Technical Analyst for BridgeNews.