Tips for Retirees Who Are Single
Some retirees work part time or take a class to maintain social connections.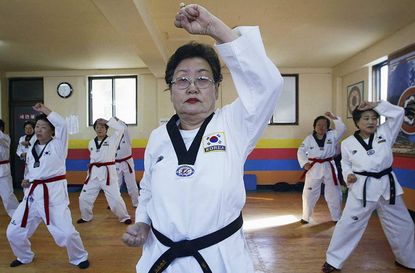 (Image credit: 2006 Getty Images)
Of all the letters I have received as author of this column—and I am fortunate to get a ton of them—two of the most sobering came from a couple of readers who are single. "Publications and websites talk to their readers as if they are always married," writes Vic Linares. "Never do articles address retirees who are single and how they cope." John Scholtz observes that "you may be taking away a huge part of your social life when you retire. Keeping in touch with former workmates will endure for only one coffee off-campus."
Mr. Linares and Mr. Scholtz, you may be solo, but you are not alone. In a study by Age Wave and Bank of America Merrill Lynch, preretirees said that what they expect to miss most when they leave work is a reliable income. But what retirees actually miss most are their social connections.
That's not surprising, says Ken Dychtwald, CEO of Age Wave. "You're at the peak of your career, answering phone calls and e-mail, going to meetings," he says. "Suddenly, all that stimulation is gone." Without a spouse or other family members on the scene, it can be an even bigger shock.
Subscribe to Kiplinger's Personal Finance
Be a smarter, better informed investor.
Save up to 74%
Sign up for Kiplinger's Free E-Newsletters
Profit and prosper with the best of Kiplinger's expert advice on investing, taxes, retirement, personal finance and more - straight to your e-mail.
Profit and prosper with the best of Kiplinger's expert advice - straight to your e-mail.
Being alone also raises financial and legal issues. "With single folks, the most important thing is to have appropriate powers of attorney in case you become incapacitated," says Ali Hutchinson, senior vice president of private wealth management at Brown Brothers Harriman. With no spouse or partner as backup, you're more likely to need long-term care from outside sources or to face estate-planning issues, says Hutchinson.
Retiring alone has its pros as well as cons. "You get to do what you want without having to negotiate with anyone," says Dychtwald (see Living in Retirement). "There's an aloneness but also freedom." He cites his brother Alan, 72, who never married, gave up his job and moved to Florida to care for their mother. Alan had played the drums as a teenager, and when their mother passed away, Ken gave him a gift of 10 lessons at a drum school. Now Alan is in one band and manages another, and "I've never seen him happier," says Dychtwald.
Social connections. Dychtwald predicts that more singles will form "families of friends." In the Age Wave study, single retirees said the leisure experiences they value most are with friends. "You're going to see women traveling together or men who play golf together," says Dychtwald.
There's no one prescription for coping with being alone. For some people, the answer is to go back to work, at least part-time. The number of older Americans in the workforce has been rising, and respondents in the Age Wave study said social connections are a key reason for working in retirement—more important than earning money.
For others, the answer is to try something completely different. "I started taking classes in a new field purely for the pleasure of learning and ended up earning a master's degree in that field," writes reader Julia Brown. Another reader writes, "I took up pickleball and immediately became addicted. It proved to be a lot of fun, expanded my social contacts and was great cardio to boot." Rob Jennings created his own small network of "retired guy friends."
If I had to sum up all the advice from Kiplinger's readers, it would be to be proactive. "What I realized is you have to make things happen," says Deb Russell. "They will not come knocking on your door." Writes another reader, "I think the best approach is to help others. Too much thinking about yourself is counter-productive."
After retiring, Graten Beavers traveled the world. But hope still springs eternal. "I want to do a lot more with that elusive significant other whenever she appears," he says.
If you're single, how have you coped with being alone in retirement? I'll be happy to share your experiences.
Editor-at-Large, Kiplinger's Personal Finance
Janet Bodnar is editor-at-large of Kiplinger's Personal Finance, a position she assumed after retiring as editor of the magazine after eight years at the helm. While editor, Bodnar was honored by Folio as one of its Top Women in Media. She is a nationally recognized expert on the subjects of women and money, children's and family finances, and financial literacy. She is the author of two books, Money Smart Women and Raising Money Smart Kids. As editor-at-large, she writes two popular columns for Kiplinger, "Money Smart Women" and "Living in Retirement." Bodnar is a graduate of St. Bonaventure University and is a member of its Board of Trustees. She received her master's degree from Columbia University, where she was also a Knight-Bagehot Fellow in Business and Economics Journalism.