Schwab, TD Ameritrade, E*Trade, Fidelity Go Commission-Free
TD Ameritrade commissions vanish Oct. 3, Schwab and E*Trade start Oct. 7, Fidelity finally joins in effective Oct. 10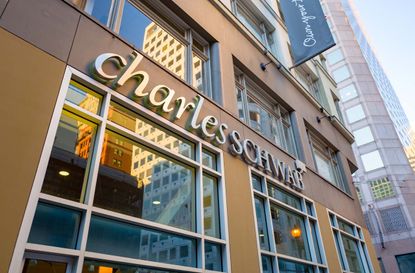 (Image credit: Getty Images)
Charles Schwab (SCHW (opens in new tab)) sent shock waves through the online broker space on Tuesday, announcing that, effective Oct. 7, it would eliminate commissions for stocks, exchange-traded funds (ETFs) and options listed on U.S. and Canadian exchanges.
In fact, that statement may have opened the flood gates. Rivals TD Ameritrade (AMTD (opens in new tab)) and E*Trade (ETFC (opens in new tab)) made similar commitments shortly thereafter, and Fidelity jumped in a week later.
Schwab, which currently charges a $4.95 commission on U.S. stock, ETF and options trades made online, says in its release (opens in new tab) that the move to zero "across all mobile and web trading channels" is here to stay.
Subscribe to Kiplinger's Personal Finance
Be a smarter, better informed investor.
Save up to 74%
Sign up for Kiplinger's Free E-Newsletters
Profit and prosper with the best of expert advice on investing, taxes, retirement, personal finance and more - straight to your e-mail.
Profit and prosper with the best of expert advice - straight to your e-mail.
"This is our price. Not a promotion. No catches. Period," founder and Chairman Charles Schwab said in a news release. "Price should never be a barrier to investing for anyone, whether an experienced investor or someone just starting on the investing path."
Options traders, who currently pay an additional 65 cents per contract on top of the $4.95, will continue to pay that fee.
"This move will put pressure on other brokerage firms to respond – especially when it comes to commission-free ETF trading," Christian Magoon, CEO of Amplify ETFs, told Kiplinger in response to Schwab's move. "It will ultimately reduce costs for most investors."
Indeed, later Tuesday evening, TD Ameritrade announced that it too would go commission-free, yanking its $6.95-per-trade charge on U.S. stocks, ETFs and options trades effective Oct. 3 (opens in new tab), presumably to get out in front of the Schwab rush. Then on Wednesday, E*Trade, which also charges $6.95 per trade, announced its own switch to a $0 base-rate commission, effective effective Oct. 7 (opens in new tab). Additionally, E*Trade lowered its options fees from 65 cents per contract to 50 cents; TD Ameritrade's options fees remained at 65 cents.
Fidelity toppled last, announcing Oct. 10 that it would knock all commissions to zero, effective immediately (opens in new tab). It added a couple of perks, too: Fidelity will "automatically direct retail investors' cash into higher yielding alternatives available for new brokerage and retirement accounts, and provide industry-leading best execution practices with zero payment for order flow for stock and ETF trades."
All four previously offered a select number of exchange-traded funds commission-free, but widening the exception to all ETFs is a clear win for consumers.
"From an ETF standpoint, many brokerage firms have been promoting commission-free ETF trading, but only on a small subset of ETFs," Magoon says. "This system was bad for investors as it limited their ability to access the majority of ETFs commission-free."
Schwab, which has no minimum account size to open a brokerage account, says the new pricing scheme will apply to any current web or mobile client, without requiring a new deposit or creating a new account.
While investors who stand to benefit from Schwab's and TD Ameritrade's changes may have been celebrating on Tuesday, investors in SCHW and other online brokerage companies headed toward the exits. Schwab's stock finished 9.7% lower, while AMTD plunged 26% and ETFC declined more than 16%.
TD Ameritrade CFO Steve Boyle put a number to the pain in the company's evening press release. "We expect this decision to have a revenue impact of approximately $220-240 million per quarter, or approximately 15-16 percent of net revenues, based on June Quarter fiscal 2019 revenue," he wrote.
Schwab has less to lose on that front, says Brent Weiss, Chief Evangelist at Facet Wealth.
"Trading commissions account for less than 5% of Schwab's revenue," he says. "The war to zero was already occurring, and this is a smart move to put Schwab at the forefront of this story. Schwab makes the majority of its revenue from their net interest income, their cash holdings, and their managed investment vehicles, mutual funds and ETFs.
"This is a play for more market share so they can drive more revenue from other channels, which will easily make up for the revenue loss of eliminating trading commissions."
Schwab isn't the first to the zero-fee game, however.
Indeed, its announcement actually comes several days after Interactive Brokers Group (IBKR (opens in new tab)) unveiled its upcoming no-fee offering. In October, the company will launch IBKR Lite, which will provide commission-free trading on U.S. exchange-listed stocks and ETFs. However, unlike Schwab and TD Ameritrade, Interactive Brokers won't offer the benefit through its legacy product.
And Robinhood, a Silicon Valley upstart that launched in 2012, has offered no-commission trading for years. In fact, its growing popularity, especially among millennials, has led market watchers to wonder when the larger brokerage companies would finally follow suit.
"The changes taking place across the brokerage industry reflect a focus on the customer that's been inherent to Robinhood since the beginning," Robinhood spokesperson Jack Randall says.
Kyle Woodley is the Editor-in-Chief of Young and The Invested (opens in new tab), a site dedicated to improving the personal finances and financial literacy of parents and children. He also writes the weekly The Weekend Tea (opens in new tab) newsletter, which covers both news and analysis about spending, saving, investing, the economy and more.
Kyle was previously the Senior Investing Editor for Kiplinger.com, and the Managing Editor for InvestorPlace.com before that. His work has appeared in several outlets, including Yahoo! Finance, MSN Money, Barchart, The Globe & Mail and the Nasdaq. He also has appeared as a guest on Fox Business Network and Money Radio, among other shows and podcasts, and he has been quoted in several outlets, including MarketWatch, Vice and Univision. He is a proud graduate of The Ohio State University, where he earned a BA in journalism.
You can check out his thoughts on the markets (and more) at @KyleWoodley (opens in new tab).