When to Fire Your Adviser
Here are six signs that the relationship with your financial professional is not working.
Holly and Gary Wolf's investment accounts thrived under their financial adviser's management. Yet after 20 years together, the couple fired him.
When the Wolfs, of Fleetwood, Pa., got closer to retirement, Holly worried that their nest egg might not last through retirement, and she often discussed her concerns with the adviser. "He'd say, 'Trust me, you're fine,' " says Holly, 58. But she wanted the adviser to show her how their pot of money would hold up once they started drawing from it in retirement.
That's when Holly decided to visit a coworker's adviser to see if he operated differently. She found that not only would he be able to run the retirement projections she wanted, he also addressed other questions and concerns she had. Holly hired him.
Subscribe to Kiplinger's Personal Finance
Be a smarter, better informed investor.
Save up to 74%
Sign up for Kiplinger's Free E-Newsletters
Profit and prosper with the best of expert advice on investing, taxes, retirement, personal finance and more - straight to your e-mail.
Profit and prosper with the best of expert advice - straight to your e-mail.
Breaking up with a financial adviser can be difficult, particularly if you've spent years sharing not only your financial information but also your triumphs, failures, hopes and fears. But when you're no longer getting what you need, it's time to part ways. Here are reasons to end the relationship.
No chemistry. If you just don't like the adviser, find one you do like. Otherwise, you might find yourself avoiding meetings and phone calls with the adviser or withholding information, which ultimately doesn't help you or allow the adviser to do her job. Advisers want to work with clients they like, too. Find one who will agree to an initial meeting without charge to see if the two of you would be a good fit.
You can find advisers through cfp.net, napfa.org, garrettplanningnetwork.com and xyplanningnetwork.com.
The adviser is cagey about compensation. Some advisers don't make it easy to know the cost of their services. "Would you work with a contractor who would not tell you how much he gets paid? No," says Rick Brooks, a certified financial planner in Solana Beach, Calif. And people shouldn't put up with that from an adviser, either.
Some earn a commission on annuities, mutual funds and other products they sell to you; others charge a fee based on the amount of assets they manage for you. (An adviser providing advice and handling your investments typically charges about 1% of assets under management each year on a $1 million account, reducing the rate for larger accounts.) Or an adviser may be paid a combination of fees and commissions. You may pay for advice by the hour (typically $180 to $240), be charged a flat fee for a specific project—say, creating a retirement plan, which may cost $1,000 to $2,000 for a mid-career couple—or pay a monthly or quarterly subscription fee (often starting at $100 to $200 a month).
Ask for the dollar amount you'll pay, says Ron Rhoades, director of the personal financial planning program at Western Kentucky University. "When people hear percentage amounts, they tend to disregard that," he warns. When they hear a flat dollar amount, he says, it makes a much greater impact.
Communication is spotty. When you call or send an e-mail, you should expect to hear back within 24 hours. But if days or weeks go by without a word—or you only hear from the adviser when he's trying to sell you something—it's time to move on. "It could be simply that he's very busy, in which case he doesn't have time for your account," says Joseph Borg, director of the Alabama Securities Commission. "And you need someone who is going to pay attention."
Lew Altfest, a CFP in New York City, has reviewed performance for other advisers' clients. In one case, an investor was upset that his account balance was lower and his adviser wasn't communicating with him. The review revealed that the man's account was down 2%, whereas the market was down 10%. Altfest told the man that the manager was doing a good job with his investments but that he should tell the adviser he needed to hear from him more often.
Your portfolio is off track. Any money manager can have a bad year—even Warren Buffett. And before you dump an adviser because of poor returns, make sure you're comparing apples to apples. For instance, if your portfolio is 60% stocks and 40% bonds because you told the adviser you can handle only a moderate amount of risk, you can't reasonably compare your results with those of Standard & Poor's 500-stock index or your coworker who aggressively invests 100% in stocks.
If your portfolio is way off one year and the adviser's explanation makes sense, give him or her another chance to deliver, says Rob Siegmann, chief operating officer with Total Wealth Planning, in Cincinnati. But if it's down the next year when all the markets are up, get a second professional opinion, he says.
Your situation changes. That can happen when someone starts out needing only simple planning and then inherits a fortune and suddenly needs sophisticated financial and estate planning, Altfest says. Or you may want a new adviser if your child develops a disability and you need a professional with expertise in special-needs planning. The death of a spouse often leads to a switch. Research by Spectrem Group shows that 70% of widows fire the family adviser. One big reason: Their husbands were the ones who dealt with the adviser and now the widows want their own, Altfest says.
You spot red flags. Among the warning signs of potentially illegal behavior by an adviser: You stop getting statements; you're guaranteed a market-beating return; or the adviser tells you to write checks to her instead of to her firm.
You should check advisers' disciplinary records before hiring them. But Borg says even after you engage an adviser, review his disciplinary record every two years. The records can reveal complaints about the adviser and whether he has been sued. "A guy who goes 15 years without a problem and then has six complaints in a row—that tells me something has gone really wrong," says Borg.
Find disciplinary records for investment advisers at adviserinfo.sec.gov and for brokers at brokercheck.finra.org. You can also request disciplinary records from your state's securities regulator.
Why your adviser might fire you
Your spending is out of control. Clients will be fired if they spend wildly, constantly tapping their portfolio and ignoring the adviser's warnings that they're at risk of running out of money. "You start to lose sleep over it because you know one day they will wake up and they're not going to have any money, and you want to parachute out of that airplane before it hits the mountain," says John Bacci, a certified financial planner in Linthicum, Md.
You don't follow the advice. If you're paying for advice but you never take it, eventually the adviser will suggest you move on.
You're rude or abusive. Yell at support staff or make unrealistic demands and you'll be shown the door.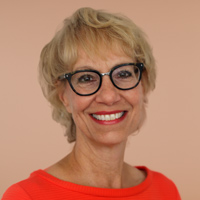 Senior Editor, Kiplinger's Personal Finance
Ambrose joined Kiplinger in June 2017 from AARP, where she was a writer and senior money editor for more than three years. Before that, she was a personal finance columnist and reporter at The Baltimore Sun, and a reporter and assistant business editor at The Indianapolis Star. Ambrose has a master's degree in journalism from the Medill School of Journalism at Northwestern University, and a bachelor's degree in art history from Indiana University.