Are You Investing Like It's the 1950s?
Make sure your portfolio's design is truly "modern," because the stock market is a completely different world than it was in the '50s, when the theory of diversification (which many advisers still follow) was developed.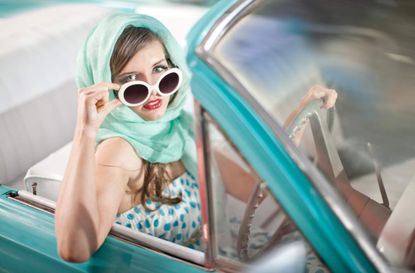 (Image credit: This content is subject to copyright.)
Most investment professionals will tell you that, although it doesn't guarantee against loss, diversification is a critical part of reaching your long-range financial goals.
What they all might not agree on, though, is what diversification really means.
The people who come to our office for help think they're diversified. After all, they have stocks and bonds and mutual funds in their portfolios. They have large caps and small caps, and maybe even something invested in emerging markets or a variable annuity.
Subscribe to Kiplinger's Personal Finance
Be a smarter, better informed investor.
Save up to 74%
Sign up for Kiplinger's Free E-Newsletters
Profit and prosper with the best of expert advice on investing, taxes, retirement, personal finance and more - straight to your e-mail.
Profit and prosper with the best of expert advice - straight to your e-mail.
In my view, though, that isn't diversification. Those investments are still all directly correlated to the market.
Think about it: In 2000 and 2008, it didn't matter what mix you had, if your investments were tied to the market, you lost money. A lot of money.
That old diversification model – where stocks were your risky asset and bonds were supposed to be safer – is based on something called "Modern Portfolio Theory (opens in new tab)," developed in 1952. Which means it's not so modern anymore.
One thing I ask everyone who comes to our workshops is:
"If you went to a cardiologist who said you needed heart surgery, and they were going to do it the same way they did it in the 1950s, what would you do?"
Most people say they would run out the door and get a second opinion.
Unfortunately, the vast majority of the people we're meeting with are still investing their money the same way it was done in the '50s, '60s and '70s. And we're in a much different market today than we were then, thanks to the Internet. We're moving massive amounts of money every day, every hour. The market moves faster — and it's more volatile. A news item, even a rumor, can have a same-day effect – good or bad.
And yet, only a small percentage of the businesses in the U.S. economy are publicly traded. According to a 2016 note from JPMorgan Asset Management, the number of publicly listed companies is down by almost half (opens in new tab) from its peak of 8,025 in 1996. That means there are a lot of private companies out there you can't buy stock in. (Uber and Ikea, for example.)
That's a huge thing for people to grasp – that all their hard-earned retirement dollars are invested in a very small segment of our economy. They think because they have mutual funds they have their bases covered. (Even if they don't really know what's in those funds.)
Some more history: It used to be, way back when, mutual fund companies didn't exist in the United States (opens in new tab). Most people had savings accounts, because securities were just too expensive for the average person. Then Massachusetts Investors Trust was incorporated in 1924, attracting investors who liked the idea of pooling their money with others to get in on what Wall Street had going.
After the market crashed in 1929, government and industry leaders came up with regulatory safeguards to restore investor confidence, which resulted in the Investment Company Act of 1940, requiring companies to make regular reports to shareholders about a fund's financial status, portfolio holdings and compensation.
But there are still hidden fees in mutual funds that people tell us they weren't aware of. They may know the expense ratio, which the fund reports, but not the other fees and transaction costs that sometimes make funds twice as expensive as they thought. Not to mention that mutual funds are sometimes tax inefficient: If yours pays dividends, whether you get the money or not, you have to pay taxes. So even when the market is up, you may not be making as much on those investments as you think.
I prefer a truly modern method of portfolio building called asset-class diversification, where you have at least three separate buckets of money that work differently from one another:
1. Stocks: The stock market is a good investment for the long haul, but it should be accessed in a more fee-efficient and transparent way. Working with an independent adviser will give you more purchasing options and, therefore, the ability to build a more diverse portfolio.
2. Alternative investments: This is where you'll branch out a bit, putting money into something that isn't traded in the market. These investments can include real estate, commodities, private equity, hedge funds and more. Volatility is still a factor, of course, but you can look at risk in a way that's specific to your investment, instead of the overall market. And if the market goes down, these investments won't necessarily be affected.
3. Contractually guaranteed income: Here, you're creating income you can't outlive. A life insurance policy or annuity, for example, also may help with long-term care costs. Or you can use an annuity to create your own pension if your employer didn't offer one. These assets are contractually guaranteed to make a portion of the upside of the market and not lose when the market goes down.
Times have changed, and investors need to change, too. Talk to your financial professional about modernizing your portfolio. Sit down and go over what you have, then discuss what could change to further diversify your holdings. And be sure to talk about what risks and rewards are involved.
If your current planner pushes back and wants to stick with his or her old-school plan, remember: Doctors aren't the only ones who offer second opinions. It might be time to find a new, forward-thinking adviser.
The article and opinions in this publication are for general information only and are not intended to provide specific advice or recommendations for any individual. We suggest that you consult your accountant, tax, or legal adviser with regard to your individual situation.
Alternative Investment Funds represent speculative investments and involve a high degree of risk. An investor could lose all or a substantial portion of his/her investment. Investors must have the financial ability, sophistication/experience and willingness to bear the risks of an investment in an Alternative Investment Fund. Any investment in Alternative Investment Funds should be discretionary capital set aside strictly for speculative purposes. Alternative Investment Fund offering documents are not reviewed or approved by federal or state regulators. Some Alternative Investment Funds may have little or no operating history or performance and may use hypothetical or pro forma performance which may not reflect actual trading done by the manager or adviser and should be reviewed carefully. Investors should not place undue reliance on hypothetical or pro forma performance.
Annuity and insurance contracts contain exclusions, limitations, reductions of benefits and terms for keeping them in force. Investors should consider the contract and the underlying portfolios' investment objectives, risks, and charges and expenses carefully before investing. Please read the annuity prospectus for more complete information, including all charges and expenses before investing or sending money.
Megan Clark is not affiliated with, or endorsed by Kiplinger.com.
CEO & Executive Wealth Manager, Clark and Associates Inc. Financial Solutions
Megan Clark is CEO & Executive Wealth Manager at Clark & Associates Inc. Financial Solutions and is an Investment Adviser Representative and Insurance Professional. As a financial adviser, she is passionate about helping families create a holistic financial plan, and she often holds "For Women By Women" informational seminars to reach out and help assist women in pursuing their goals. Clark is a graduate of the University of Virginia. Investment Advisory services offered through Brighter Financial Capital Management LLC, a SEC Registered Investment Adviser.
Securities offered only by duly registered individuals through Madison Avenue Securities, LLC. (MAS), Member FINRA & SIPC. Advisory services offered only by duly registered individuals through Brighter Financial Capital Management, LLC, a registered investment advisor. Clark & Associates, Inc. Financial Solutions, Brighter Financial Capital Management, LLC and MAS are not affiliated entities.