Is Tax Relief for Marijuana Businesses Coming?: Kiplinger Tax Letter
Marijuana businesses get tax relief in some states to help with their thorny income tax issues.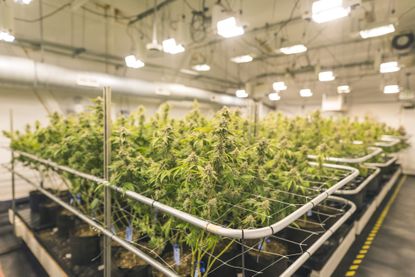 (Image credit: Getty Images)
Getting the right tax advice and tips is vital in the complex tax world we live in. The Kiplinger Tax Letter helps you stay right on the money with the latest news and forecasts, with insight from our highly experienced team (Get a free issue of The Kiplinger Tax Letter or subscribe). You can only get the full array of advice by subscribing to the Tax Letter, but we will regularly feature snippets from it online, and here is one of those samples…
Businesses that sell marijuana have a heavy federal income tax burden. They are taxed on their income but can't write off most of their business expenses. Section 280E of the federal tax code bars marijuana firms from claiming business expenses on their federal tax return other than for their cost of goods sold. It doesn't matter that the use and sale of marijuana are legal under the laws of the state where the business is located. Twenty-three states and the District of Columbia, have legalized marijuana for recreational use, and about forty states permit the drug for medical use.
Legal marijuana businesses are an enforcement priority of the IRS. Agents are eyeing marijuana dispensaries that deduct expenses and are disallowing the deductions, and courts generally side with the IRS on this.
Subscribe to Kiplinger's Personal Finance
Be a smarter, better informed investor.
Save up to 74%
Sign up for Kiplinger's Free E-Newsletters
Profit and prosper with the best of expert advice on investing, taxes, retirement, personal finance and more - straight to your e-mail.
Profit and prosper with the best of expert advice - straight to your e-mail.
Federal tax relief for marijuana businesses
Lobbyists for the marijuana industry have urged Congress to legalize marijuana for federal purposes or to let marijuana firms located in states where the drug is legal take deductions on federal returns. Their efforts have so far gone nowhere, and the odds of getting relief from Congress over the next couple of years are slim.
The marijuana industry is hoping for some help from President Biden's administration. Under the Controlled Substances Act, drugs are sorted into five schedules based on their medical use and their abuse or dependency potential.
Currently, marijuana is a Schedule 1 drug, the highest level. Last year, the president asked for a review on whether to reclassify marijuana to a lower schedule or take it off the list altogether. Here is the main federal income tax implication.
Section 280E actually prohibits businesses that traffic in Schedule 1 or Schedule 2 drugs that are illegal under federal law from claiming business expenses on their federal income tax returns. If marijuana is reclassified as a Schedule 2 drug, then legal marijuana firms won't get federal tax relief. But if it is downgraded to a Schedule 3, 4, or 5 drug, or taken off the list, then legal marijuana sellers could deduct business expenses.
State tax relief for marijuana businesses
A growing number of states are enacting their own tax relief. They're bucking the federal laws and decoupling from federal tax code Section 280E, meaning that legal marijuana firms located in these states can deduct expenses for state tax purposes, even if they can't do so on their federal income tax returns.
Around 13 states, including California, Colorado, Connecticut, Illinois, Massachusetts, Michigan, Minnesota, New Jersey, New York and Oregon, have such a law on their books. Look for more states to follow suit.
This first appeared in The Kiplinger Tax Letter. It helps you navigate the complex world of tax by keeping you up-to-date on new and pending changes in tax laws, providing tips to lower your business and personal taxes, and forecasting what the White House and Congress might do with taxes. Get a free issue of The Kiplinger Tax Letter or subscribe.
Related Content

Editor, The Kiplinger Tax Letter
Joy is an experienced CPA and tax attorney with an L.L.M. in Taxation from New York University School of Law. After many years working for big law and accounting firms, Joy saw the light and now puts her education, legal experience and in-depth knowledge of federal tax law to use writing for Kiplinger. She writes and edits The Kiplinger Tax Letter and contributes federal tax and retirement stories to kiplinger.com and Kiplinger's Retirement Report. Her articles have been picked up by the Washington Post and other media outlets. Joy has also appeared as a tax expert in newspapers, on television and on radio discussing federal tax developments.