Arkansas Tax Deadline Extended After Severe Storms, Tornado
People directly impacted by the devastating Arkansas tornado and severe storms have more time to file their federal and state tax returns.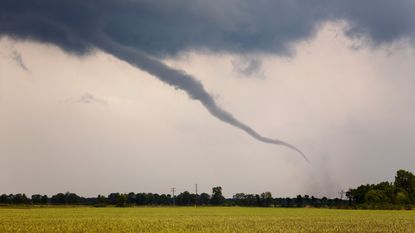 (Image credit: Getty Images)
Following severe thunderstorms and tornadoes in Arkansas, some taxpayers in the state have more time to file their 2022 federal, and state, tax returns. The IRS extended the tax filing deadline to provide relief for people in designated disaster areas of the state. And Gov. Sarah Huckabee Sanders extended the state income tax filing date for those directly impacted by the storm.
"As we've said from day one, our focus is going to be on the people first, and the paperwork second," Gov. Sanders said during a briefing Monday. Deadly tornadoes recently made their way through at least 7 states, including Arkansas, where the community of Wynne was hit hard.
The federal tax deadline extension for Arkansas follows similar IRS storm-related relief (with different tax deadlines). The tax deadline is extended for California, Georgia and Alabama due to various storms last year. The IRS has also extended the tax deadline for some people in New York and in Mississippi, because of severe weather.
Subscribe to Kiplinger's Personal Finance
Be a smarter, better informed investor.
Save up to 74%
Sign up for Kiplinger's Free E-Newsletters
Profit and prosper with the best of expert advice on investing, taxes, retirement, personal finance and more - straight to your e-mail.
Profit and prosper with the best of expert advice - straight to your e-mail.
Arkansas Tornado Extended IRS Tax Deadline
The IRS extended the April 18 tax deadline for Arkansas. Taxpayers in storm-affected areas of the state now have until July 31, 2023, to file various federal individual and business returns and to make tax payments, according to the IRS.
This tax deadline extension is important because tax season is ongoing and for most people across the country, Tax Day is April 18. But due to this IRS announcement, people in designated disaster areas of Arkansas have until the end of July to file their 2022 federal income tax and business returns.
Arkansas Tornado-Affected Areas
If you live or have a business in Cross, Lonoke, and Pulaski counties, you qualify for tax deadline relief. The IRS may add other areas of Arkansas to this list, so you can check the IRS tax relief in disaster situations page for a current list and additional information.
What if you live outside of the designated disaster areas? If you live outside the fedral designated disaster area but have records located in an affected area that impact your ability to file your taxes, you should contact the IRS at 866-562-5227. They should be able to help you determine whether you qualify for an extension to file under this announcement.
IRA and HSA Contribution Deadline
The tax deadline extension also means that affected taxpayers in Arkansas have more time to contribute to IRAs and Health Savings Accounts (HSAs). Contributions to those accounts for the 2022 tax year, would normally have to be made by April 18, 2023.
This means that if you're in a designated disaster area of Arkansas, you can also make contributions to your IRAs, and HSAs for the 2022 tax year in accordance with the tax filing deadline extension date of July 31, 2023. Just be sure to check IRA contribution limits and HSA contribution limits that apply to you.
What About Estimated Tax Payments?
The IRS says that the new July 31, 2023 tax deadline for people in designated Arkansas disaster/storm areas also applies to 2023 federal estimated tax payments normally due April 15 and June 15.
If You Need Even More Time to File
If you still need more time to file beyond the extended July 31 tax deadline, the IRS says that you should request additional time to file electronically before the original April 18 tax deadline.
Two free ways to do this are through either IRS Free File or IRS Direct Pay, both available only on IRS.gov. Visit the IRS website for details.
Is the Arkansas State Tax Deadline Extended?
For most taxpayers, the filing deadline to submit 2022 Arkansas state tax returns or an extension to file is Tuesday, April 18, 2023. (That is also "Tax Day," when federal tax returns are due for most people).
However, in light of the recent severe storms and tornado, Gov. Sarah Huckabee Sanders has extended the state income tax filing date for those directly impacted. According to an executive order signed by Sanders, the tax deadline for storm victims in Cross, Lonoke, and Pulaski counties in Arkansas is extended to match the federal tax deadline extension, which is July 31, 2023.
Related Content
Senior Tax Editor, Kiplinger.com
With more than 20 years of experience as a corporate attorney and business journalist, Kelley R. Taylor has contributed to numerous national print and digital magazines on key issues spanning education, law, health, finance, and tax. Over the years, Kelley has extensively covered major tax developments and changes including the TCJA, pandemic-era changes in ARPA, the SECURE 2.0 Act, and the numerous clean energy tax credits in the Inflation Reduction Act. Kelley particularly enjoys translating complex information in ways that help empower people in their daily lives and work.