10 Amazing Vacation Rentals Around the World
Tired of the same old cabin in the woods every summer?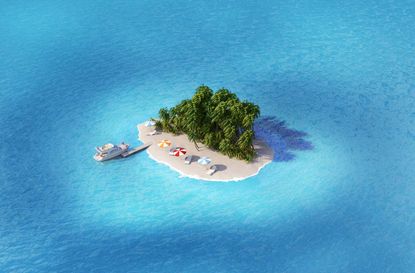 (Image credit: Thinkstock)
Tired of the same old cabin in the woods every summer? Beach house not floating your boat anymore? Wait until you see these adventurous rentals from around the world.
You can book houseboats (with crew), castles, even private islands on a weekly or daily basis. Many of the properties on our list fit large groups comfortably and are quite affordable, especially if you split up the nightly rate among members of your group. Just don't forget to check the cancellation policies, and be mindful of taxes, cleaning and other fees, which can inflate your cost.
Take note of the website reviews, too, in making your choice, but remember that rental reviews, like restaurant reviews, often paint a widely divergent picture. Have a look.
1/10
A Castle on the English Channel
Location: Cherbourg, France
Rental company: HomeAway
Cost per night: $792 (weekly minimum stay)
Accommodates: 12
You can live like royalty for about $66 a night if you find 11 loyal, paying subjects to join you. This 16th-century castle in northern France contains a handful of bedrooms decked out with period furniture, and some have en suite bathrooms—but be aware that mattresses stop at 6 feet 3 inches (tall lodgers can ask the owner about longer beds). The estate also houses cellars, an enormous fireplace and a walled garden. The price includes three hours of housekeeping per day.
The terrace on the highest tower overlooks the beach—only a few hundred yards away—where the British navy invaded in 1522 and 1758. There are plenty of restaurants nearby, as well as farmers markets that carry fresh seafood and meats. Or you can tour Normandy, including the D-Day beaches, La Hague, and UNESCO world heritage site Mont Saint-Michel.
2/10
Cave Odyssey
Location: Santorini, Greece
Rental company: HomeAway
Cost per night: $277
Accommodates: 3
This space carved out of rock started as a sailor's dwelling in 1875. Now it has evolved into a comfortable one-bedroom, one-bathroom rental. The main living area connects to a bedroom and a kitchenette, with a coffee maker, microwave, toaster and fridge. A private veranda is outfitted with table and chairs and overlooks the Santorini caldera—an underwater crater formed by a volcanic eruption. An even cozier place to gaze at the view is from the Jacuzzi, which extends from the inside to the outside through a curved opening. Air conditioning means you won't bake in the summer. And the rock walls are a great form of insulation, keeping inhabitants warm or cool depending on the season, says owner George Anamolidis.
When you're ready to leave the confines of your cave, try sampling some of the island's famous cuisine—including wine from grapes grown in volcanic soil and hloró tyrí, a fresh goat cheese—or stroll along volcanic beaches with white, red or black sand. The cave is a few minutes' walk from old castle ruins in the seaside settlement of Oia, a prime spot for watching the sunset. You may have to compete for space: Santorini is considered the most popular romantic getaway in Greece.
3/10
A Geodesic Dome
Location: Elqui Valley, Chile
Rental company: Airbnb
Cost per night: $196
Accommodates: 4
You can count stars until you fall asleep in one of these geodesic domes without ever leaving your bed. Inside each rounded dwelling is a two-story set-up: a living room and bathroom sit on the first floor, and the bed is on the upper level, up close to the detachable roof. There's also a terrace, a fridge, and free tea and coffee, plus astronomy books to make the most of your stargazing. The price includes access to a pool and parking.
The Elqui Valley in Chile is known for its crystal-clear, light-pollution-free skies, and the property owners can direct you to astronomy tours and nighttime horseback rides. There are also on-site telescopes that can let you better observe the moon and planets. During the day you can rent bikes or cars. Cocktail hour? Indulge in something else the Elqui Valley is known for: the South American liquor pisco (a distillery is located in nearby Pisco Elqui). To get to your dome away from home, fly or drive to the coastal city of La Serena, less than six hours north of Santiago, then drive or take public transportation about two hours inland.
4/10
An Historic Landmark
Location: Alderney, Channel Islands
Rental company: Landmark Trust
Cost per night: varies based on three- or four-night minimum stay
Accommodates: 13
The British built Fort Clonque in the 1850s to guard the Channel Islands from capture by the French. Nowadays, you can sleep in rooms that once served as officers' or soldiers' quarters, a gun battery, or a guardroom. Other amenities include a fully equipped kitchen, complete with dishwasher and microwave, and three bathrooms. Despite its modern comforts, the fort is difficult to warm up in the winter, even with central heating. But there's a nice open fireplace in the main sitting room, as well as plug-in electric heaters and hot water bottles stored in the cupboards. A causeway and drawbridge link the fort to the southwest tip of Alderney, but once high tide washes in the way becomes impassable. In that case, you can spend your time—carefully!—exploring the rooftop and unprotected walls. The rocks that form the property's perch descend sharply into the ocean. Two colonies of gannets—large, white seabirds with yellowish heads and black-tipped wings—forage for fish around the fort.
The main Channel Island of Alderney is only three miles long and 1.5 miles wide, so it's easy to see all the attractions—including beaches, a steam railway, a lighthouse and the island's one town, St. Anne—by foot or bike. Tired of the gannets? On or near the island you can view a menagerie of wildlife that includes dolphins, seals and rare blond-haired hedgehogs. Fly to Alderney directly from England or Guernsey, or take a passenger ferry from France, only eight miles away.
5/10
A Houseboat (With Crew)
Location: Kerala, India
Rental company: TripAdvisor Vacation Rentals
Cost per night: from $145
Accommodates: up to 8 when booking through TripAdvisor (more through the company)
Here's your own personal passage to India. These floating subcontinent homes, which can be reserved through TripAdvisor, include one to four bedrooms, modern toilets, living areas, a kitchen and a balcony. Air conditioning is switched on overnight, but the boats' curved roofs will offer shade during the day, including at the front deck.
A welcome-aboard drink (coconut or fruit juice) and meals of traditional Kerala cuisine are included, or you can buy fresh prawns or crabs from local fishermen for the chef to make for your dinner. You will cruise through canals, rivers and backwaters where you will pass by villages and paddy fields. You'll also get some land time so you can explore the sights. The boat drops anchor overnight. You can see most of the sights in one day (take a look at the itinerary (opens in new tab)), but if you'd rather drift along the canals longer, speak to the company about customizing your trip.
6/10
An Igloo
Location: Kuhtai, Austria
Rental company: Glamping Hub
Cost per night: from $344
Accommodates: up to 6
Looking for an exotic winter getaway? Depending on the type of trip you're taking, you can choose to snuggle up in a romantic igloo for two or commandeer a larger dwelling for groups of four or six. In both cases, you get an insulated sleeping area (with a sheepskin-covered mattress for the two-person igloo) and linens. Adding guests to the four- or six-person igloos ups the price by about $160 more per night. There are plenty of ways to stay warm besides getting cozy with your traveling partners, including drinking in the ice bar, huddling in the dining area, or soaking in an outdoor barrel sauna. Shared bathrooms are (thankfully) heated.
The igloos are located in Kuhtai, about 22 miles outside of Innsbruck, unofficial capital of the Alps. Winter activities are abundant, of course: You can go skiing or tobogganing, try your hand at Tyrolean curling, compete in snow golf, and more. You can even learn how to build your own igloo.
7/10
A Private Island
Location: off Placencia, Belize
Rental company: Airbnb
Cost per night: $395 (minimum stay three nights)
Accommodates: 4 guests comfortably, more depending on composition
Private island escapes aren't reserved for the wealthy. This one would cost less than a beachfront resort if you bring a few friends to share the expenses. The main house includes two bedrooms with double beds plus a sofa bed; a separate cabana can accommodate another couple. The kitchen is stocked with condiments, baking supplies, spices and purified drinking water (you bring perishables and drinks), and you can whip up feasts over the barbecue and fire pit. The island is surrounded by shallow waters and a coral reef; you can fish using the free rods or rent snorkel equipment on the mainland. Explore the atoll or nearby islands aboard two kayaks and a paddleboat.
This isn't a castaway experience: The island has a local access phone, Wi-Fi and TV. Plus, the price includes roundtrip boat transportation between the island and the village of Placencia. If you stay longer than the required three days, the owners will often throw in another boat trip to the mainland as a goodwill gesture.
8/10
Lighthouse
Location: Mount Desert Island, Maine
Rental company: HomeAway
Cost per night: $407 (minimum stay one week)
Accommodates: 8-10
The only one of its kind in Maine, this ship's watch rental is a popular wedding spot and appeared in the film The Cider House Rules. The lighthouse has an array of lobster buoys on one wall, and from the top it offers a view of Bass Harbor, which is dotted with dozens of lobster boats and plenty of seals, plus eagles, sea ducks, osprey and other birds. You'll stay in the home across the road, with four bedrooms, two and a half bathrooms, and three living rooms, which are decorated with crafts and antiques. You can easily stroll to a working fishing dock and a lobster pound with a restaurant atop it.
The fishing village of Bernard is located on the quieter, southwestern end of Mount Desert Island, also the home of Acadia National Park. Rent or bring your own kayaks, canoes or bikes to explore the area, or hike groomed trails in the park. The minimum stay is a week, so you'll have time for a jaunt to Bar Harbor, which is a popular port of call for cruise ships. Boat tours bring you to seals, sea ducks and puffins, or you can fish for mackerel and sea bass from the docks.
9/10
Tree House
Location: Watamu, Kenya
Rental company: TripAdvisor Vacation Rentals
Cost per night: $360
Accommodates: 8, plus an additional 8 in the new South Tower
No rickety ladders or platforms made of wooden slats here. This treehouse spreads across three towers and is connected by bridges, stairways and ramps. Soaring above baobabs and other indigenous African trees, the tree house offers views of the Indian Ocean on one side and forest on the other from a veranda or the rooftop. There are no windows; instead, framed openings let in the breeze, and you should expect to share the forest canopy with the sounds of birds, insects, small mammals, reptiles and primates (mosquito netting is included). Three bedrooms have en-suite bathrooms, while additional nooks and beds sleep other guests. Colored glass by a local artist, who also conceived the treehouse, decorate some of the walls. You can order fresh seafood and produce to prepare yourself (the kitchen is equipped with a fridge, freezer, oven and more) or let the cook treat you to homemade meals.
The tree house is near Watamu Beach, which offers activities such as kitesurfing, windsurfing, canoeing, scuba diving and deep-sea fishing. Nearby are the Watamu Marine National Reserve (which includes coral gardens, mangroves, dolphins and other marine life), the largest snake farm in East Africa and a turtle rehabilitation center. Or stay close to home by kicking back in the pool or yoga room. Keep in mind that reaching your room requires climbing flights of stairs, so those with a fear of heights, or families with small children, may prefer more-grounded accommodations.
10/10
Yurt
Location: Gobi Desert, Mongolia
Rental company: Glamping Hub
Cost per night: $106
Accommodates: 2 per yurt
Where better to experience yurt living than in the heart of the Gobi Desert in Mongolia? The structure is heated by a wood stove, and other comforts include a private bathroom, a king-size bed, felt slippers, Mongolian-style bathrobes and camel-milk moisturizers. In the tradition of Mongolian nomads, the doors face south, toward the desert and the Gobi-Altai Mountains—just as in the days of Genghis Khan.
A temple-like structure in the center of the property provides entertainment in the form of games, a small library and evening song-and-dance shows. Plus, the on-site bar and spa will help you unwind after a day spent excavating for dinosaur fossils, exploring via a jeep or horseback riding. The on-site restaurant serves local fare ranging from dairy products produced by nomadic families to regional meat dishes.
Associate Editor, Kiplinger's Personal Finance
Miriam lived in Toronto, Canada, before joining Kiplinger's Personal Finance in November 2012. Prior to that, she freelanced as a fact-checker for several Canadian publications, including Reader's Digest Canada, Style at Home and Air Canada's enRoute. She received a BA from the University of Toronto with a major in English literature and completed a certificate in Magazine and Web Publishing at Ryerson University.