10 DESTINATIONS WHERE YOUR DOLLAR GOES FAR
The weak dollar doesn't have to dash your international travel plans.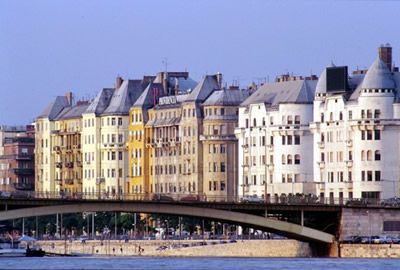 (Image credit: Courtesy Tourism Authority of Thailand)
The weak dollar doesn't have to dash your international travel plans. We've found ten places around the world where the greenback still thrives. Some of these vacation spots are great places to visit this summer, while others you can plan to book ahead for this fall or winter. See for yourself. The slide show begins with the navigation bar to your right:
By Thomas M. Anderson
1/10
LISBON, PORTUGAL
Why it's hot: It's affordable, charming, sophisticated and near the beach.
When to find deals: September and October, when four-star hotels in central Lisbon generally go for $100 per night and round-trip airfare from Chicago starts at $800.
Top bargains: At the Instituto do Vinho do Porto (Port Wine Institute), you can try more than 300 vintages of the country's signature liquor. Tasting prices start at 1 euro.
What $20 will buy: A Lisboa card (about $17) provides unlimited use of nearly all public transportation. Plus, get discounts on some bus and tram tours as well as on admission to museums and monuments .
2/10
SANTIAGO, CHILE
Why it's hot: You can take a day trip to surf the Pacific, tour wineries, hit the slopes or explore the Victorian elegance of nearby Valparaiso.
When to find deals: The springlike shoulder-season of October, November and December, when round-trip flights from Chicago to Santiago start at $1,000 per person.
Top bargains: Luxury hotels. Under Chilean law, foreign tourists do not pay the 19% value-added tax for hotel stays, but hotel staff must fill out the paperwork for you to get the tax break. Generally, hotels with two stars and more will give you the refund. You'll find four-star accommodations in Santiago for $100 per night.
What $20 will buy: Carmenere, made from a grape originally from the Bordeaux region of France, cost less than $10 a bottle.
3/10
DUBROVNIK, CROATIA
Why it's hot: The islands of the Dalmatian Coast look like Greece and feel and taste like Italy. The walled city of Dubrovnik features distinctive 12th century grey-stone buildings with orange-tile roofs.
Months for the best deals: Airfare and hotel accommodations will cost less in September and October, but the weather will still be warm.
Top bargains: Small apartments that residents have built as additions to their homes. Find out more at www.homeaway.com (opens in new tab) or www.vrbo.com (opens in new tab).
What $20 will buy: A three-course dinner of homemade sausage, roasted lamb or fish and fritule (doughnuts flavored with brandy and lemon zest) in restaurants along the Stradun in Dubrovnik.
4/10
WELLINGTON, NEW ZEALAND
Why it's hot: On the water and ringed by green hills, the artsy city is a half-day's travel to two major wine regions -- Hawke's Bay and Marlborough. Head to the South Island to hike Mount Cook or go to Queenstown for adventure sports.
Months for the best deals: In the fall. The weather will be nice, and you'll save on airfare and lodgings. For example, a round-trip flight from Chicago costs from $2,200 in June, but only $1,500 in September.
Top bargains: Wine vacations. Bed-and breakfasts in Hastings, the center of the Hawke's Bay region, cost less $75 per night. A night at a four-star spa in the Marlborough region costs about $140.
What $20 will buy: Fine vintages of New Zealand's famous Sauvignon Blanc cost less than $20 a bottle.
5/10
HO CHI MINH CITY, VIETNAM
Why it's hot: It's less touristy than Hanoi and has a thriving dining and entertainment scene. Take a short day trip to Mui Ne, a resort city near the beach, or to the white sand dunes of Binh Thuan desert.
Months for the best deals: November or December. You'll save on flights and hotels and miss most of the wet season.
Top bargains: Hotel rooms are a notable value. In Mui Ne, a room with an ocean view ranges from $20 to $100 per night depending on lavishness.
What $20 will buy: A meal fit for an emperor at the Phu Xuan restaurant, which serves traditional cuisine from the imperial city of Hue.
6/10
BUDAPEST, HUNGARY
Why it's hot: You can enjoy Old Europe charm without paying for it in euros. Budapest is split by the Danube into the rolling green hills of the Buda districts and the commercial hub of the Pest districts.
Months for the best deals: August and September. You'll save on hotel rooms because it's less busy, but the weather is still nice.
Top bargains: Classic culture comes cheap in Budapest. For less than $20, you can buy a ticket to a production at the State Opera House, a Gothic landmark. With a Budapest card, you get discounts on museums and restaurants plus unlimited use of public transportation. A two-day card costs $35 and is available at the city's tourism office.
What $20 will buy: A boat tour of the city traveling along the Danube river.
7/10
BUENOS AIRES, ARGENTINA
Why it's hot: The dollar still packs a wallop in this elegant capital city. Buenos Aires offers colonial architecture and eclectic culture at cut-rate prices.
Months for the best deals: The Argentine spring of October and November will have good deals on airfare and hotels.
Top bargains: Custom-made clothing costs three-fourths less than in major U.S. cities. Tango dance parties also offer free or cheap entertainment. Many are held in the colorful La Boca district, shown here.
What $20 will buy: A steak dinner with Argentine wine at a fine restaurant.
8/10
EDINBURGH, SCOTLAND
Why it's hot: The city is a mash-up of medieval and modern. Check out the castles and enjoy a full roster of summer festivals, including the Edinburgh Military Tattoo, an August music festival featuring military bands from around the world.
Months for the best deals: The weather is most pleasant from June to September. Prices for hotels and airfare fall later in the season.
Top bargains: Many museums are free to the public, most notably the expansive Museum of Scotland.
What $20 will buy: A ghost tour of the spooky spots in Old Town Edinburgh, often called the most haunted place on Earth.
9/10
CABO SAN LUCAS, MEXICO
Why it's hot: This getaway attracts everything from sport fisherman to Spring Break partiers. One look at the blue ocean and miles of beach and you'll understand why. The dollar's strength against the Mexican peso makes it more affordable than other foreign beach spots.
Months for the best deals: Visit during November and December, when the temperature is still 60 degrees and you'll find values on accommodations and dining.
Top bargains: Tourist traps proliferate in downtown Cabo San Lucas. Head east to San Jose del Cabo for deals on dining and Mexico crafts.
What $20 will buy: Paddle kayaks and canoes for two hours to explore the coast.
10/10
BANGKOK, THAILAND
Why it's hot: The bustling city is the perfect starting point to a Thai vacation. Plus, the greenback still buys a lot. Live in the lap of luxury for less than $120 a day.
Months for the best deals: June or September. Though Bangkok is always crowded, you'll miss some of the rush. Flights are about $400 cheaper than they are the rest of the year.
Top bargains: Haggle your way to a good deal at the city's Chatuchak Weekend Market. It covers 35 acres and has more than 15,000 shops hawking everything from pythons to garden furniture.
What $20 will buy: A night in a bungalow right on the beach that's a 2-hour trip from Bangkok.