10 Surprising Things to Buy in Bulk
Warehouse-club staples, such as vats of mayonnaise and crates of toilet paper, aren't the only products for which buying in bulk can translate into serious bargains.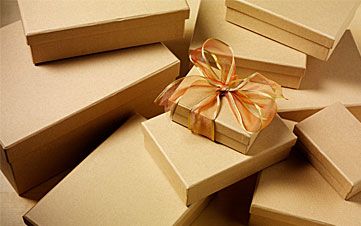 (Image credit: Thinkstock)
Warehouse-club staples, such as vats of mayonnaise and crates of toilet paper, aren't the only products for which buying in bulk can translate into serious bargains. We've unearthed ten lesser-known buy-in-bulk values that won't even demand an unreasonable amount of storage space.
For people who need these items in mass quantities, the savings can be significant. Just remember: This shopping strategy requires commitment. To capture the full value of the lower per-unit prices (all prices listed here exclude taxes and fees), you have to be willing to pay the larger upfront costs and use all of your supplies.
1/11
Airline Tickets
Sky-bound commuters and serial vacationers can save hundreds by buying plane-ticket packages. For instance, regional airline Cape Air offers books of ten one-way tickets on selected routes — including New York City to Provincetown, Mass. ($3,749); Hyannis, Mass., to Nantucket, Mass. ($609); Marion, Ill., to St. Louis ($457.50); and St. Thomas to San Juan ($1,099) — at savings of up to 30%. (By comparison, individual tickets on Kayak.com for Cape Air's St. Thomas-to-San Juan route in mid March ranged from $111 to $178.)
On the West Coast, Surf Air offers a potentially big bargain aboard their small, six-passenger planes. You can buy an unlimited number of flights between regional airports in the Bay Area, Los Angeles and Santa Barbara, Cal., for $1,350 a month, plus a one-time $500 membership initiation fee. (According to Kayak, individual tickets for nonstop flights between San Francisco and Burbank, Cal., in mid March cost $388.) For business travelers who fly that route five times in their first month of membership, Surf Air's package deal will be worth the cost.
To keep an eye out for other plane-ticket packages, enlist some help from AirfareWatchdog.com. Sign up for alerts based on your selected departure city and the site will let you know via e-mail when it finds a cheap flight or package of flights, even aboard smaller airlines that might not show up on bigger search engines, such as Kayak and Bing Travel.
2/11
Train Tickets
Bulk travel bargains apply to rail, too. With an Amtrak multi-ride ticket, you can take multiple trips along certain routes, often for a lower net cost. Your options include unlimited monthly travel between two selected stations and all the stops in between, or a ten-ride ticket valid for 45, 60 or 180 days, depending on your chosen route.
For example, a ten-ride ticket between Washington, D.C., and Boston good for 45 days starting in early February costs $1,168, which equals $117 per ride. By comparison, individual tickets on a regional train generally cost between $146 and $175 . (Multi-ride tickets cannot be used for Acela trains.)
Besides the Northeast regional, eligible routes include: Lincoln Service from Chicago to St. Louis, Pacific Surfliner from San Luis Obispo, Cal., to San Diego, Piedmont from Charlotte, N.C., to Raleigh, N.C., and others.
3/11
Season Tickets
No surprise here, sports fans. If you're really invested in a team, buying tickets for the whole season at once instead of game by game can be a big financial win.
The bigger, less-obvious bargain: If your team's season heads into extra innings, you'll get first dibs on home playoff tickets. For example, when the Seattle Seahawks hosted the NFC Championship in mid January, season-ticket holders could sit in the same seats they warmed all year for $99 to $485 a ticket, depending on location and year of their original season-ticket purchase. On resale sites, the average price for a ticket was a whopping $791, according to ticket research firm TiqIQ.com.
Season-ticket deals can be found outside the sports arena, too. Many theaters, museums, aquariums, amusement parks and other venues offer discounted passes for frequent visitors.
4/11
Fruits and Vegetables
Get your fill of veggies every month straight from a local harvest at a healthy discount. You can find a community-supported agriculture (CSA) program in your area at LocalHarvest.org and subscribe for periodic packages of locally grown fruits, vegetables and other products with one upfront payment. Andrea Muse, author of Buying in Bulk and founder of FrugallySustainable.com, estimates that you can save up to 50% off your grocery bill if you buy in bulk correctly.
She recommends starting small so you can work the quantities into your cooking routine and storage space. Seabreeze Organic Farm, in San Diego, offers a petite share — perfect to get you warmed up to the concept — that includes four weekly or biweekly deliveries for $148 (plus a one-time $25 CSA membership fee). When you're ready — or if you find other people to invest in a share with you to split the costs and the bounty, another buy-in-bulk tip from Muse — you can bump up to the regular-size share, which includes four shipments of 15 or more different fruits and vegetables and a bouquet of flowers for $260.
5/11
Prescriptions
If you're coping with a chronic condition, you shouldn't have to suffer the high costs of medications, too. You might already know that you can save by ordering a 90-day supply from a mail-order pharmacy instead of getting a 30-day refill. But you may not realize that your neighborhood pharmacy can probably bag you the same bargain — plus give you face-to-face interaction with your pharmacist. Walmart pharmacies, for example, offer the already good deal of 30-day supplies of eligible generic drugs for $4. But they do even better with 90-day supplies for just $10. (You can also get your orders delivered to you free.)
You'll see clear savings by ordering your contact lenses in bulk, too. You can order a pack of 30 one-day Acuvue Moist lenses for $30 at www.1800contacts.com, for example. That comes out to $720 a year if purchased separately. Or you could order packages of 90 lenses, with a $100 discount for ordering an annual supply of eight boxes in one fell swoop, to save $260 total. If you'd rather get this deal at your own eye doctor's office, try asking him or her to match the mail-order price. Many optometrists are open to negotiation.
6/11
Gift Cards
For a great bulk deal on gift cards, head to a warehouse store, where you can buy multiple restaurant gift cards for less than face value. At Costco, you can pay just $80 for two $50 cards for eateries such as California Pizza Kitchen or McCormick & Schmick's.
You can also get discounted packs of movie tickets. At BJ's, you can pick up a Regal Entertainment movie pack, including two regular tickets (sorry, IMAX fans) and a $10 concessions gift card, for $25. In Washington, D.C, that theater experience would cost $35 for two adults.
7/11
Child Care
If you need to enroll a second or third child in a preschool or day-care center, many offer a sibling discount of up to 10% off at least one kid's tuition. (In-home or family day cares are less likely to mark down their prices this way because they generally already charge cheap rates.) With the average annual cost for an infant at a day-care center ranging from $4,863 (in Mississippi) to $16,430 (in Massachusetts), a 10% discount can be substantial.
Be sure to ask which child gets the discount; infant care is usually pricier, and rates typically drop once your child turns 2.
8/11
College Degrees
The sibling discount doesn't end after preschool. If you can persuade your close-in-age kids to attend the same college, you might be able to cut back on tuition costs. Many colleges offer discounts for siblings attending at the same time.
If you have two children enrolled at George Washington University in Washington, D.C., for example, the younger sibling may apply for a GW Family Grant and pay half the tuition — a huge discount considering GW's $47,290 price tag for 2013-14, not including room, board, books and fees. (Unfortunately, this sibling deal cannot be combined with any other scholarships or financial aid.) At the University of Scranton in Pennsylvania, the family discount gets 10% knocked off the tuition of each full-time student.
Having multiple kids in college can also get you a break with college aid. With the Free Application for Federal Student Aid (FAFSA), if you qualify for need-based assistance, your family's total expected contribution to college expenses will stay the same regardless of the number of students you're paying for. So if your expected contribution is $60,000 and you have two children in college, you'd be expected to pay $30,000 for each (with aid filling in the gaps); if you have three scholars enrolled, you'd pay $20,000 each.
9/11
Expedited Shipping Services
An annual subscription to Amazon Prime buys you a year's worth of guilt-free procrastination for all your gift buying. For $99 a year, you get two-day shipping at no extra charge on all eligible items (which only excludes things sold by third-party vendors). Usually, within the continental U.S., this speedy delivery could cost anywhere from $7.98 for a video game to $11.99 plus 99 cents per pound for sports equipment.
Take advantage of the deal to make your own recurring purchases more convenient throughout the year. For instance, get every new box of 100 diapers delivered to your doorstep in just two days — for free, instead of Amazon's standard two-day shipping charge of $15.53. At that rate, you'd break even on the Prime membership fee in just five orders.
Bonus: You can share your quick-shipping privilege with up to four other household members. Plus, your Prime subscription gets you unlimited instant streaming video of thousands of movies and TV shows and one free e-book a month.
10/11
Burial Plots
Nobody wants to die alone. Pre-purchasing multiple burial plots will ensure that you're surrounded by loved ones when you're laid to rest — and it'll give your wallet a perpetual break, too. According to Everplans.com, a site to help you plan for the inevitable, a burial plot can cost $1,500 to $2,500 (and a mausoleum crypt costs from $4,500 to $8,500). But, says Sarah Whitman-Salkin, editorial director of Everplans.com, "the price of plots purchased in advance may be negotiated, and purchasing multiple plots at once is a technique consumers may use to negotiate for lower prices."
Just remember that this purchase requires eternal commitment to a location and your plot-mates. If your life changes — for example, with a move or divorce — unloading your family's not-so-final resting places can be a challenge. See Selling a Burial Plot is a Grave Decision for more information.
11/11
Online Editor, Kiplinger.com
Rapacon joined Kiplinger in October 2007 as a reporter with Kiplinger's Personal Finance magazine and became an online editor for Kiplinger.com in June 2010. She previously served as editor of the "Starting Out" column, focusing on personal finance advice for people in their twenties and thirties.
Before joining Kiplinger, Rapacon worked as a senior research associate at b2b publishing house Judy Diamond Associates. She holds a B.A. degree in English from the George Washington University.